@zat0ichi takes the spotlight for this week's featured trader! A member since 2021, Kenzo has been actively navigating the markets for the past couple of years. Recently, he shared one of his trades on $UBP, a strong banking name.
$UBP is now up by more than 17% since @zat0ichi posted the stock. To capitalize on the opportunity, our featured trader of the week employed a very simple, but potent, tactic. The timeless buy low, sell high.
TECHNICALS OF THE TRADE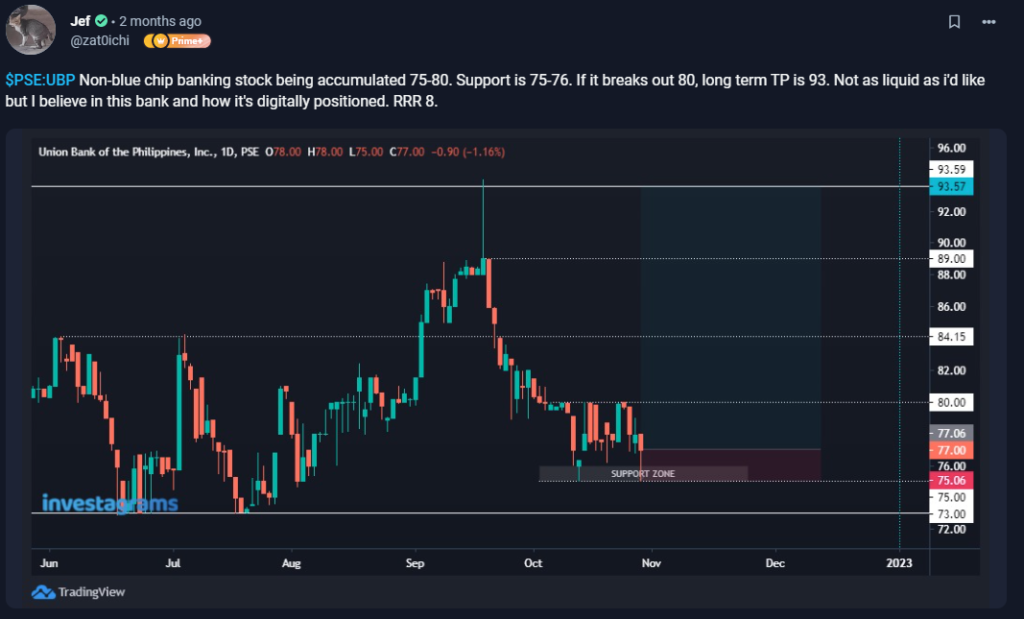 On the daily timeframe, $UBP was in a consolidation. However, the range was big enough that traders can look for swing play opportunities. As $UBP was making higher lows, @zat0ichi figured the 75-78 support area would be a good support zone. 
Due to the wide range, placing targets near resistance levels would've given a good risk-to-reward ratio. @zat0ichi's risk-to-reward ratio for the trade even went as high as 8! As buyers have now come in, $UBP is currently trading at 89.5/sh. Although not exactly where his TP is, the trade by now would've already given a big boost to his portfolio.
FUNDAMENTALS OF THE TRADE

It's currently being speculated that $UBP along with $DMC will be included in the $PSEi's basket of 30 companies in the upcoming index rebalancing. This could be a big boost for the two companies given that aren't widely held stocks among investors. By being added to the Philippine market index, fund managers would then have to include these two companies in their portfolios.
Another factor that could've caused the rally in $UBP might have been the announcement of its SRO. To infuse more capital into its digital banking segment and other general corporate uses, $UBP will be offering shareholders the right to buy shares at a discounted price. This is somewhat similar to stock dividends, except investors will be given the option to buy discounted shares rather than receiving shares straight up. Expect prices to fall once the additional shares are added to the public float. However, the selldown might only prove to be temporary if $UBP continues to have a bullish outlook.
WHAT SHOULD BE MY NEXT MOVE
Currently, $UBP is about to conduct its SRO to current shareholders. The record date is set on January 16, and the ex-date would be on the 27th. As with dividends, expect a short-term price fluctuation to the downside. If you're an investor looking to hold $UBP for the long term that event might prove to be an opportunity for you to get shares at a cheaper price.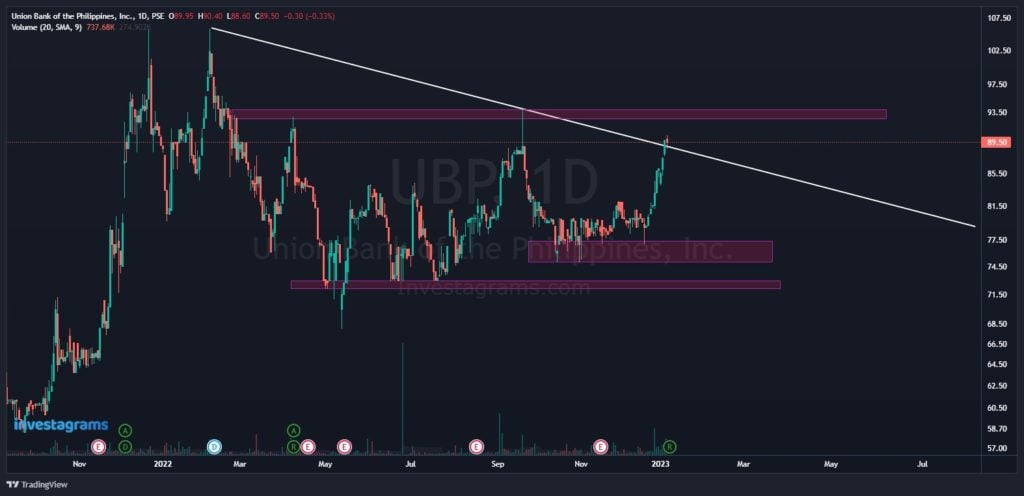 However, if you're a short-term trader it might be best to sit on the sidelines and observe what market structure the stock might form in the coming days.
Once again, KUDOS to @zat0ichi for being this week's featured trader! Enjoy your 14-day InvestaPrime Access and continue to be an inspiration to the trading community.
---
Got no time analyzing hundreds of stocks or cryptocurrencies in chart one at a time? We'll make it easier for you with ProScreener!
Access your FREE 14-Day Free Trial today: http://invs.st/IVGWScreenerDaily