@virgelbong24 takes the spotlight for this week's featured trader! He shared some of his thoughts on certain trades recently, and one of them was his view on $BTC.
While $BTC had a rough 2022, it has started to regain strength these past couple of weeks. Bitcoin has now rallied by more than 10% this year and is looking to test the 19,000 resistance level.
TECHNICALS OF THE TRADE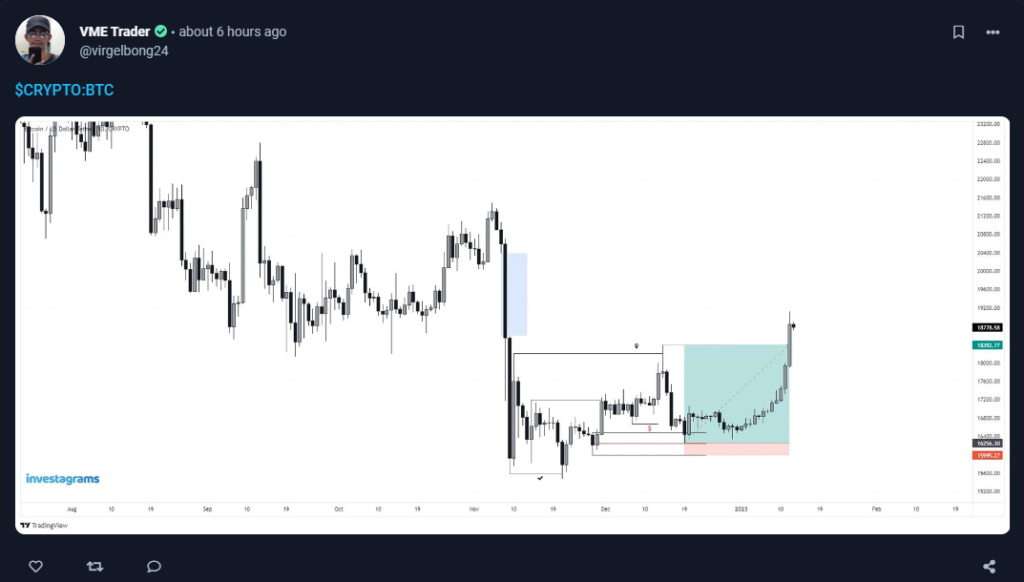 Bitcoin was and still is, in a long-term downtrend. After the crypto markets crashed weeks ago, demand hasn't come back into the cryptocurrency. However, as prices stabilized recently, @virgelbong24 saw an opportunity.
Since $BTC was forming higher lows, he figured that maybe a quick swing trade can be taken. The immediate target would of course be the upper end of the range. Keep in mind that overall, the asset is still in a downtrend so profits and stop losses need to be taken quicker. With no other indicators needed, just support and resistance, @virgelbong24 was able to profit from a good risk-to-reward trade.
FUNDAMENTALS OF THE TRADE
$BTC and the overall crypto market had a gloomy investor sentiment for the past couple of weeks. However, developments across the web3 industry continued to shine through. Different traditional institutions have partnered with various blockchains to bring forth revolutionary features and products that look to create a positive impact on the world.
This, coupled with the positive economic data recently reported, could have been factors that helped push Bitcoin higher.
WHAT SHOULD BE MY NEXT MOVE
Currently, $BTC is testing the 19,000 resistance level. Although there has been strong momentum, it's advisable for buyers to wait and see if Bitcoin can break past this level. Otherwise, the cryptocurrency could just be experiencing a counter-trend move within its long-term downtrend.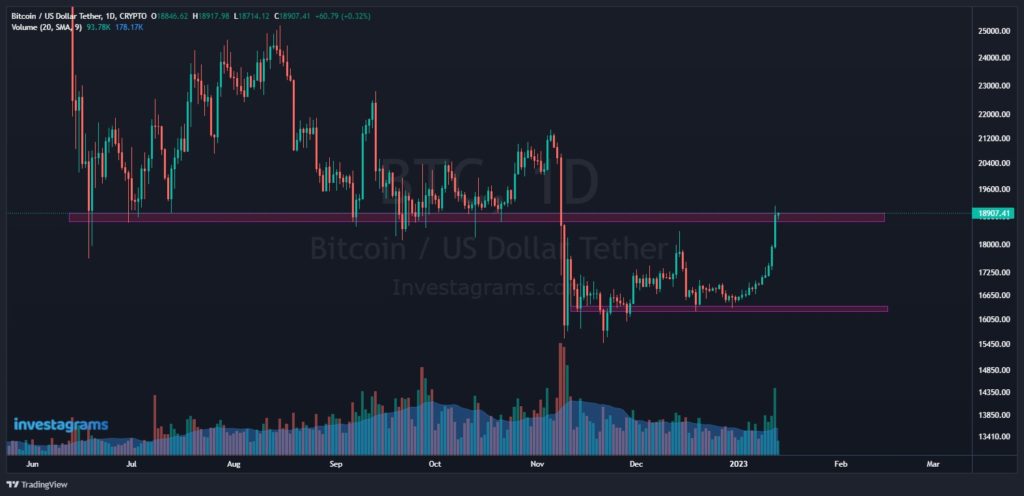 Lastly, you should wait for a continuation pattern to form as well before jumping into Bitcoin if you're bullish. Ideally, you'd want a good risk-to-reward ratio regardless of where you see the asset heading.
Once again, KUDOS to @virgelbong24 for being this week's featured trader! Enjoy your 14-day InvestaPrime Access and continue to be an inspiration to the trading community.
---