Phantom, a.k.a @shadowshammgod, takes the spotlight for this week's featured trader as he shared his chart for a potential breakout of $PSE:BALAI using simple support and resistances paired with the 50 EMA.
Simplicity is a key principle in trading with technical analysis. Technical analysis aims to identify trends and patterns in financial markets, but this can be a complex task given the vast amount of data available. By keeping his analysis simple, @shadowshammgod was able to see the overall picture and spot a potential breakout that could hit and retest the higher resistance of $PSE:BALAI in a one-day timeframe.
Let's take a look at how @shadowshammgod uses this to his advantage.
@shadowshammgod used S/R (or support and resistance) to spot $PSE:BALAI about to break out and flip its previous resistance at the 0.6000 level. Still using S/R, he identified the next resistance at the 0.7000 level, where the momentum of the breakout could die down. $PSE:BALAI broke out the same day and four days later went on to hit the 0.70 resistance and peak at 0.71, resulting in an increase of around 16%. 
TECHNICALS OF THE TRADE
After its downtrend since August of last year, $PSE:BALAI has been ranging sideways over the following months after. Since November of last year, the 0.6100 level has served as a strong resistance, denying breakouts over four times until finally being flipped this past January 10, 2023.
Alongside the use of proper S/R, @shadowshammgod also utilized the 50-day EMA, which is significant because it may be used to identify major levels of support and resistance, as well as to show the current trend's direction. With no additional indicators required, he was able to execute and profit from the trade.
FUNDAMENTALS OF THE TRADE
In order to reach its goal of 130 stores by the end of 2023, Balai Ni Fruitas Inc., the company that owns the Balai Pandesal brand, announced its plan to start an aggressive expansion strategy.
The business intends to extend this to 200 locations by the end of 2026, according to Calvin Chua, director, and financial adviser at Fruitas Holdings Inc., the company's publicly traded parent company.
The ongoing store network expansion of the Balai Pandesal brand has contributed to the significant increase in its revenues; As of October 2022, BALAI currently has 91 active stores nationwide, of which 43 stores are Balai Pandesal, 39 are Buko Ni Fruitas stores, and 9 are Fruitas House of Desserts stores.
WHAT SHOULD BE MY NEXT MOVE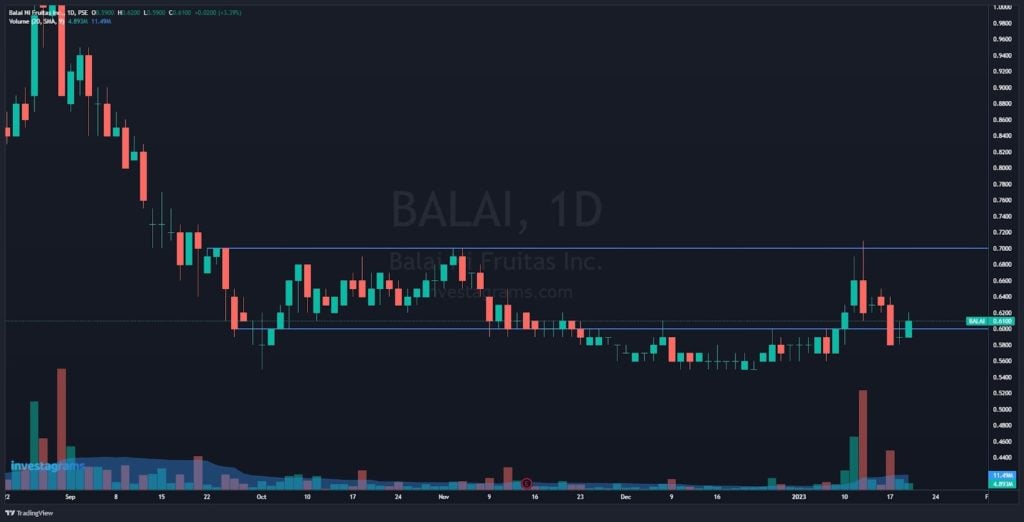 Since the $PSE:BALAI is still currently ranging and is now hovering around the 0.6000 level again, it's advisable to wait and see if the level would successfully flip and serve as the new support or if it would continue to decline. If it does continue to decline, the previous breakout would only be a false breakout and would mean that there was a lack of buying or selling momentum or there has been a sudden change in market sentiment.
Once again, KUDOS to @shadowshammgod for being this week's featured trader! Enjoy your 14-day InvestaPrime Access and continue to be an inspiration to the trading community.
---