In a quote by Warren Buffet, he says "Risk comes from not knowing what you're doing." As a trader, one of the things you need to be worried about is not having enough knowledge to make a successful trade. Yes, some may be lucky, but luck may run out. Knowledge is everything when it comes to trading, and that's what @vetsin did.
@vetsin takes the spotlight for this week's featured trader as he shares his knowledge with us on stocks from the PSEI by utilizing fundamental analysis with the help of Investa University. Let's take a look at how @vetsin uses this to his advantage.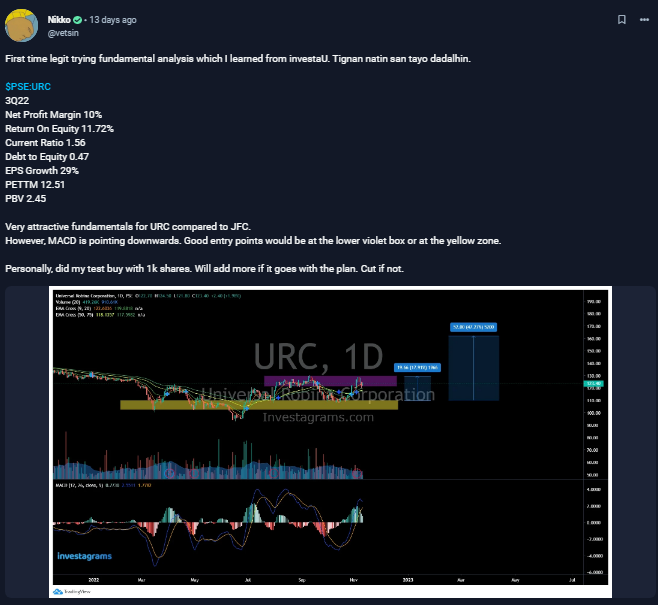 Let's take a look at @vetsin's analysis on $URC. One of the notable things he pointed out was the stock's fundamental analysis. Because most of the data provided were positive, it convinced him enough to say that the stock price was bound to go higher. Moving on, we can see that he has plotted out support and resistance lines which helps identify points of demand and trends. The EMA cross, a trend indicator, was also used to help identify the average price based on recent data. Moreover, the MACD, a trend indicator, was also spotted which helped show the relationship between two exponential moving averages (EMAs) of a stock's price.
TECHNICALS OF THE TRADE
Technically, $URC at the time was trading at a range. Looking at the EMA, it is seen the price has touched support, indicating that it may bounce back up. Moreover, we can see the RSI is still around the 50-60 levels. This usually means that the stock price still has enough potential to go even higher. Lastly, we can see that the MACD has crossed. When this happens, the trend switches from negative to positive. This allows $URC's price to push even higher.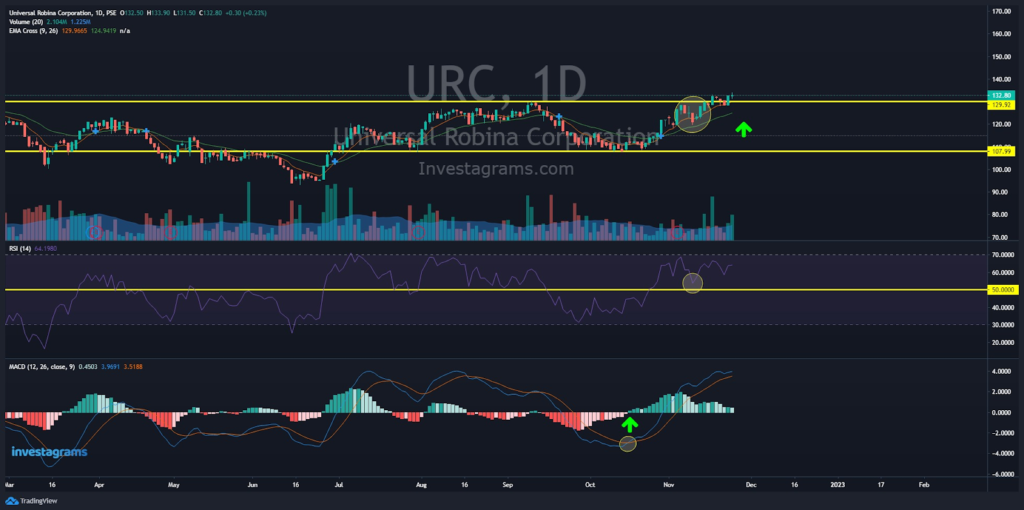 Through the analysis of @vetsin, a successful trade was made, earning him profits in the long run.
FUNDAMENTALS OF THE TRADE
URC, or Universal Robina Corp., reported a net income of P9.72 billion for the nine months of the year ending September 30, a 13% decrease from P11.23 billion in 2021 because of a gain in asset sales recorded the previous year. Operating income growth was matched by a 9 percent increase in core net income, which excludes one-time gains.
WHAT SHOULD BE MY NEXT MOVE
Looking at the current state of $URC, we can notice a few things that could either plummet or skyrocket in price. First, we can see that it has broken out from the resistance of PHP130. This means that the possibility of the price going higher is most likely to happen. Next, the RSI is not at its overbought levels, indicating that it still has more potential to increase. However, looking at the MACD, we can see signs of reversal. This could cause prices to either go in a range or head downwards (considering the other indicators).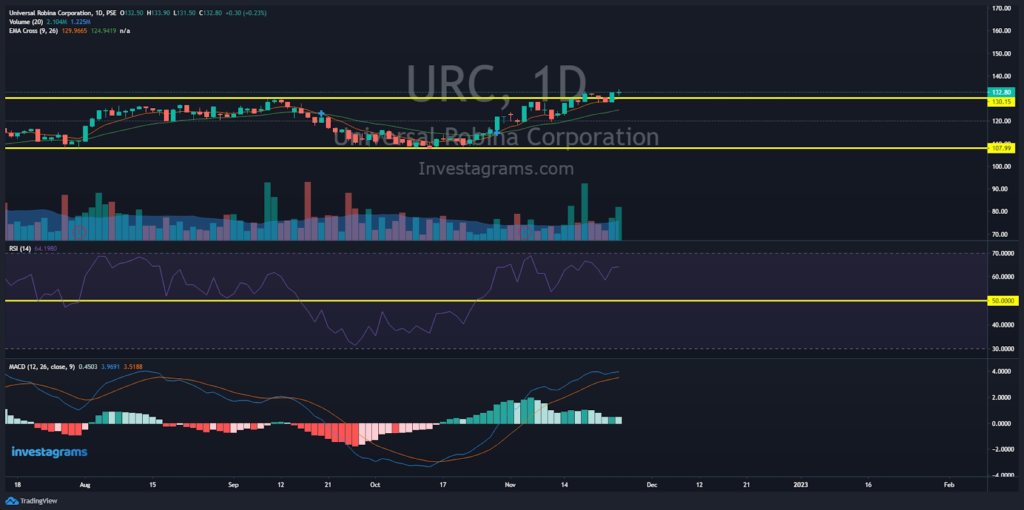 Given this, it is preferable to test buy this stock and not go all in. Try investing a few shares from time to time and buy only at support lines or possible breakouts. Moreover, increase your knowledge by heading over to Investa University to learn more about what to do and what not to do in trading.
Once again, KUDOS to @vetsin for being this week's featured trader! Enjoy your 14-day InvestaPrime Access and continue to be an inspiration to the trading community.
---