IT'S OFFICIAL: Investa partners with one of the Top-Performing fund management companies in the Philippines — ATRAM Alpha Opportunity Fund, Inc.
Last September 23, Investa held a live event in partnership with ATRAM as they discussed what lies ahead in the market and the importance of investment opportunities in Mutual Funds investing.
Officially Starting Off the ATRAM x Investa Partnership
Kahane Pe, a business development associate of Investa, started off the event celebrating a major milestone for Investa. A partnership has been officially created with ATRAM, with the goal of helping more Filipinos become investors through mutual funds. He then further discussed the importance of mutual funds and why it is important for investors: the answer being simplicity. As not everyone has the time to keep tabs on the markets, mutual funds were mentioned to be the solution. Rather than having to craft your own strategies and research, allowing professional mutual fund managers to handle your money makes investing a simpler task to accomplish.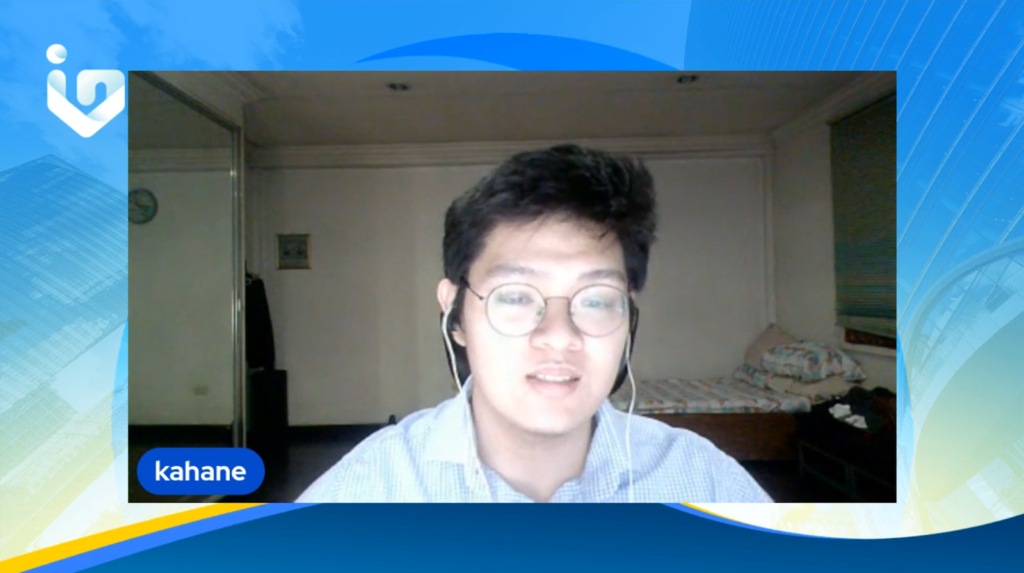 ATRAM'S LOCAL MARKET OUTLOOK
ATRAM's Portfolio Manager Equities, Carlos Navarro, followed the event sharing his thoughts on the local market outlook in which he expects continued volatility as the PHP depreciates. However, he expressed that we are not lacking opportunities as these are the types of market corrections that traders should take advantage of.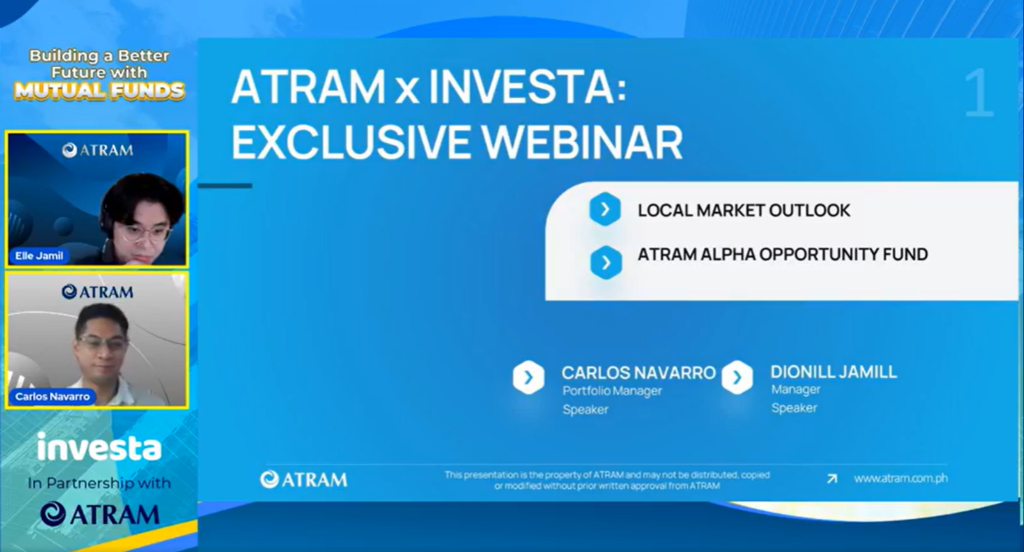 Carlos believes that peeking inflation will allow the spread of the equity market over the past 10 years to get back to normal levels. He stated that if inflation peaks, interest rates will go down which will improve the spread of the equity market over the 10 year government bond. The result of this will then make the equity market more attractive to investors compared to the fixed income market.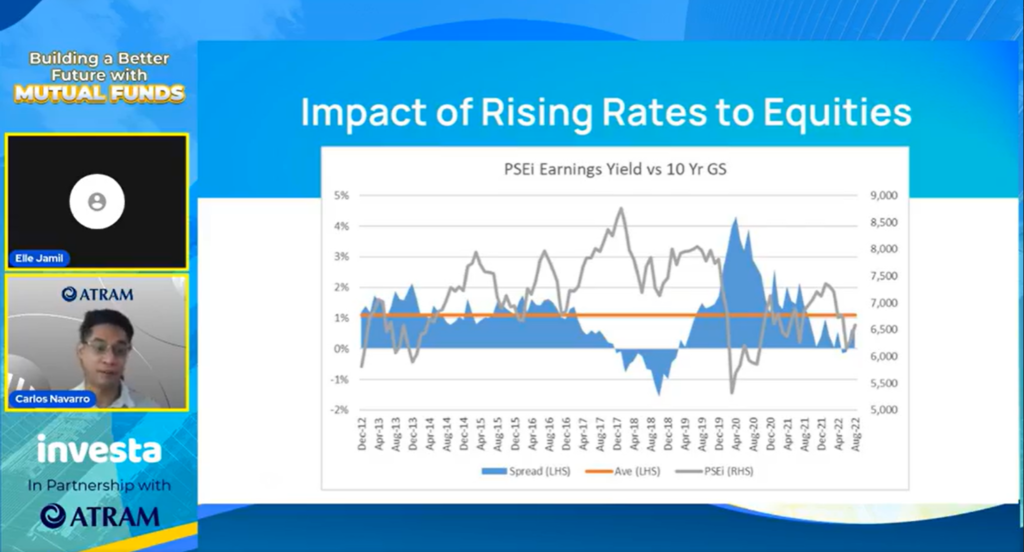 Carlos then continues his talk showing to us ATRAM's earnings tally in which stocks have achieved expected corporate results. As shown, the earnings for the first half of 2022 have beat their expectations of 20.5%. Do take note that they have excluded outliers such as SMC, LPG and JFC as it would exponentially increase their earnings growth figure.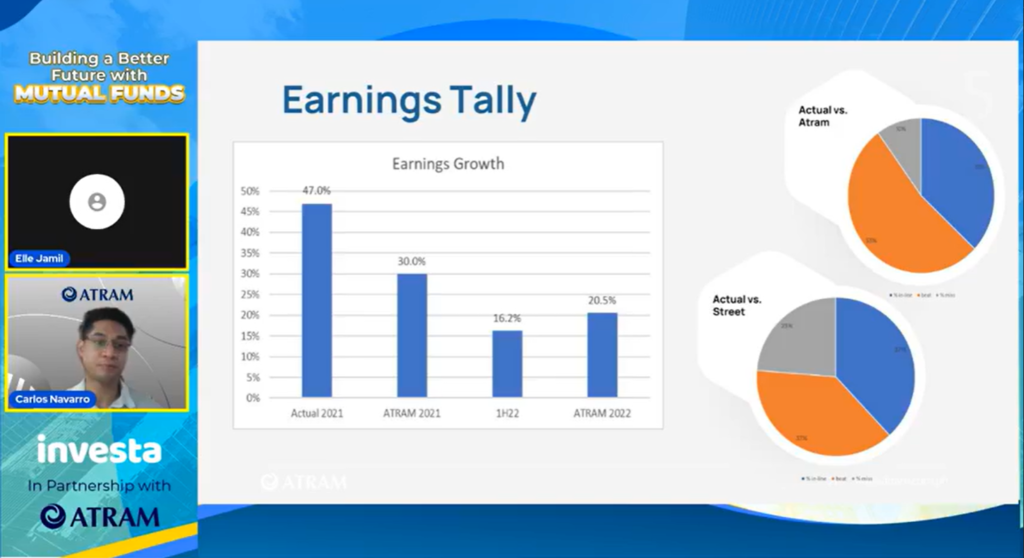 One of the favorable sectors that ATRAM would like investors to take a look into is banking. Carlos stated that reasons such as loan growth, expanding net interest margins, and improving asset quality are why investors should look into this sector.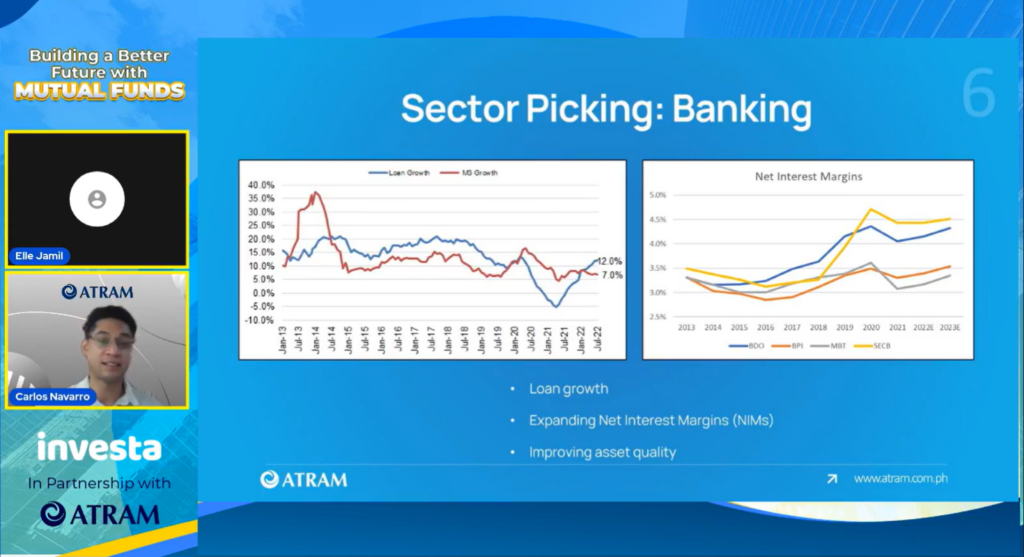 GET TO KNOW ATRAM'S ALPHA OPPORTUNITY FUND
Dionill Jamill, a manager of ATRAM, then continues the presentation talking about ATRAM's Alpha Opportunity Fund and how they set themselves apart from their competitors in the industry.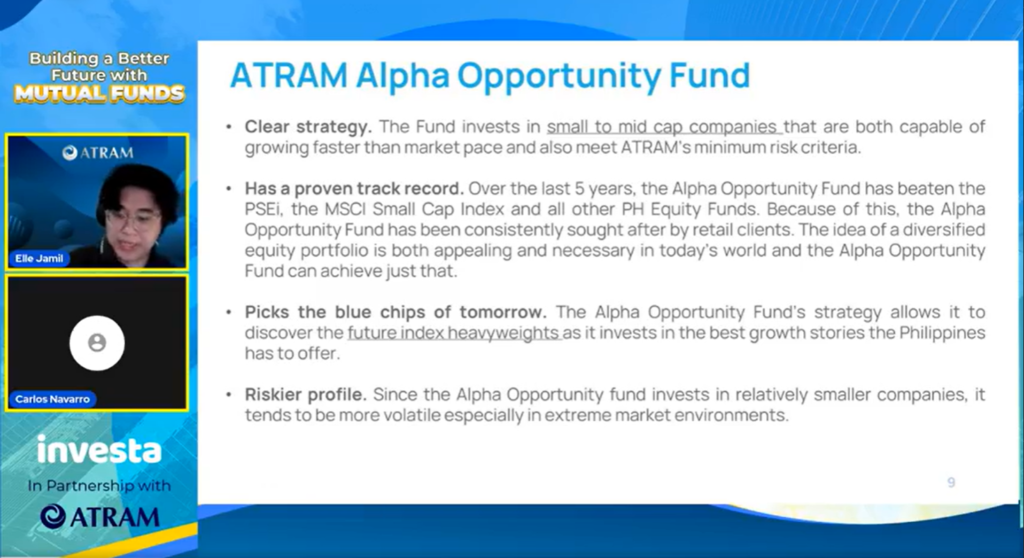 ATRAM's investment philosophy was presented, which serves as the organization's road map that helps executives and staff members understand the objectives and principles the company is constantly pursuing.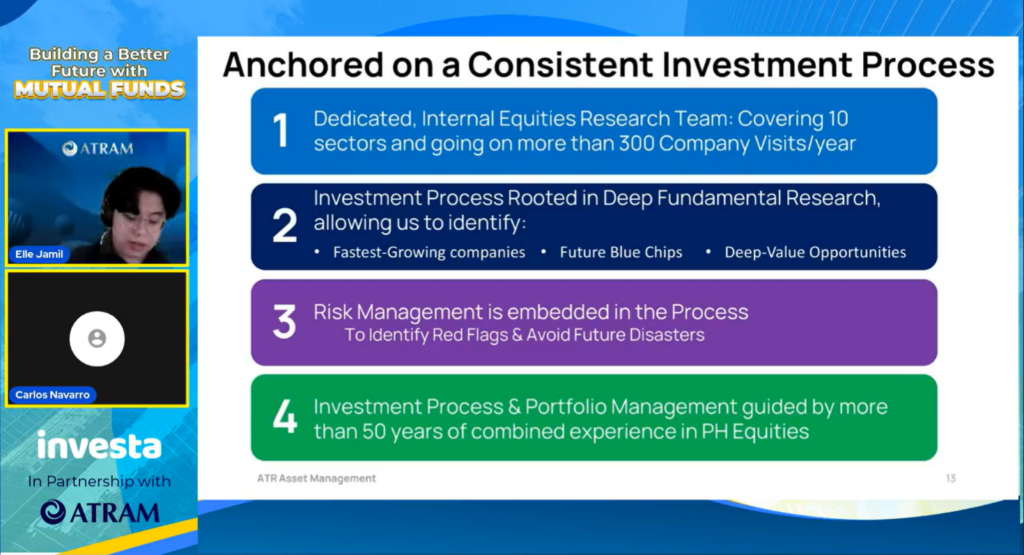 Before ending his presentation, ATRAM's manager, Dionill Jamill, showed to us the company's stock picks that they believe will perform well in the long run.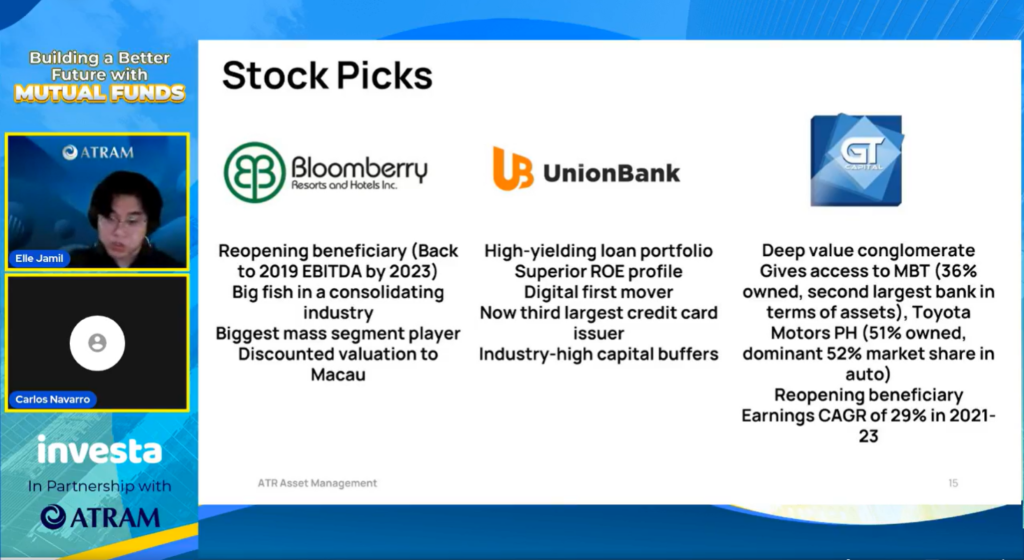 START INVESTING NOW!
Last September 21, we've officially announced the partnership of Investa and ATRAM. Prior to this, an official MoA signing was held months ago to kick off the partnership. Now, Filipinos have easier access to investment opportunities to build a more financially secure future. This allows traders to invest for as low as Php1,000 in ATRAM's top-performing funds via the investa app!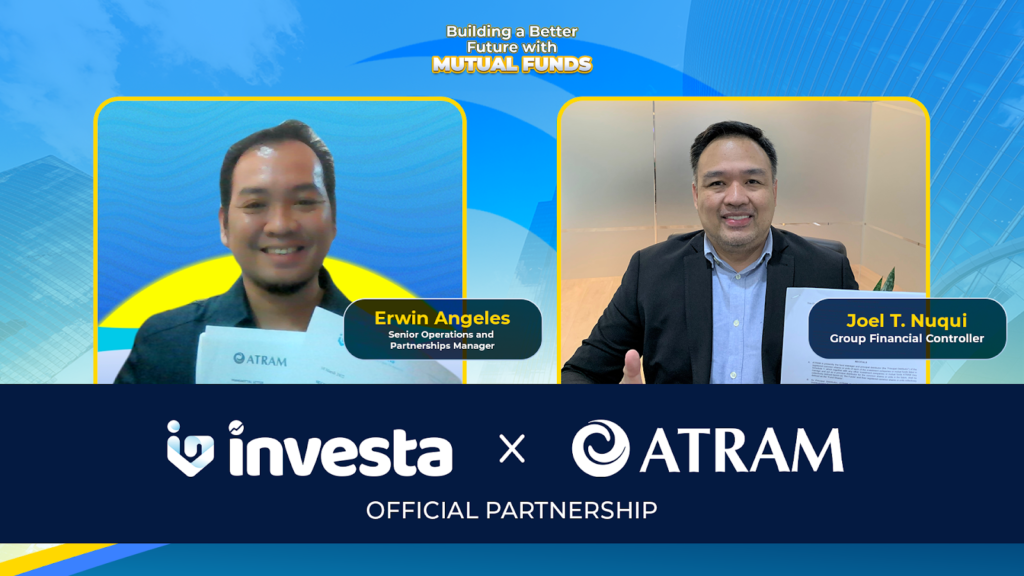 "The partnership between ATRAM went through different people, and different channels. It took time, but it was definitely worth the wait" says Erwin Angeles of Investa.
With Investa being official partners with ATRAM Alpha Opportunity Fund, Inc., you can now invest in their mutual funds through the Investa platform. Start investing now by visiting Investa.
"For those of you who are working in the market, I mean, I know there's a lot of volatility right now, but like what I said, these are the times where the biggest opportunities arise during this huge correction. So just stay focused and do expect a better 2023 compared to 2022, and of course, just branch in and leave it to the professional managers, and we'll take care of the rest", says Carlos Navarro, Portfolio Manager of ATRAM.
To wrap up the story, we are proud to announce that we now have 4 official partners: PhilEquity, BPI, SunLife and ATRAM, to bring financial inclusion and affordable investing to millions of Filipinos!
Here at Investa, we will continue to help Filipinos become smart and profitable investors by providing you with services through our easy to use app that will guide you in your journey to become financially free. Keep a lookout for more updates and partnerships to come here at Investa!
---