Our featured trader of the day keeps it simple with basic but very useful indicators! With that, let's give a round of applause and congratulate our featured trader of the week @ivana27!
According to Alexander Elder, "The goal of a successful trader is to make the best trades. Money is secondary". His saying reminds us not to get eaten up by our emotions, but to be consistent with our wins as a trader. To win in the market, one must be able to read and analyze carefully the price action of the market he/she has chosen, which is what @ivana27 has done. 
Just recently, @ivana27 shared his insights on BTC and the possible direction it could go in the following days to come.
It was about 4 days ago that our featured trader showed us his thoughts on $PSEI, the overall market status of the Philippines. With concerning global economic conditions and an increase in interest rates, many traders are still unsure whether to buy or sell.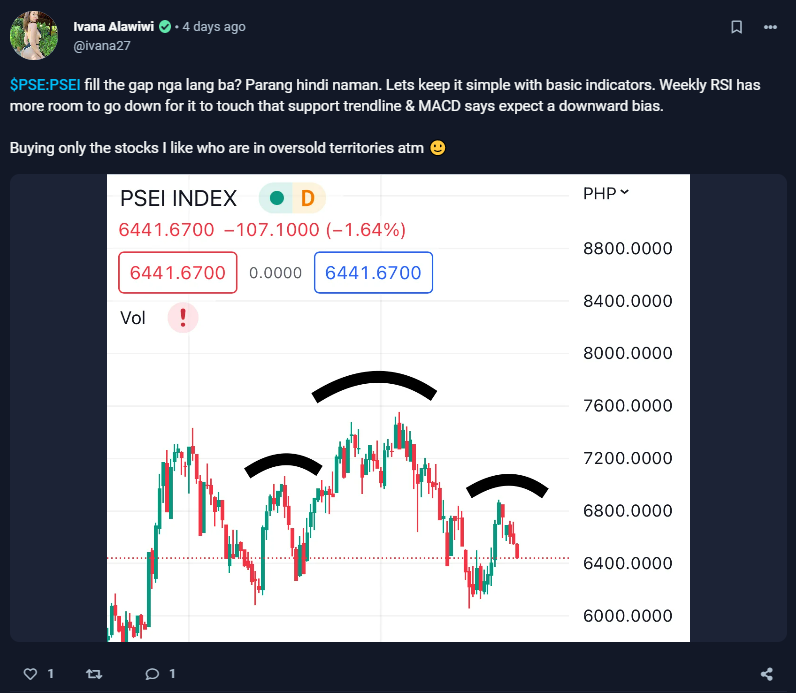 During this specific trading period, @ivana27 has plotted only a few technical indicators which would help him predict price actions for his trading plan. As we can see, he has included RSI, a tool which allows traders to identify whether or not a stock is oversold or overpriced, and the MACD History divergence, an indicator which lets us know if moving averages are forming a new trend. We can also observe that a head and shoulders pattern is being plotted out in the chart. This is usually a sign for a downward trend movement.
TECHNICALS OF THE TRADE
In the past few trading days, the PSEI has experienced downward movements causing its price to stumble from 6,800 to as low as 6,200. The current price of $PSEI makes it no better as all MA's from 5 to 100 are not in par with its last trading price. This also means that a downward trend is taking place in the market. Moreover, we can see that the PSEI is trading within the 30 RSI levels indicating that it is close to being oversold. As for its MACD, there are still no clear signs of reversal making it seem like we are still stuck in bearish territory in the days to come. A spike of volume was seen last September 16 followed by a consistent amount of trading volume in the following days.
FUNDAMENTALS OF THE TRADE
Just recently, the BSP has raised interest rates to 4.25% as the Peso continues to devalue versus the dollar. Following a 50-bp upward adjustment in August, the Monetary Board has decided to increase the policy rate by 50 basis points, or half a percentage point. In the meantime, Philippine inflation last month slightly decreased to 6.3%. As a result, the average inflation rate increased to 4.3%, which is still above the BSP's target range of 2-4% for 2022.
WHAT SHOULD BE MY NEXT MOVE
In the daily time frame, PSEI is seen to have broken its support line, which is often a bearish pattern. It is currently trading above around 6,300 levels while barely maintaining the 0.236 fibonacci support level. From here, we can anticipate a short-term bounce up to the 6,370 levels, after which another rejection is possible.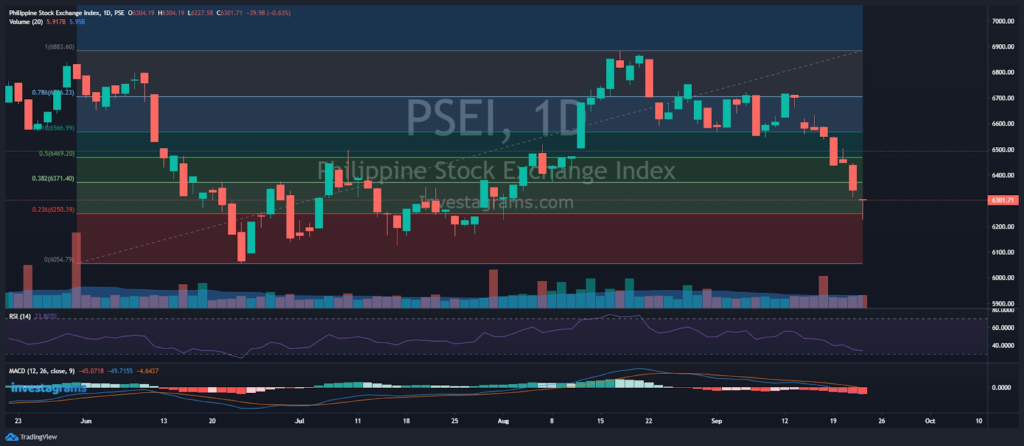 With the PSEI barely holding its support levels and the terrible market conditions going around, we may not be able to see any reversal in the next few days.
There are barely any signs of reversal, and despite the RSI being close to oversold, other indicators such as the MACD are still on its downtrend bias. The fibonacci support level of 0.236 has been recently tested by the PSEI and has barely managed to bounce back up during its closing price.
Dollar cost averaging would probably be your best choice given the abundance of FUD in the market and the current state of the world economy. A great way to gradually build up your portfolio and benefit from the global economic situation would be to buy the dips with small percentages of your total capital. Make sure to also read news reports updated from the BSP as well as political news which could affect market status.
When trading, always buy the fear and sell when everybody else is happy. As what @ivana27 said, always do your own research and trade smartly. Once again, KUDOS to @ivana27 for being this week's featured trader! Enjoy your 14-day InvestaPrime Access and continue to be an inspiration to the trading community.
---