"Nag-enter ako ng buy order, bakit hindi lumalabas yung stock sa port ko?! HELP PLS!"
"Anong oras ba bumubukas stock market mga boss?"
"Ano po yung CLOSING?"
"HELP! GUSTO KO I-CANCEL YUNG ORDER KO PERO HINDI PWEDE. HUHUHU"
"MAMSER BA'T HINDI PWEDE MAG LAGAY NG TRADE? PANO BA TO? MAIIWAN NA AKO!!!!!"
These are just some of the questions that we, as beginners in the market, ask. I have to admit, I have asked these questions myself back when I was just starting out. So let me help you by explaining each trading period of the Philippine Stock Market in detail. Ready? Let's go!
The Philippine Stock Market Trading Hours is divided into 9 periods. These are the following:
1. Pre-Open Auction Period
2. Pre-Open No-Cancel Period
3. Market Open
4. Continuous Trading
5. Market Recess
6. Pre-Close Auction Period
7. Pre-Close No-Cancel Period
8. Run-Off/Trading At Last
9. Market Close
Let us explain the periods one by one.
1. PRE-OPEN AUCTION PERIOD
9:00 am – 9:14 am
This is the first period of a trading session. In this period, you can enter, modify, or cancel your orders. However, no matching of orders will occur. That means if you place a "buy" order, you won't see it in your portfolio just yet.
This is the time when you see bids and asks way off from the previous closing price just like this one:

2. PRE-OPEN NO-CANCEL PERIOD
9:15 am – 9:30 am
Unlike the pre-open from 9:00 am to 9:14 am, during this period, you are allowed to enter orders but CANNOT cancel or modify them. This is the period when you want to view the projected opening prices of stocks since most of the fake bids and asks are usually cancelled before entering this period. You can view the projected open of a price at https://www.investagrams.com/Stock/ProjectedPrice.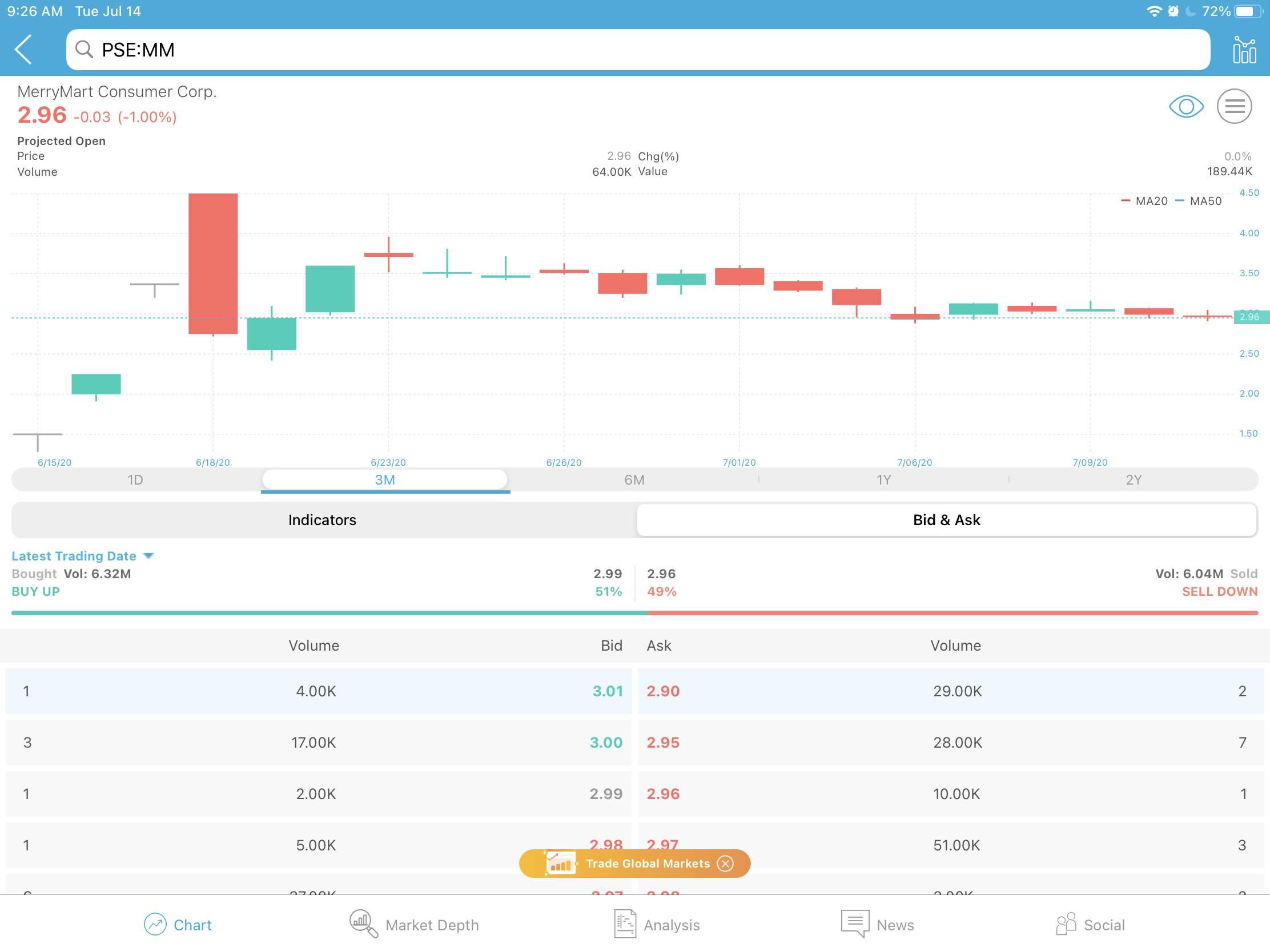 3. OPENING PERIOD
9:30 am
This is the period when the Opening Price for all Stocks is calculated. During this period, the Order book is frozen and you cannot enter, modify, or cancel an order. After all opening prices are calculated, the order book will be unfrozen.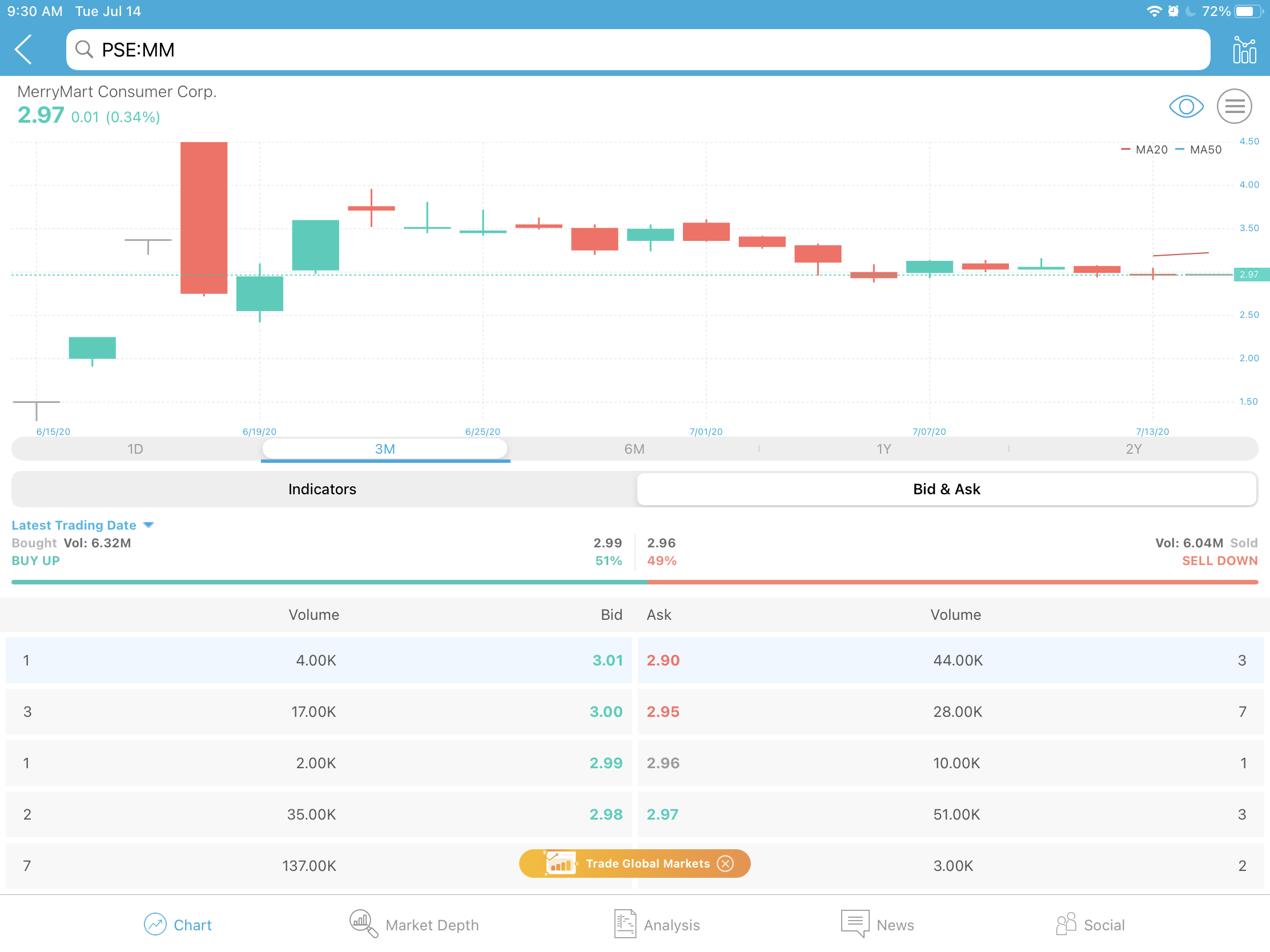 4. CONTINUOUS TRADING
9:30am – 12:45 pm
This is when orders are automatically matched at the Best Price in accordance with the Revised Trading Rules.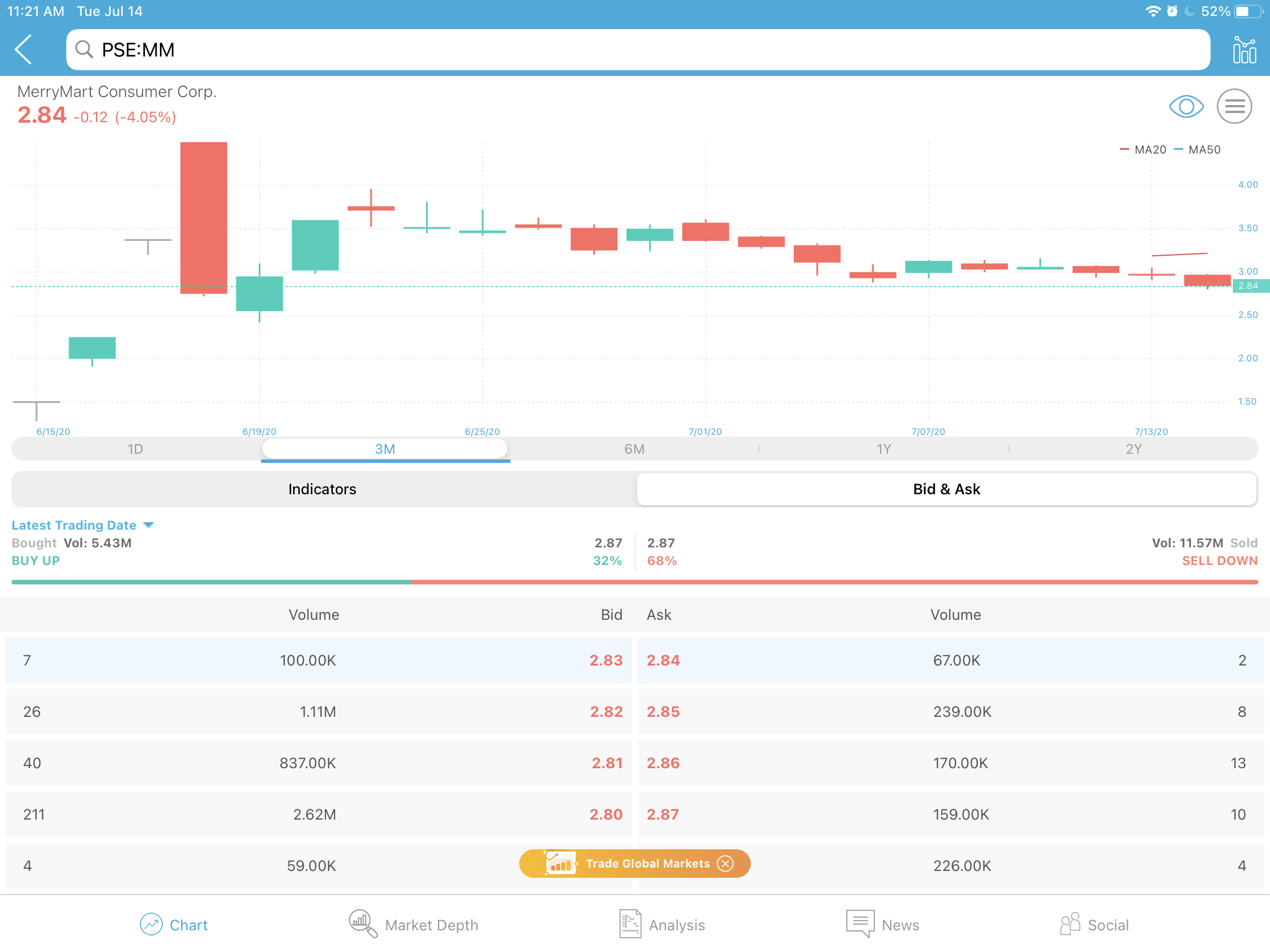 5. MARKET RECESS
During this period, trading for all stocks is halted. You cannot enter, modify, or cancel orders during this period. Currently, there is no market recess in the Philippine Stock Exchange. Before the March 16, 2020 shortened trading hours, the market recess was from 12:00 nn to 1:30 pm.
6. PRE-CLOSE AUCTION PERIOD
12:45 pm – 12:47 pm
This period is the same as the Pre-Open Auction Period. During this period, you can enter, modify, or cancel Orders.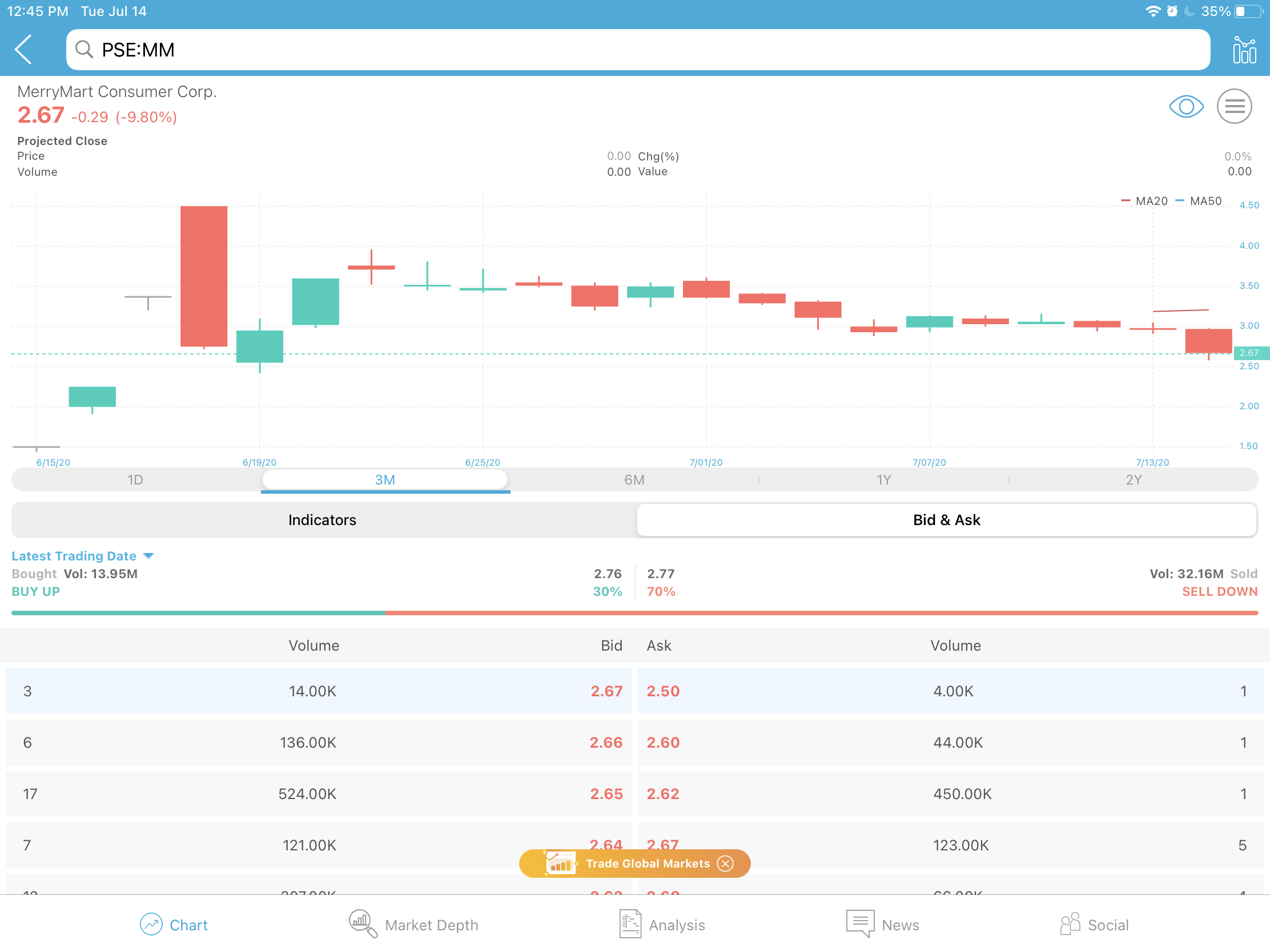 7. PRE-CLOSE NO-CANCEL PERIOD
12:48 pm – 12:49 pm
During this period, you are allowed to enter Orders but cannot cancel or modify them. If you want to cancel an order, make sure to do it before this period to avoid unnecessary losses.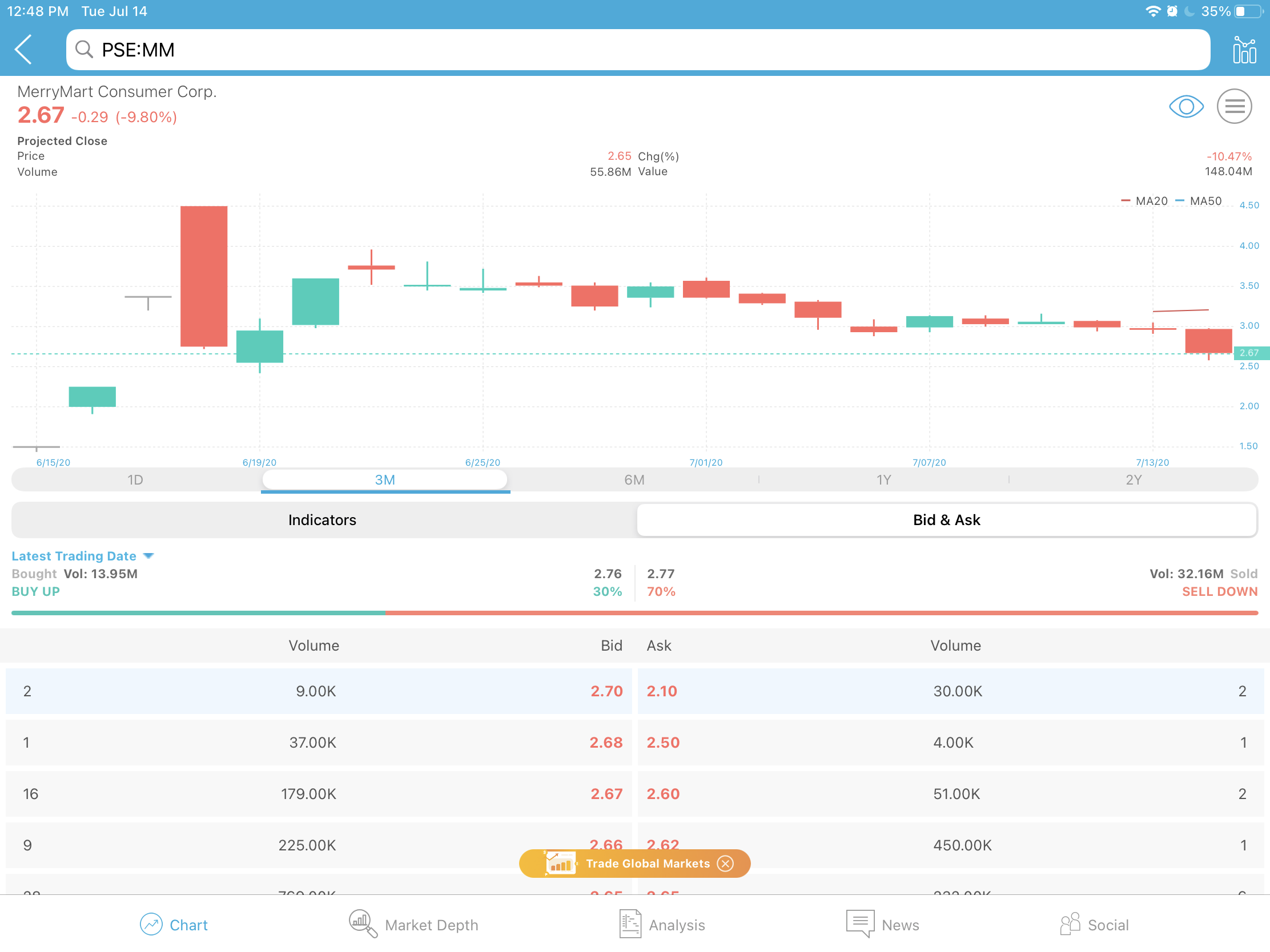 8. RUN-OFF/ TRADING-AT-LAST
12:50 pm – 12:59 pm
Traders can enter Orders ONLY at the Closing Price. In this example, $MM closed at 2.65 with 1.03M shares of unserved offers. If you want to buy this stock, then you can place a buy order at 2.65 and you will see it in your portfolio after the transaction. If, however, you already owned some shares and you want to dispose them 1-tick lower at 2.64, you will have to place the sell order at 2.65 even if you are willing to sell it at a much cheaper price.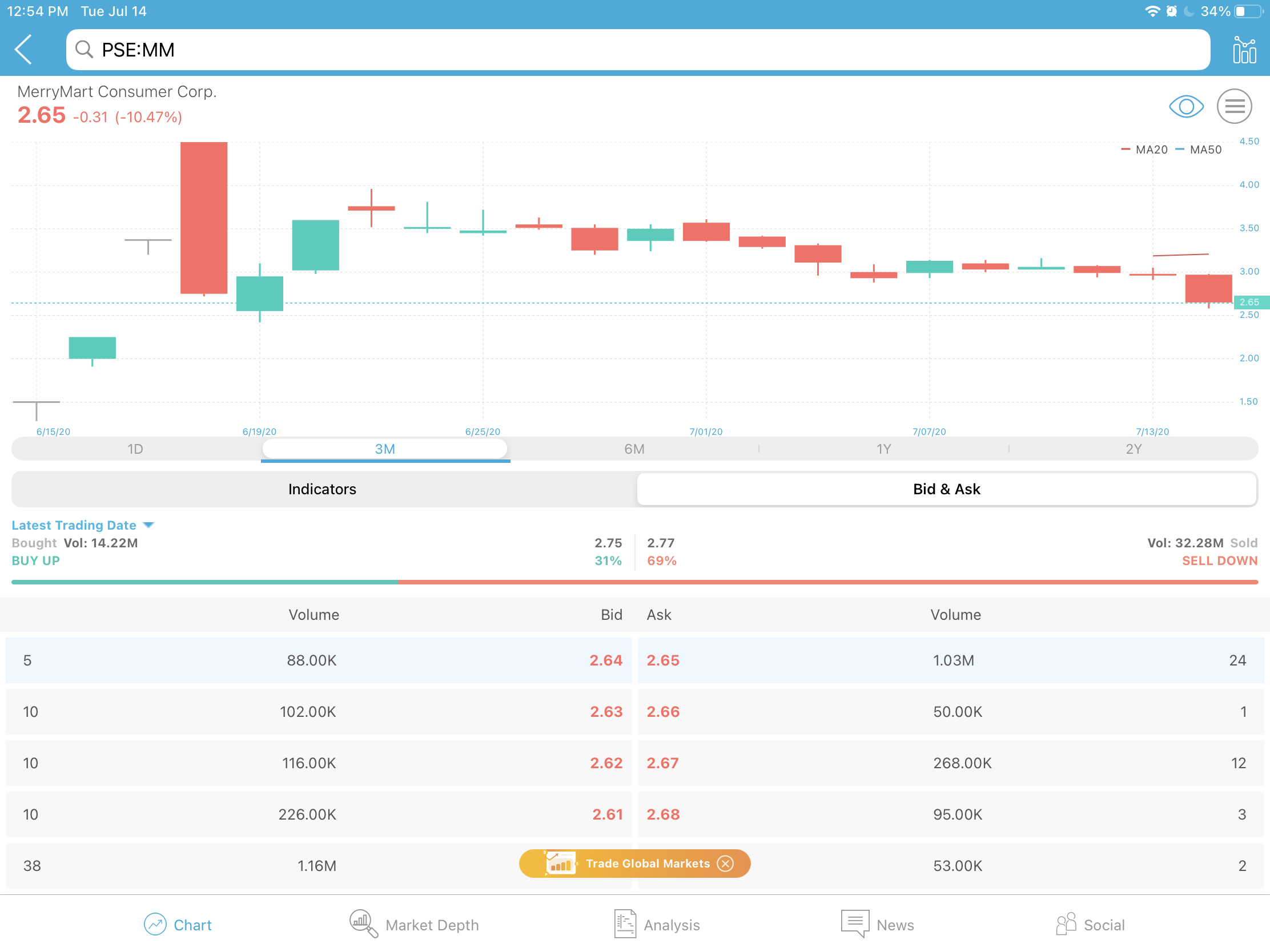 9. MARKET CLOSE
1:00 pm
This is the last period of a trading session. No trading activity occurs here. This is the time when you reflect and journal your trades and screen stocks for a potential play in the next trading day.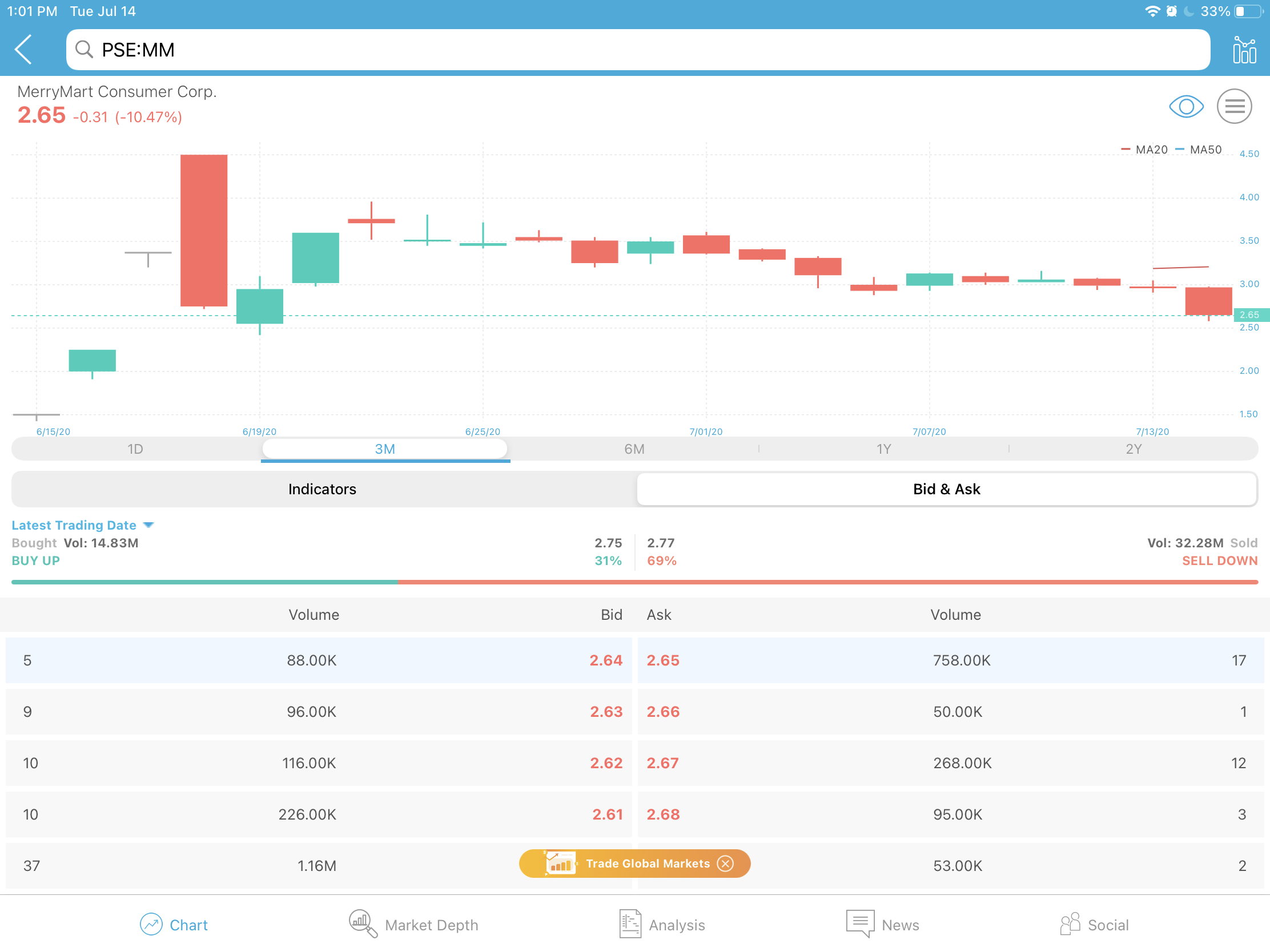 CONCLUSION
The key to an effective trading is to keep these market periods in mind before you enter or exit a trade. If you want to place orders at the opening price, you may place them during the pre-open no-cancel period since fake paddings from other market participants are usually cancelled before entering this period. The same is true if you want to place an order at the closing price — you may place it during the pre-close no-cancel period. These simple gestures will save you a lot of headache.
You don't want to get confused during market hours. So set forth children of the market, use these information to your advantage and dominate the trading world!
Contributor:

Full Name: Geyzson Kristoffer S. Homena
Investagrams username: @GeyzsonKristoffer
Channels:
www.facebook.com/GeyzsonKristoffer
www.investagrams.com/Profile/GeyzsonKristoffer
About the Contributor:
An Applied Mathematics graduate and a full-time teacher, Geyzson Kristoffer is a part-time trader who has been an active user of Investagrams since 2017. He spends his mornings, afternoons, and evenings learning about trading and reading books: Alexander Elder's Trading for a Living being his favorite. Cohering to his passion and profession, he set his heart on teaching and helping newbies, but only the dedicated ones.