The local market has been lackluster in comparison to the other Asian markets, yet opportunities exist every day. The concept of the Bottom-Up Approach enables us to zero-in on names that could move inversely with the $PSEi. Hence, the index does not discourage you from trading potential leaders.
For our featured trader for the week, we will be showing how he was able bottom-pick MerryMart Consumer Corp. or $MM. Tsupitero TIBATIBA a.k.a. @jamesgranda, is an active member of the Investa Community who continuously spreads his knowledge, insights, and expertise in the local market. He used a modest yet powerful way to trade, merely using lines to determine critical Support and Resistance Levels.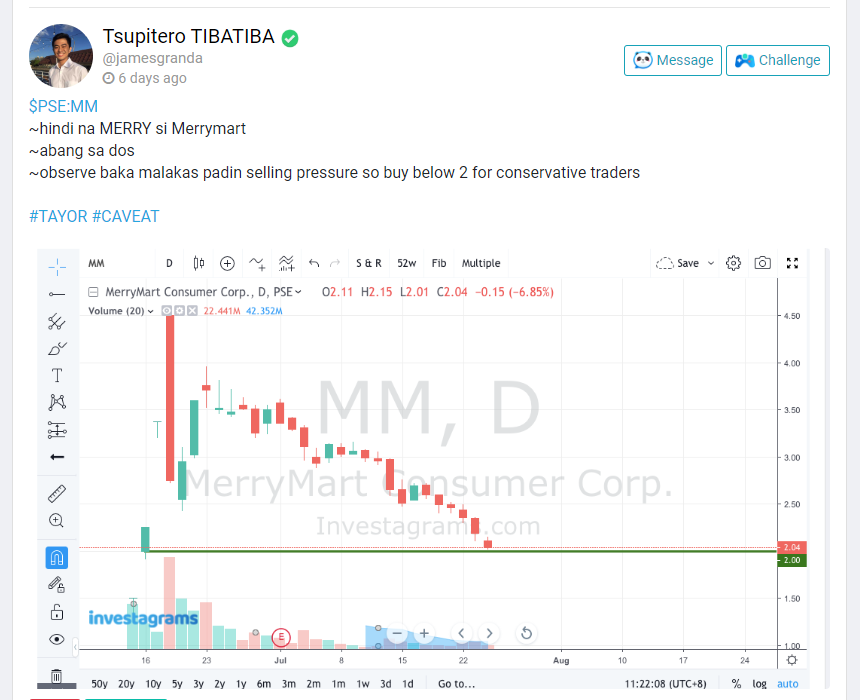 As seen in his posts, he simply used psychological levels to determine the Support level, which was the 2-peso area. It is a low-risk, high-reward trade, as the downside could be a cut below 1.9-1.95 (-3% to -6%) and potential take profit areas at 2.5-2.7 (25% to 35%) based on the overall structure of the said stock.
Another highlight of this trade is that there is a bullish divergence using the RSI (14) indicator in the 30-minute timeframe. Along with that, there was massive volume coming in the stock when it first started to bounce from the 2-peso area.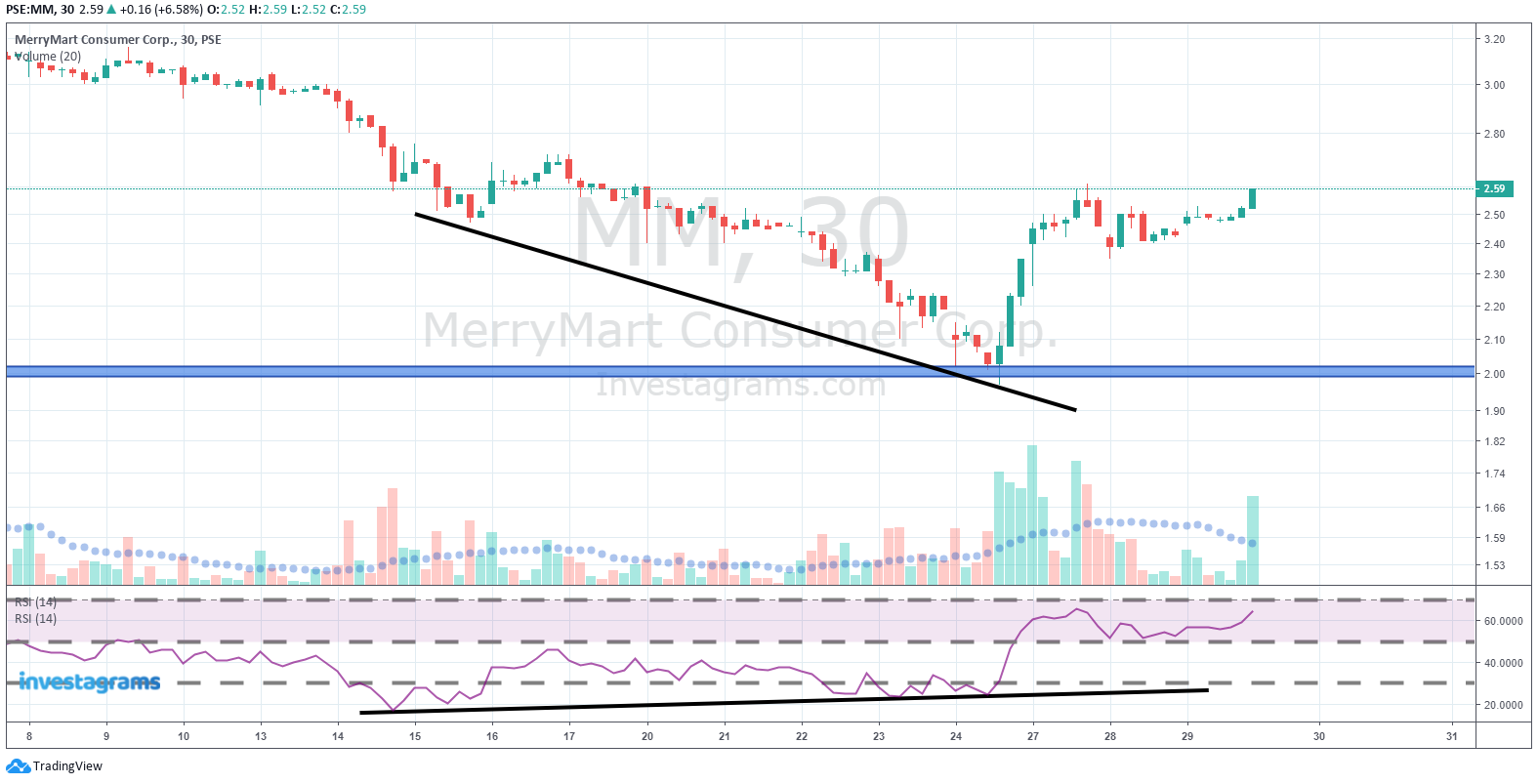 Besides the price behavior seen in the chart, he also stated several factors behind the trade idea, including the possibility of the business to reopen in August, and the 20 million bids at the close last Friday.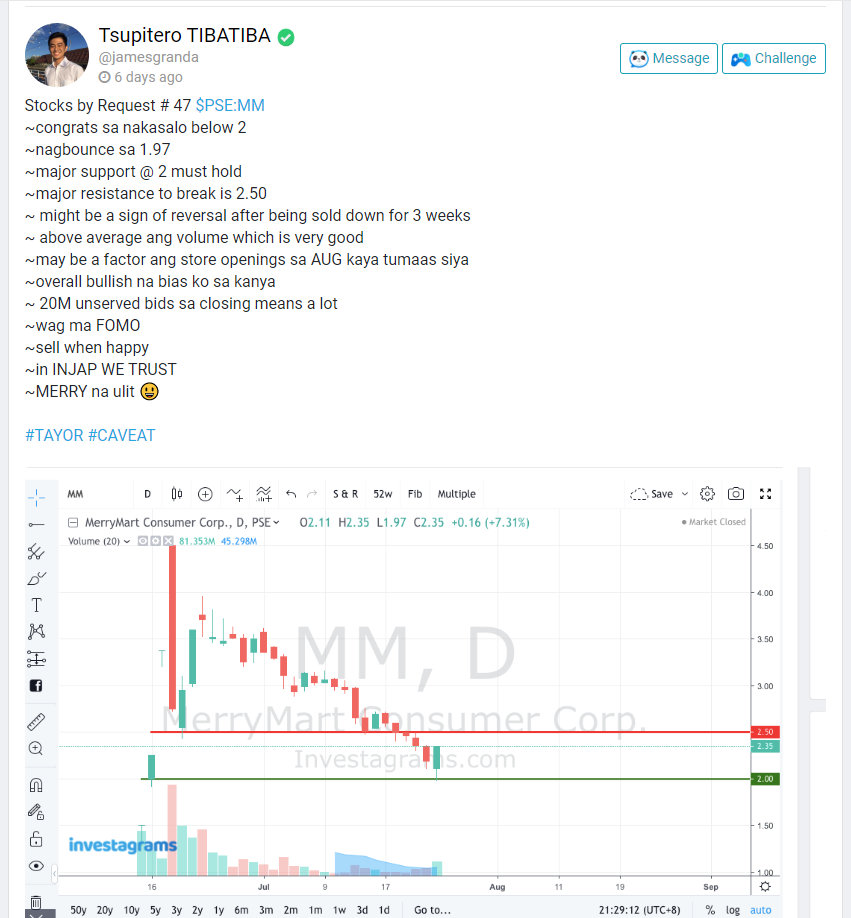 He followed up his trade idea with an updated chart showing a breakout of the short-term downtrend of $MM supported with heavy volume.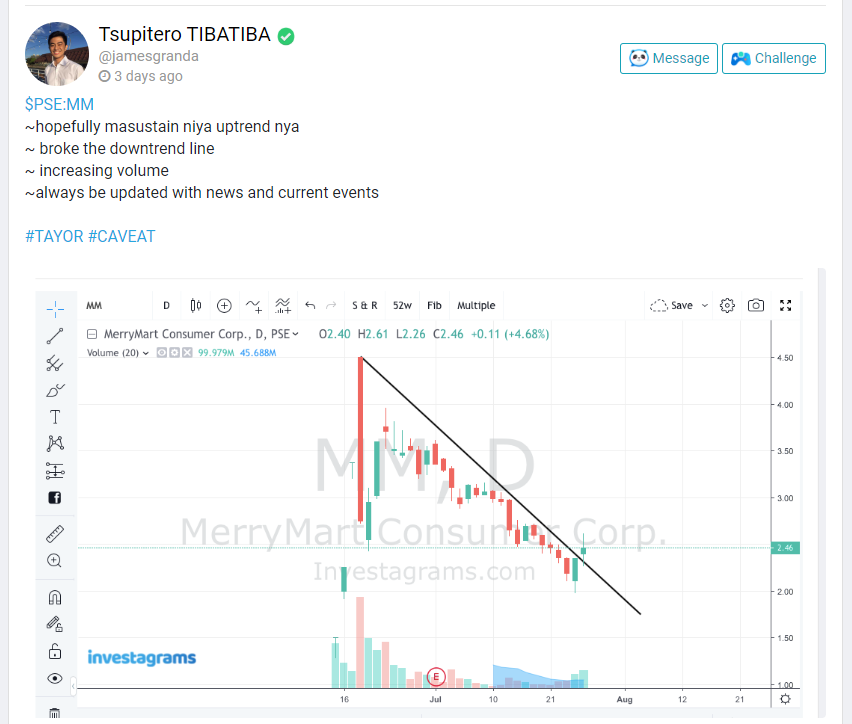 Being a professional trader does not translate to an individual who uses and is knowledgeable with advanced trading systems. Just like in any endeavor, an individual does not rely on what he knows, but rather how well he uses his system, whether it is something simple or complex.
Congratulations to those who were able to maximize the technical bounce of $MM. Lastly, kudos again to Tsupitero TIBATIBA for sharing his execution, your FREE InvestaPro 1-month access is on its way!