Planning is a very crucial task in trading. As they say, if you fail to plan, you are planning to fail. As a trader, you should always have a plan for any situation that may happen. Part of the planning process for every trader will always include looking for the best stocks to trade. You always have to find the best stock that fits your style of trading. It would be troublesome to go through each and every chart just to filter out ideal trade candidates. Luckily for us, there is the InvestaPrime ProScreener to help us look for the best trading opportunities. Using the InvestaPrime ProScreener will let us save a lot of time as it will do all of the screening and filtering work for us. It's even easy to use! You just need to know what kind of trade you are looking for. Since stocks in a strong uptrend are the easier stocks to trade, let's focus on finding opportunities for continuation pattern trades and momentum trades.
Let's go over how we can use the InvestaPrime ProScreener to make trading easier for us.
Market
Before you look for stocks or other assets that you would want to trade, you would first have to set which market you are looking to trade in.
We offer our screening services across seven different exchanges:
Philippine Stock Exchange (PSE)
Singapore Exchange (SGX)
Commodities (CMD)
Cryptocurrency (CRYPTO)
Forex (FX)
New Year Stock Exchange (NYSE)
Nasdaq Stock Market (NASDAQ)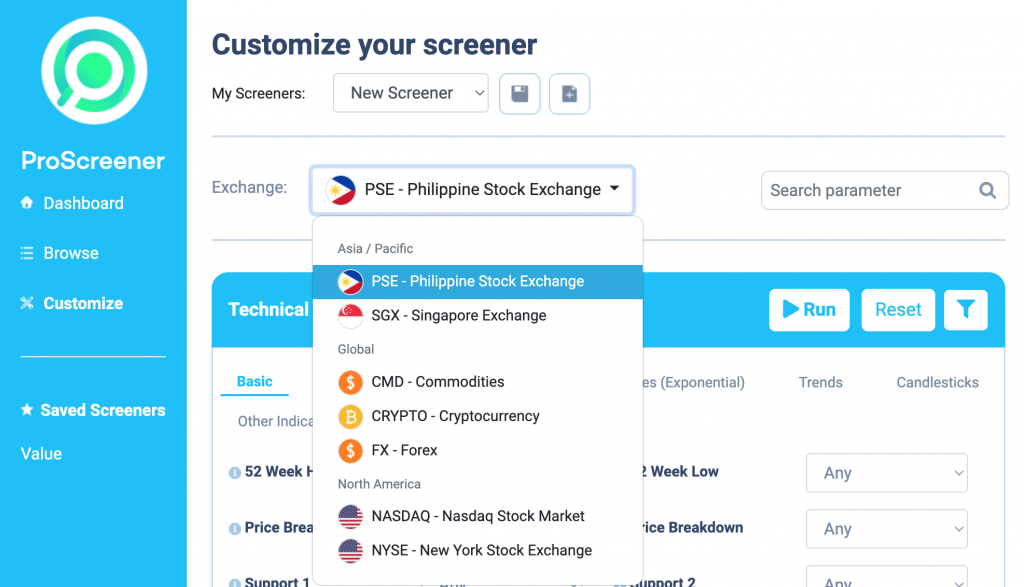 Trend Parameters
You would want to use the Moving Average Parameters in order to look for stocks that are in a strong uptrend. An example of this would be to use these parameters:
EMA 20: Moving Average above EMA 50
EMA 50: Moving Average above EMA 100
EMA 100: Moving Average above EMA 200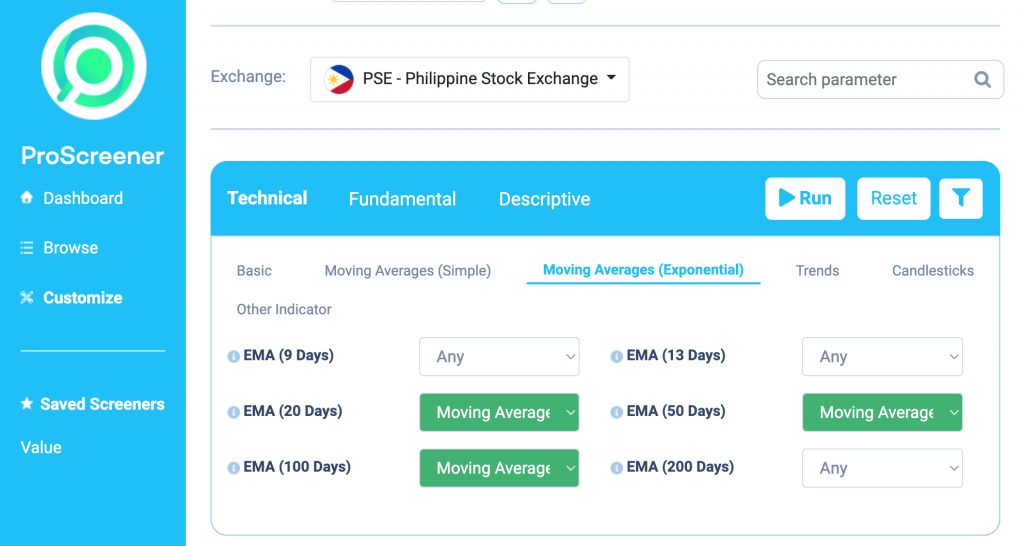 By using these as your parameters, you will be able to find stocks that are in a strong uptrend. When these moving averages are aligned, it means that traders invested in this stock are making money and the outlook is bullish for the near future.
Value Average
Aside from finding stocks in a strong uptrend, we also need to check how liquid these stocks are, or how much money is being exchanged. Value Average refers to the average total amount of money that goes in and out of a stock for a certain period. Although a stock may be in an uptrend, a low Value Average shows two warning signs. First, if you are investing a big amount, you may have difficulties selling later on if liquidity is low as you may find it hard to find buyers for your shares. Second, a low exchange of money within a stock may signify that there really isn't that much interest for the stock as not a lot of people are trading it. Although liquidity isn't that much of a problem in the U.S. and crypto markets, it is a necessity to look at liquidity when trading the Philippine markets.
To look for stocks that have shown to be liquid, an example would be to use these parameters:
Value Average (20 Days): Value Average >= 5M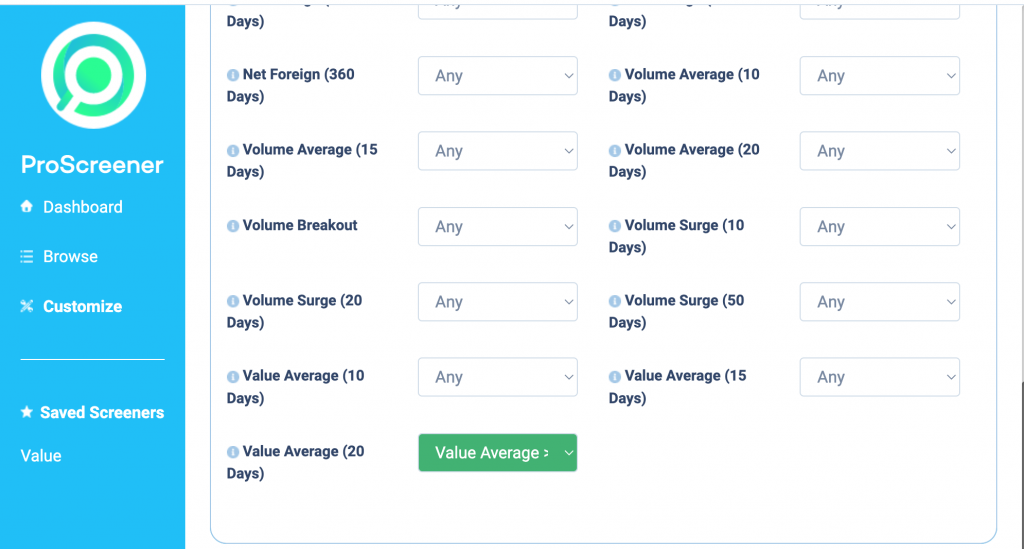 By using this parameter, you will be able to find stocks that have at least 5M worth of PHP or USD traded per trading session.
Fundamental Filters
Aside from Technical Analysis, Fundamentals should also be taken into consideration depending on the market that you would want to trade. For example, if you are looking for strong uptrending stocks in the U.S. market, then it would actually be ideal to look for high P/E stocks to trade. P/E, or the Price to Earnings ratio, is a measure of how cheap or expensive a stock is. Although it may be a common idea to look for cheap stocks, when looking for stocks in a strong uptrend a higher P/E ratio is actually ideal as you are looking for companies that are in their explosive growth stage. This means that their earnings are not yet there since they are still developing, but investors are already placing a premium for their shares as the future potential is too good to pass on.
An example of a Fundamental Filter for these kinds of stocks would be:
P/E Ratio: Over 20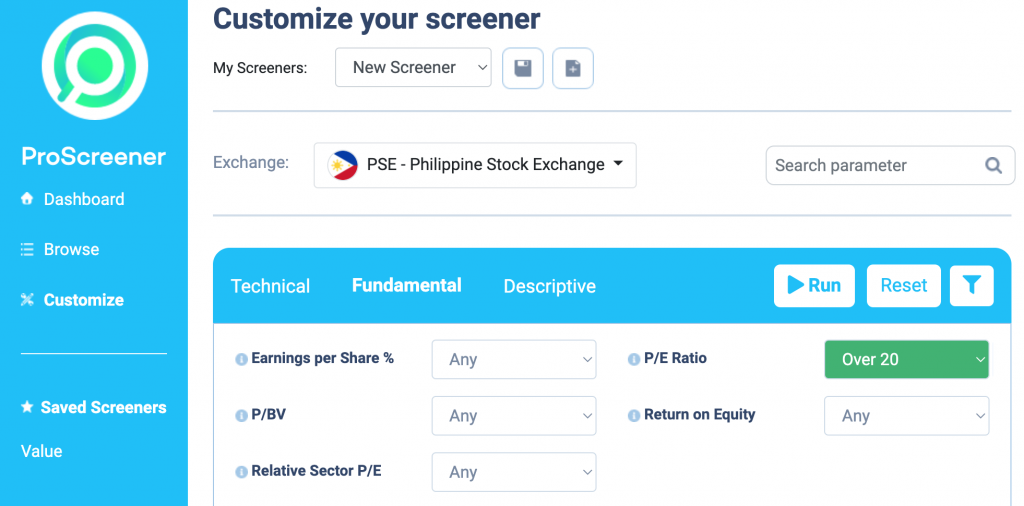 By using this parameter, you will be able to filter for companies that are being priced at a value a lot higher than its current earnings due to the potential of exponential growth.
These are actually just a fraction of what you can do with the InvestaPrime ProScreener. We have multiple screener filters that you can play around with in order to really find the best trades that you can take, from looking for stocks that are making new all-time highs, to being selective and minimizing your search to only select industries.
When you launch the InvestaPrime ProScreener, we have pre-made screeners for different trader types and different needs should you want to use some of the screeners even we use for our trading.
Want to know more about what we offer? Head on over to the InvestaPrime landing page to look at all the features that we provide to our subscribers! Start your FREE 14-day trial today.