For this week, we would like to congratulate our featured trader: Spidey a.k.a. @spidey!
This trader was able to spot a stock affiliated by Nickel, one of the tradeable metals in the commodities market, called $NIKL or Nickel Asia Corporation. Spidey a.k.a. @spidey, is an active member of the Investagrams community who endlessly spreads his knowledge on the local market using Technical Analysis.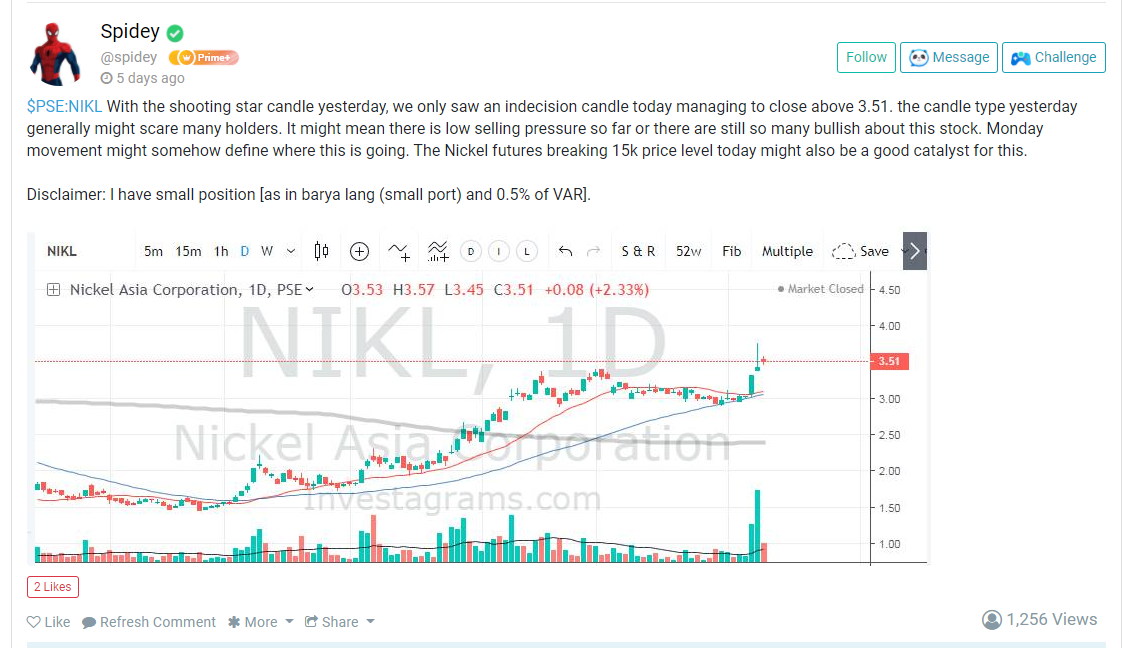 He mentioned the implications of the said candlestick pattern last October 8, 2020, wherein the displayed name exhibited a shooting star candlestick pattern, indicating a beginning of a downtrend. However, it is worth noting that a breakout of its pivot high invalidates the said downtrend bias for a said stock or any asset class. Moreover, given that Nickel prices heavily influence $NIKL, traders must check Nickel prices for more conviction in trading this stock. The same is true with names that are affiliated with any commodity or whatnot.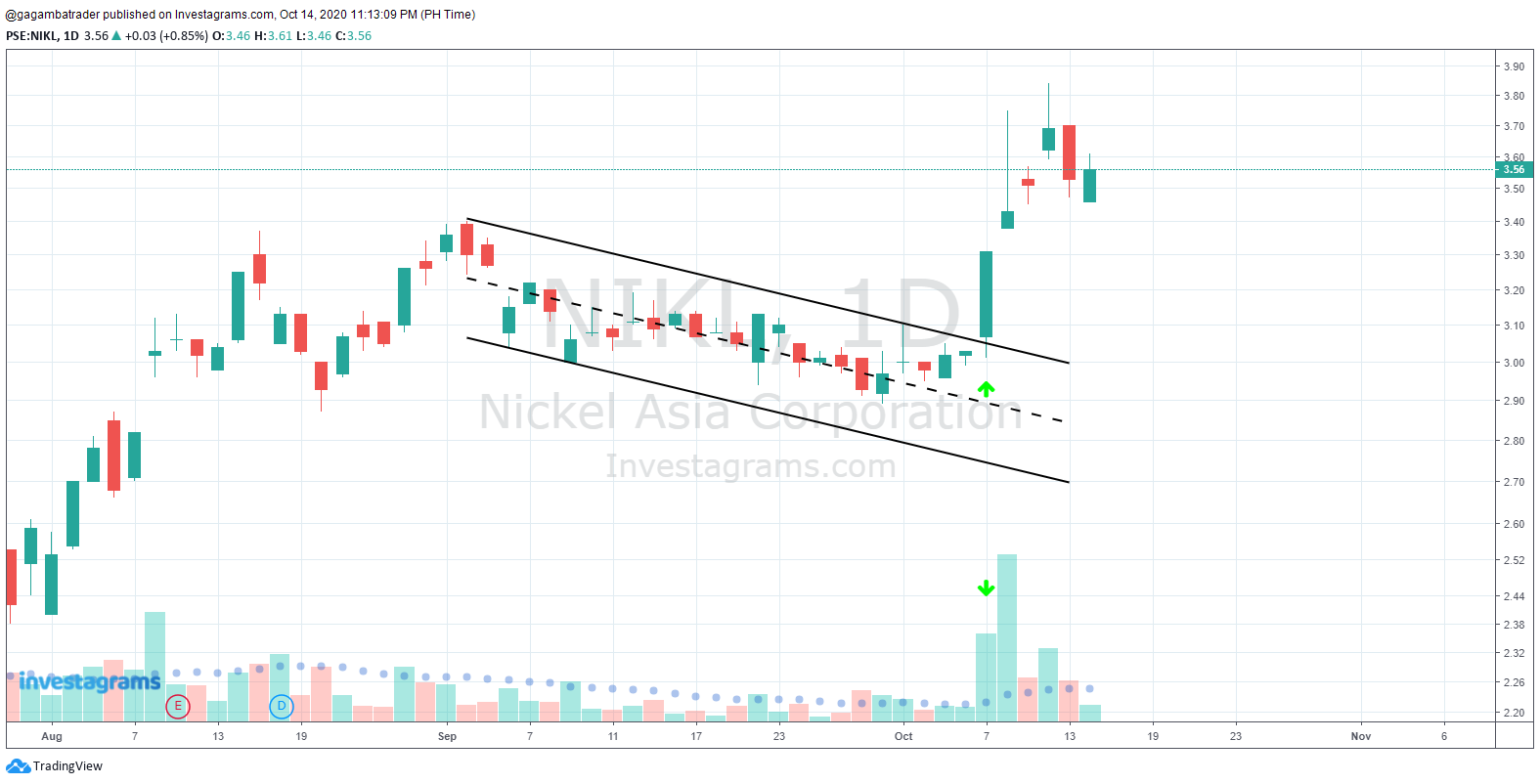 Technical wise, the stock broke out of the channel line that gave a 25% return (based on the October 12, 2020 top) in 4 days. The channel line was supported with a below-average volume, and the said breakout was supported with massive volume, which are critical features for any asset to continue its advance. It is a low-risk, high-reward trade, as the stop loss levels for the said breakout point around the 3-peso area could be below 2.95 (-4.5%), and the take profit areas could be the structural resistance at 3.8 (25%).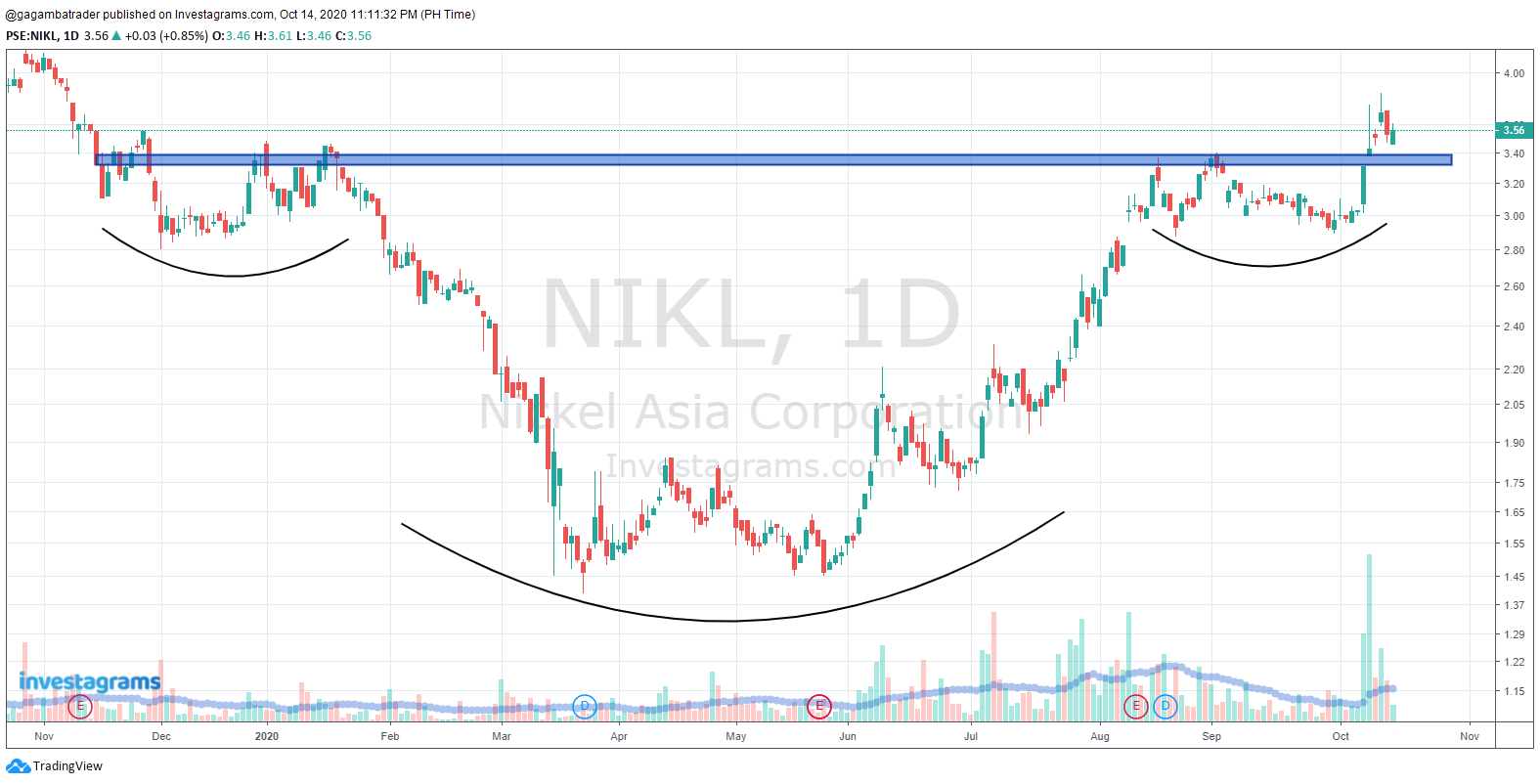 In the bigger picture, the said name is displaying an inverse head and shoulders pattern. It is ideal for the said stock to rise in confluence with the Nickel Futures to solidify its state for a significant reversal.
It is best for $NIKL to consolidate and hold above the 3.4-peso area with dried-up volume to form a constructive base. A break above the 3.8-peso area confluence with massive volume is superlative for this stock to continue its dominance.
As stated by Spidey a.k.a spidey, basing one's bias through a single candlestick pattern may catch you off-guard. It is still ideal to be more focused on the cluster of candlesticks than a single candlestick. Then again, it depends on the end-user.
Congratulations to those who were able to maximize the technical swing of $NIKL. Lastly, kudos again to Spidey a.k.a spidey for sharing his trade analysis. Your FREE 1-Month InvestaPRO is on its way!
---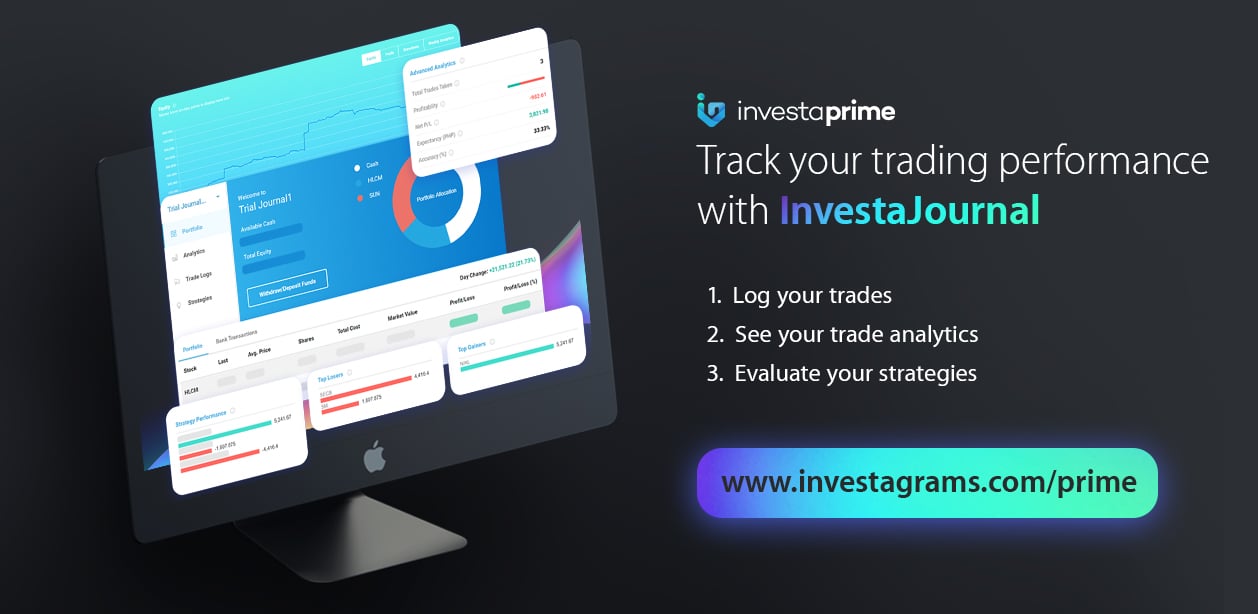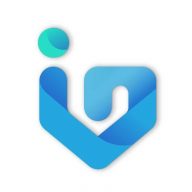 Investagrams has helped thousands of Filipinos all over the world on their stock market journey. Now, we're aiming to help thousands more! Follow us on InvestaDaily for investing tips and stock market advice to help you reach your first million.