For this week, we would like to congratulate our featured trader: Potato a.k.a. @lazypotato!
This trader was able to spot one of the market leaders of the local market – $CHP or CEMEX Holdings Philippines Inc. Potato a.k.a. @lazypotato is a new and active member of the Investagrams community, yet already ceaseless in providing his analysis and insights focusing on the local market.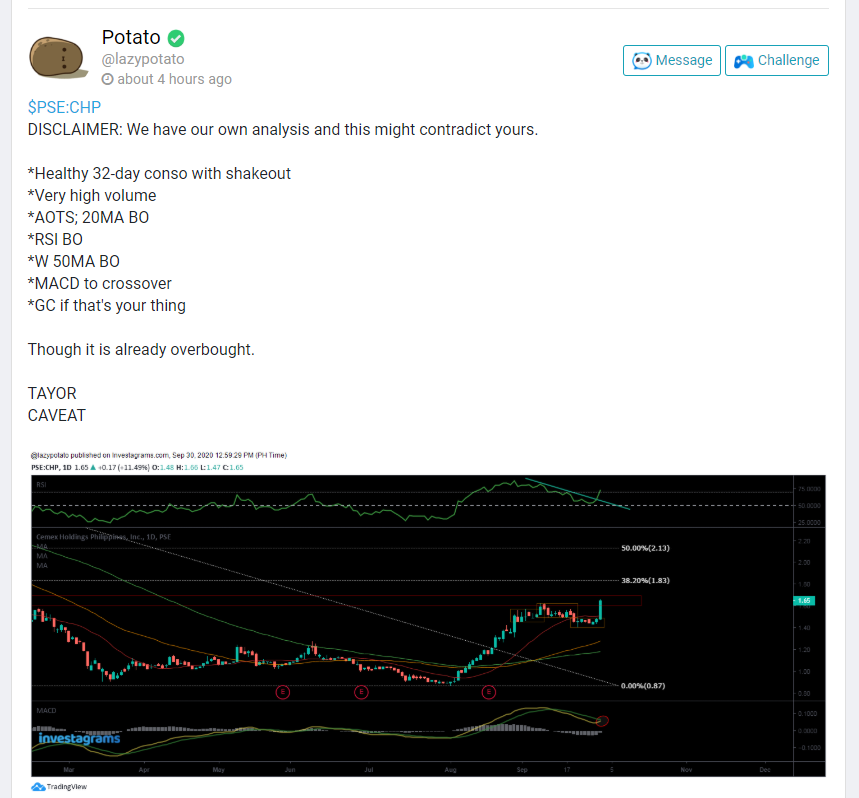 Along with his analysis of his stock selections, he also highlighted that a trader must take things with a grain of salt. When it comes to grasping ideas of other market participants, he said that a trader must be careful in following or absorbing their ideas. We will never know if other's analysis were made purely because of goodwill or because of hyping/bashing. Thus, it is always important to trade at your own risk (TAYOR) and with caveat.
As the said stock rose from its initial base, the stock consolidated for more than a month. The consolidation phase was also supported by below-average volume. Moreover, he also shared that the recent breakout of the said stock was in confluence with heavy volume, RSI (14) breakout of its trendline channel, MACD bullish crossover, and alignment of the stars (AOTS) in the form of moving averages.
Having multiple indicators confirm a buying signal indicates better chances that the move will continue its ascendancy. However, let us not forget that anything can happen in the markets. As traders, we should respect our stops if any unforeseen event occurs.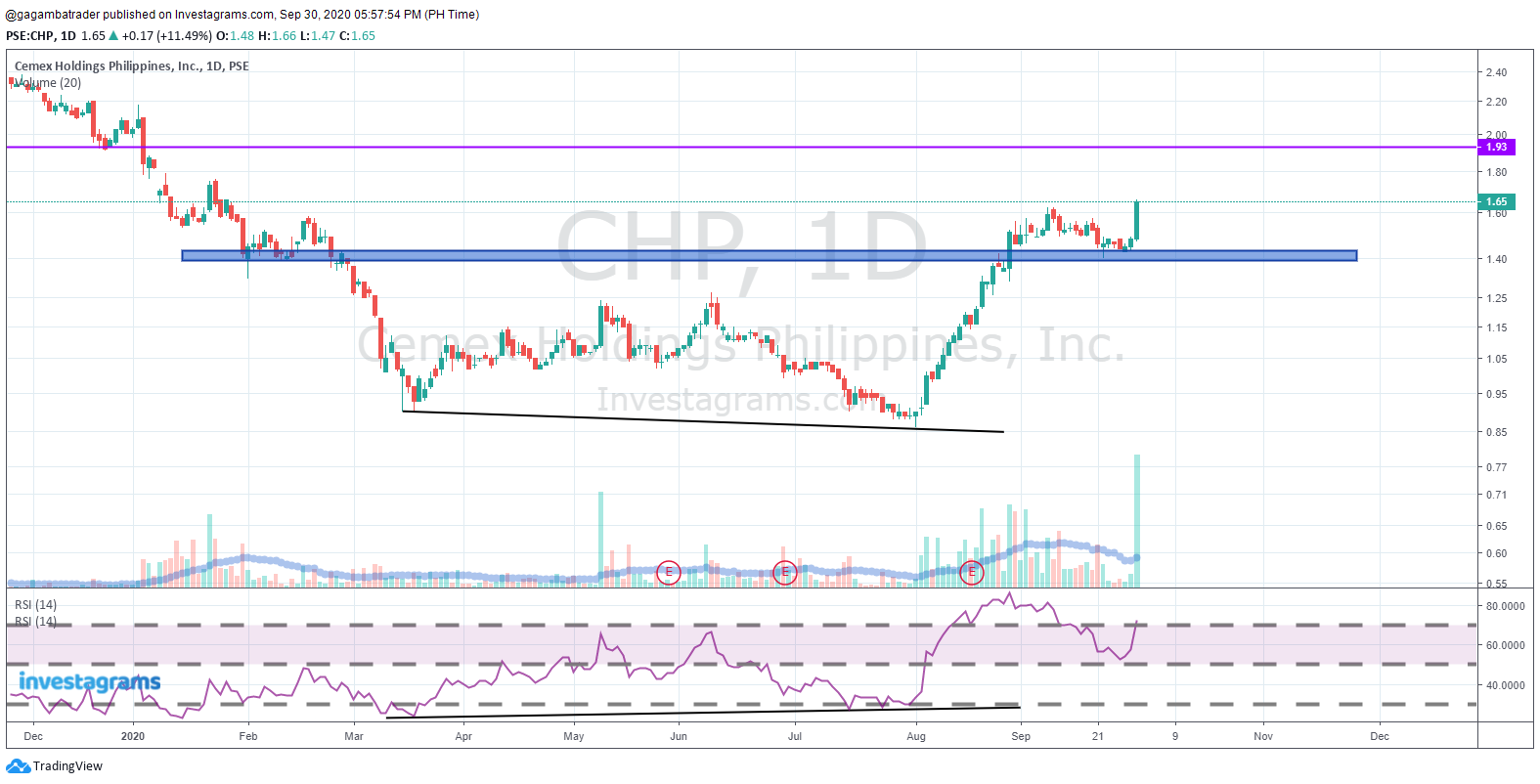 Moreover, there was a bullish divergence in the RSI (14) in its initial base prior to its rise. If you missed out on this trade during its rise last August 5, 2020, an opportunity reemerged when the stock was able to hover above the previous resistance which turned to the new support at the 1.4-peso levels.
The ideal buy point was the 1.4 (support) or the 1.5 (trendline breakout) peso levels. It is a low-risk, high-reward trade, as the stop loss levels for the said breakout point could be below 1.42 (-5.5%) if you bought it on its trendline channel pattern. On the other hand, the stop-loss levels for the said structural support levels could be below 1.34 (-4.4%). Take profit areas could be the structural resistance at 1.9-2-peso area (30%-40%).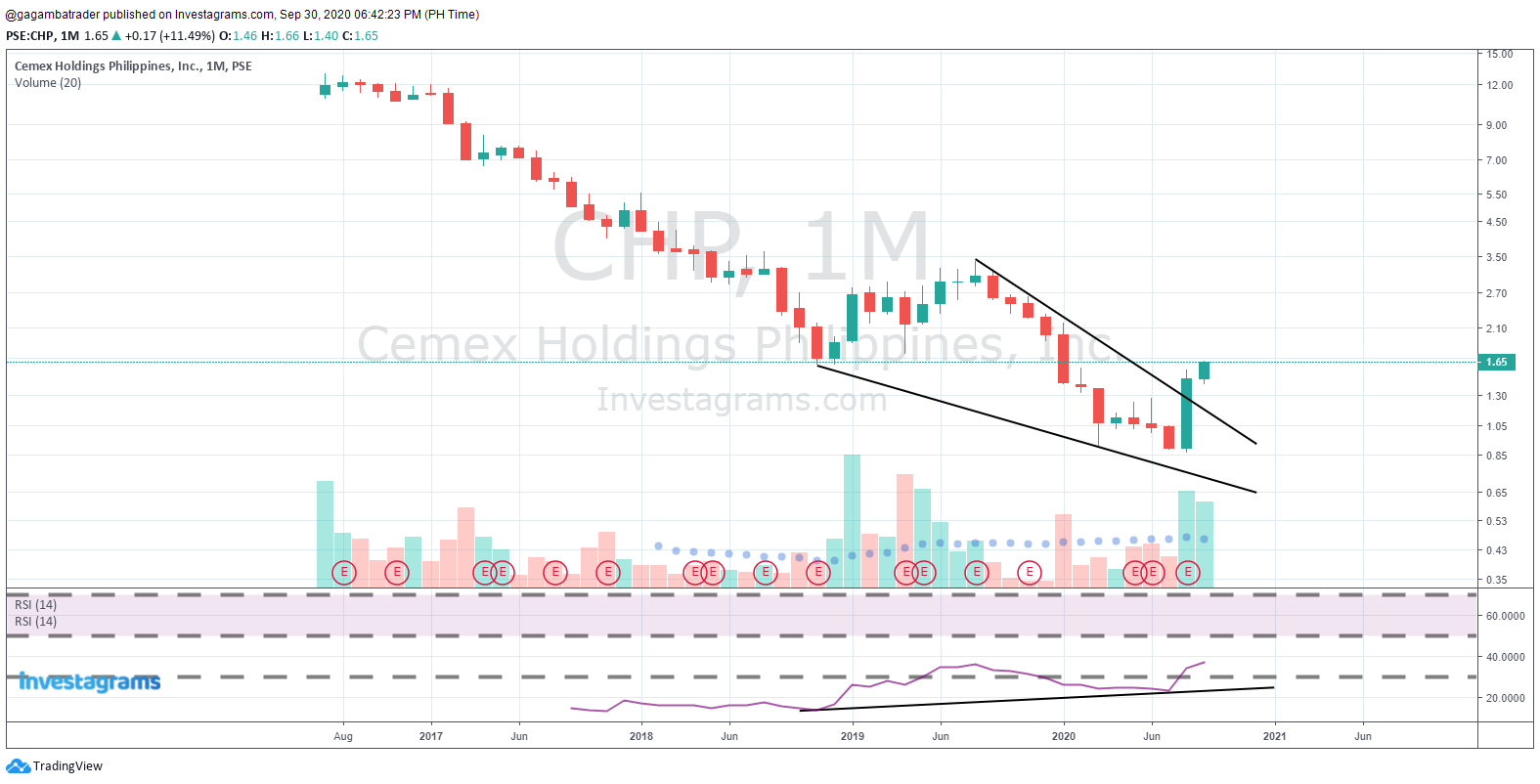 In the bigger picture, the monthly chart also exhibits a bullish divergence along with a triangle breakout. $CHP must sustain and consolidate above the 2-peso levels to further assert its dominance.
Market participants should not feel lonely when they miss a trade. Given that the financial markets offer a multitude of names from various asset classes that are operating in different timeframes, the markets are bound to give an endless stream of trading opportunities to those individuals who make themselves available for whatever the market is offering at any given moment.
Congratulations to those who were able to maximize the reversal play of $CHP. Lastly, kudos again to Potato a.k.a. @lazypotato for sharing his trade analysis. Your FREE 1-Month InvestaPRO Access is on its way!
---
Are you up to the Challenge of Investa Cup 2020? Registration is STILL OPEN UNTIL OCTOBER 4.
Hurry! Join now!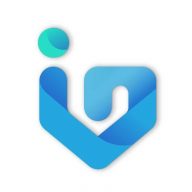 Investagrams has helped thousands of Filipinos all over the world on their stock market journey. Now, we're aiming to help thousands more! Follow us on InvestaDaily for investing tips and stock market advice to help you reach your first million.