For this week, we'd like to feature a trader who has consistently provided immense value to the entire Investagrams Community. Congratulations to our latest featured trader, Line Man! In our all-time contributing authors on the platform, Line Man ranks 10th out of hundreds of thousands of users. One of his signature posts is his leaderboard where we can see the leading stocks for the week, month, and year.
Leaderboard post: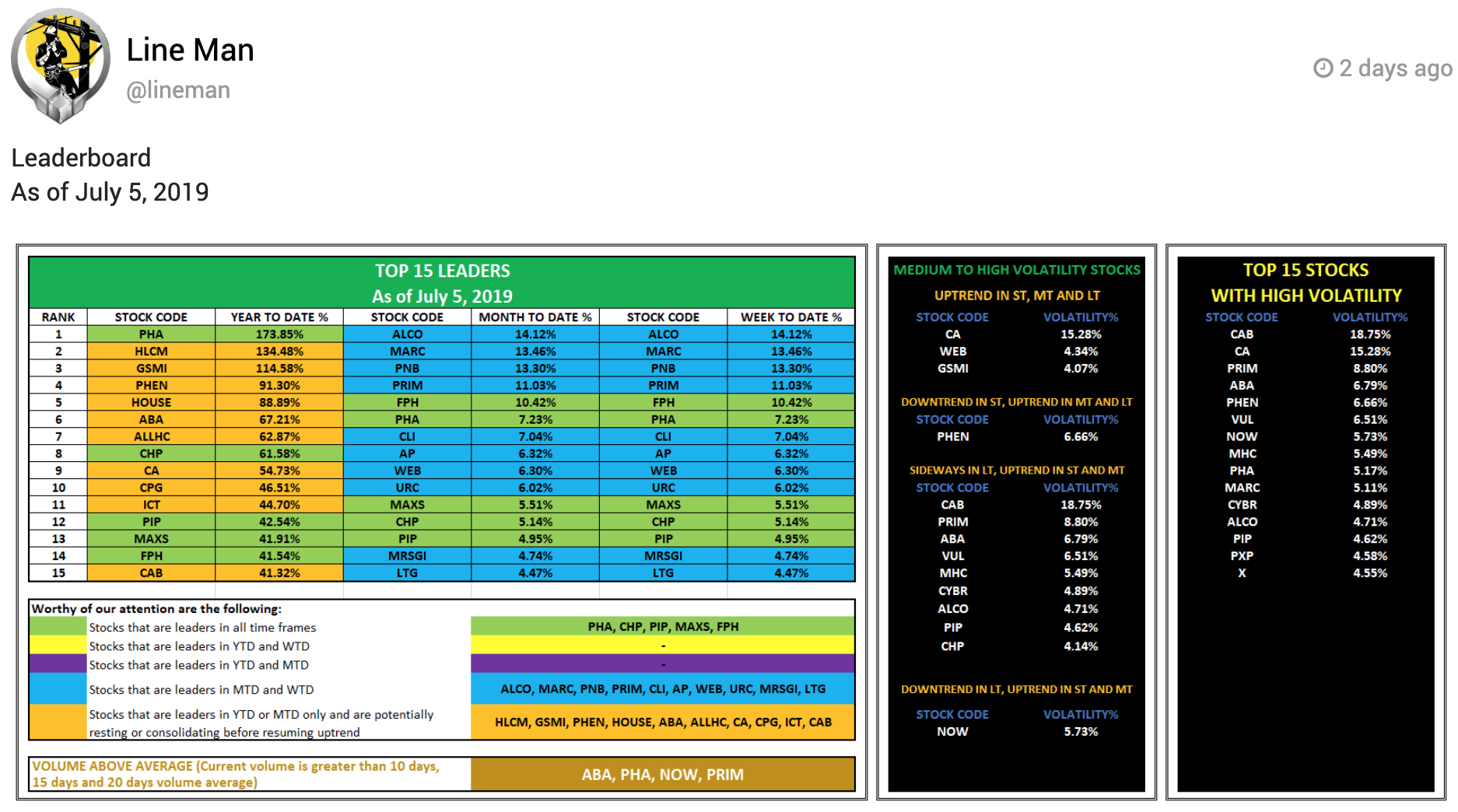 Source: https://www.investagrams.com/Post/lineman/732656
Through Line Man's continuous updates on his leaderboard, we are always reminded to avoid the laggard stocks and focus on the true outliers in the market. He also created filtered which stocks are leaders on different timeframes. Not only that, but there's also a list of stocks ranked in terms of volatility for our day and swing traders looking to make a quick profit from intraday movements.
We asked TomaTrader, one of our new teammates here at Investa, how Line Man has helped him in his trading. Toma said, "He is able to make the whole process of screening stocks easier. Aside from using the InvestaScreener+, I always make sure to check out Line Man's posts since some of the stocks that come out on his leaderboard don't make it into my screener. I've been able to latch on to several market leaders just by seeing them on his leaderboards before they made significant moves."
Wait! There's more: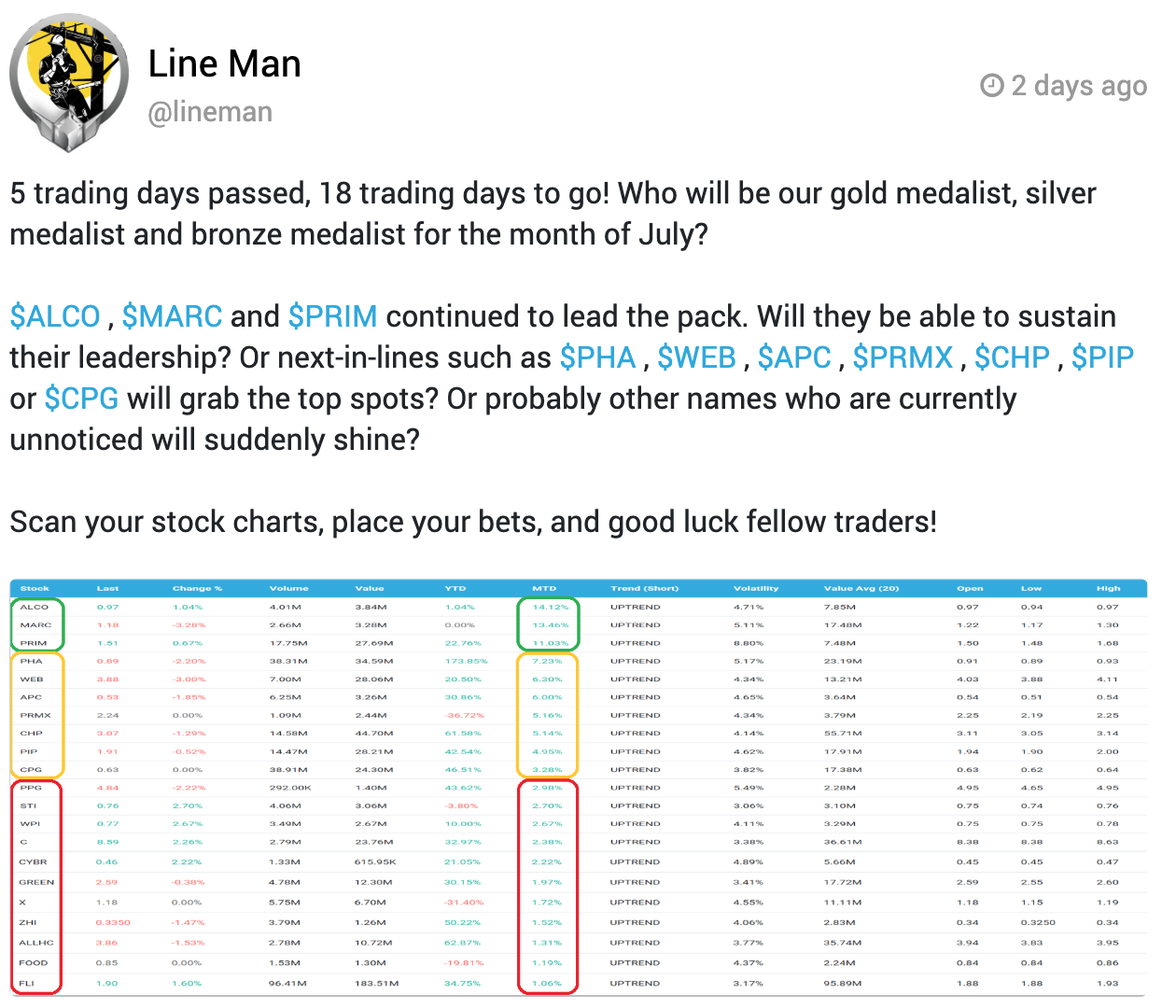 Source: https://www.investagrams.com/Post/lineman/732662
Line Man also specifically highlights the leading stocks for the month by awarding them through the medal system. He continuously updates this list and the last ones standing, the stocks that made the biggest moves for the month, will be awarded and recognized. This is also another way Line Man is able to help traders screen for stocks, by showing them the leaders for the current trading month.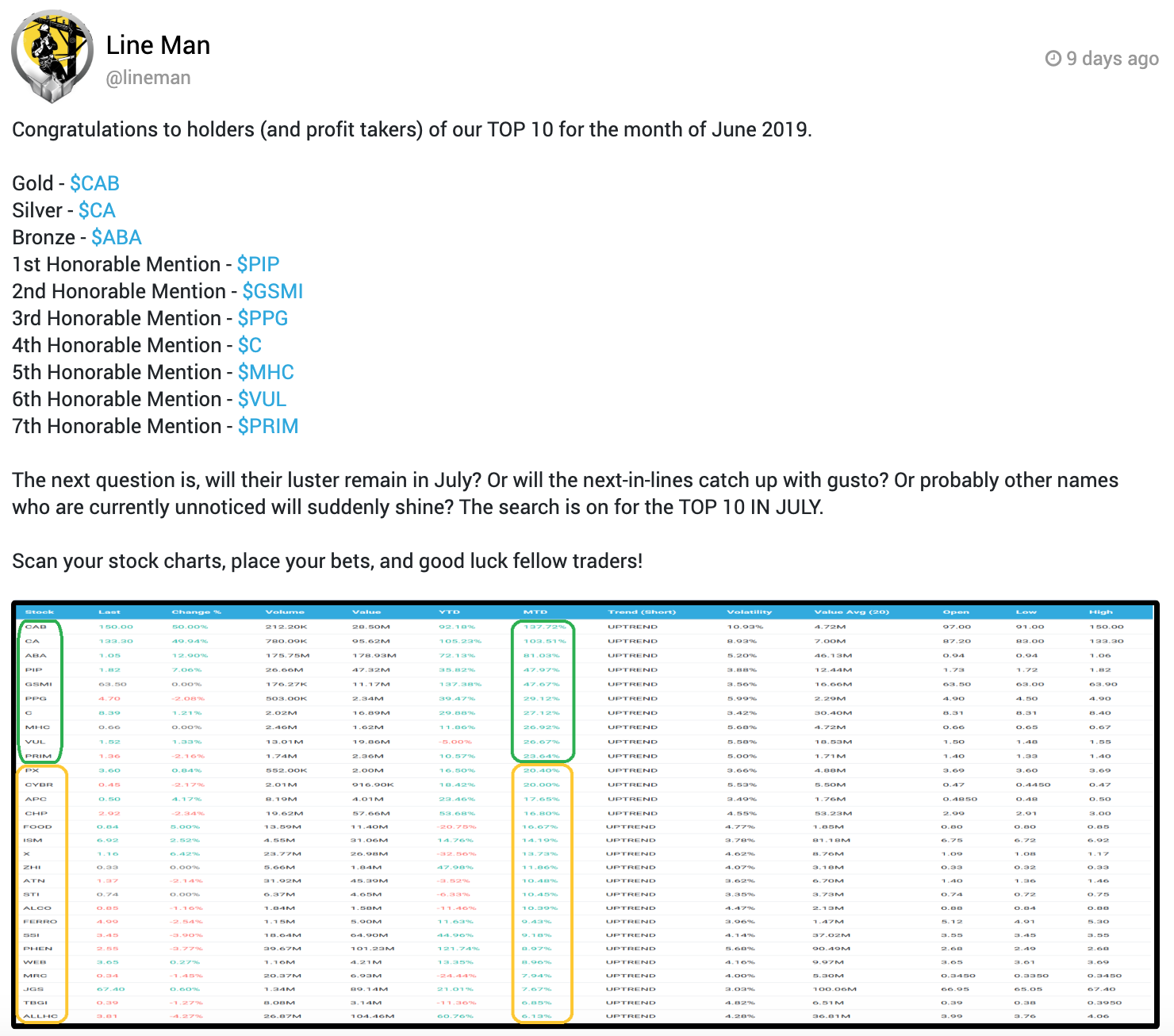 Source: https://www.investagrams.com/Post/lineman/725548
"Scan your stock charts, place your bets, and good luck fellow traders!" ~ Line Man
Thank you, Line Man! Your FREE one-month InvestaJournal access will be added to your account on top of your 1-year InvestaJournal access from your Silver Pledge. Enjoy the extended access!
On behalf of the whole Investa Team, we would like to sincerely thank Line Man for being a significant member of our community. You are truly deserving of your Top 10 spot on our all-time contributing authors list. Do know that there are countless of traders that have benefitted through your consistent content. Without a shred of doubt, we are confident that the value you provide to all the trades who consume your content will come back to you in more ways than one. We are all looking forward to seeing more of your posts, Line Man!
---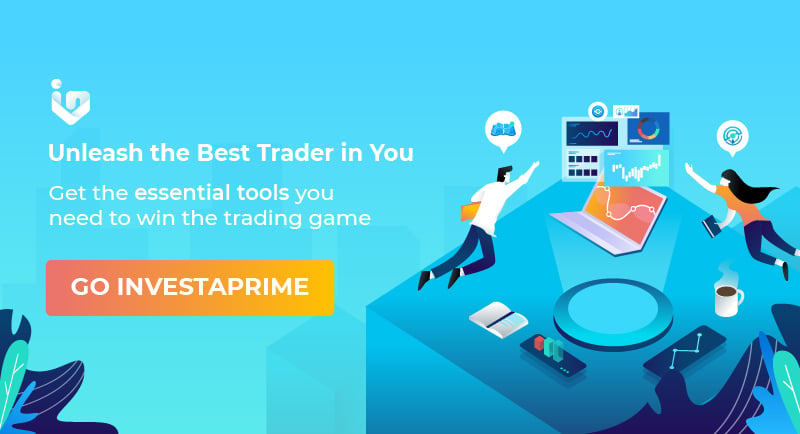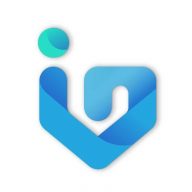 Investagrams has helped thousands of Filipinos all over the world on their stock market journey. Now, we're aiming to help thousands more! Follow us on InvestaDaily for investing tips and stock market advice to help you reach your first million.