As a trader (or investor), your job is to sift through companies listed in the stock exchange and weed out all the companies that do not fit our strategy to create a watchlist of companies that do. That's how we find stocks that give us the opportunity to generate income.
There are currently over 200 plus publicly-listed companies in the Philippine Stock Exchange (PSE). Now, whether you're an investor or a trader, the mundane task of sorting through these companies (one by one!) can be a lot tiring, as you can imagine. Thankfully, we've already been lightyears away from the stone age-like activity of screening companies one by one. We can now use a screener that has virtually every parameter we need.
If you're someone who has a day job or is still a student, then using a stock screener is just for you. Using a screener that can scan through various parameters from the PSE stocks, from blue chips to your favorite "basura" stocks (3rd liners/small caps), screening stocks won't have to be too tedious nor time consuming.
A common question non-market participant asks investors/traders is how they can find stocks to buy. Both investors and traders have their own strategies in screening for their stocks. They'll be explained as follows.
How to Use a Screener?
Investors who use fundamental analysis need their ratios. They need to invest in financially sound companies that will do well in the long run. They want to buy stocks that are undervalued and sell when it's overvalued.
Here are the ratios available for fundamentalists:
Earnings per Share % (EPS %)
Return on Equity (ROE)
P/E Ratio (Price to Earnings Ratio)
P/BV (Price to Book Value Ratio)
They could also use descriptive parameters such as:
Sector – Financial, Property, Mining, and Oil, etc.
Price – Prices relative to stocks in the PSE
Change Percentage – Price changes from its previous day's close
The following examples highlight how a fundamental investor can utilize InvestaScreener:
Looking for undervalued companies? Here we've easily found 42 companies that are deemed undervalued using the P/E Ratio as a parameter.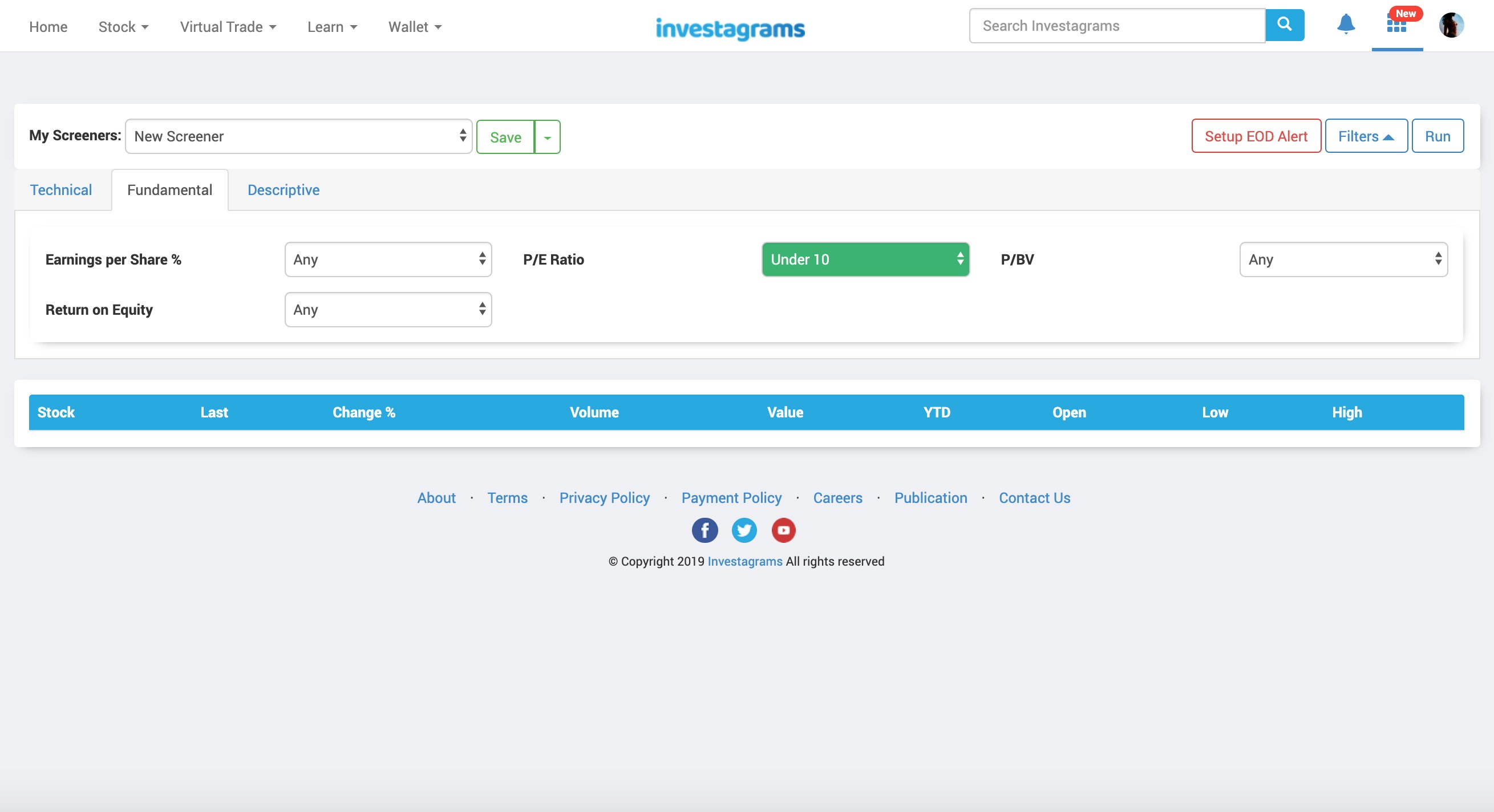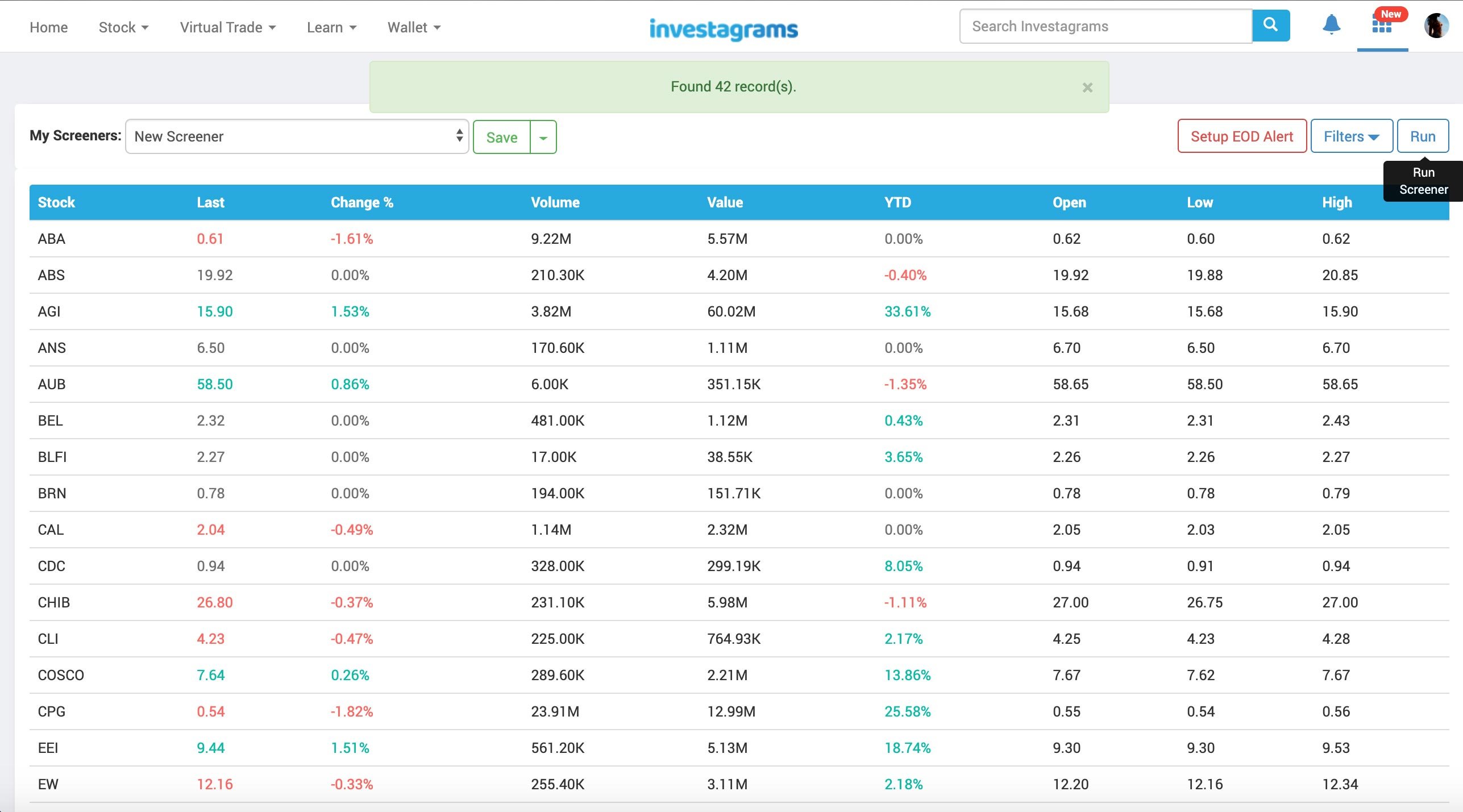 Investors can also mix it with other fundamental parameters accordingly with their strategy.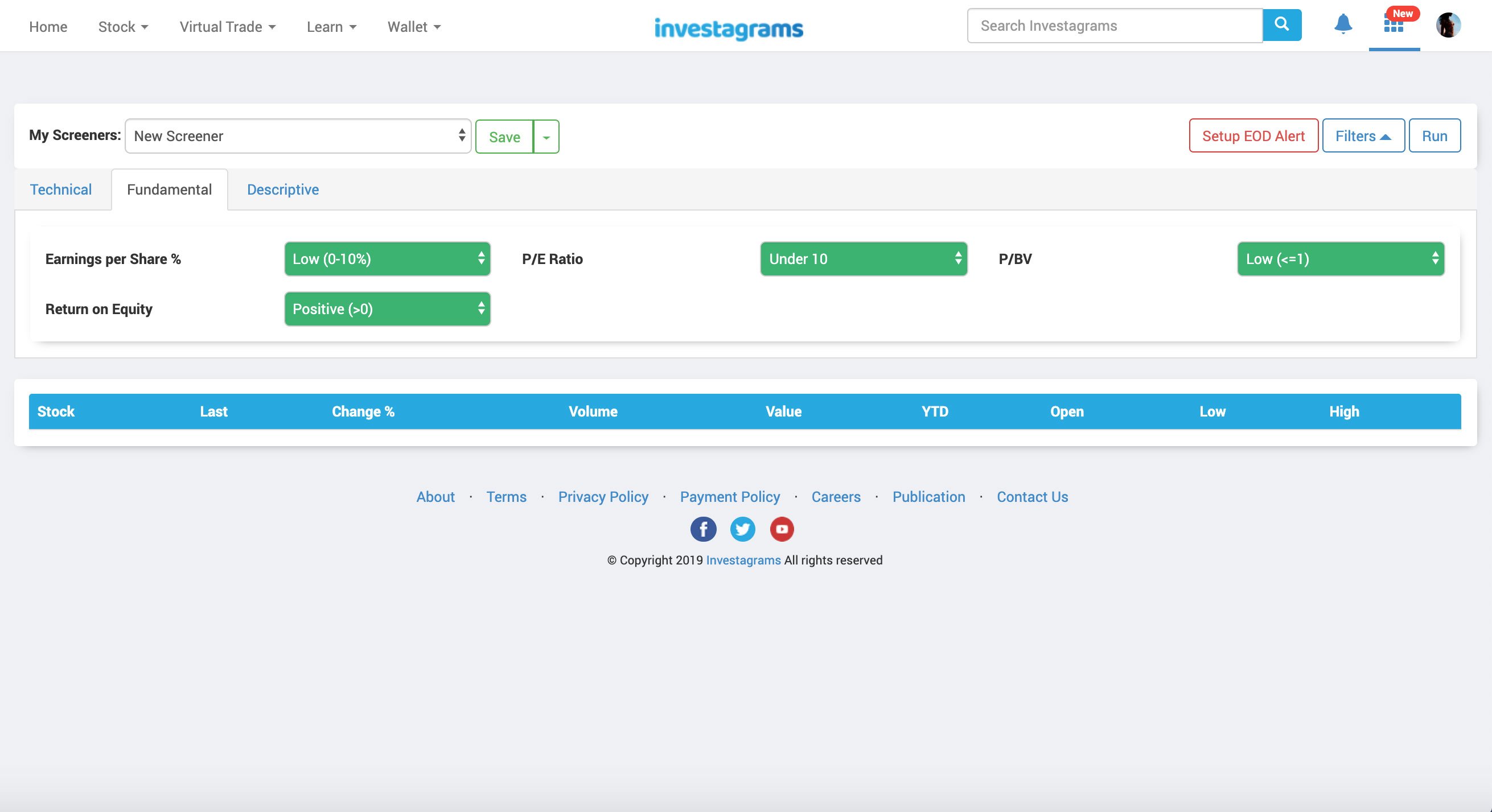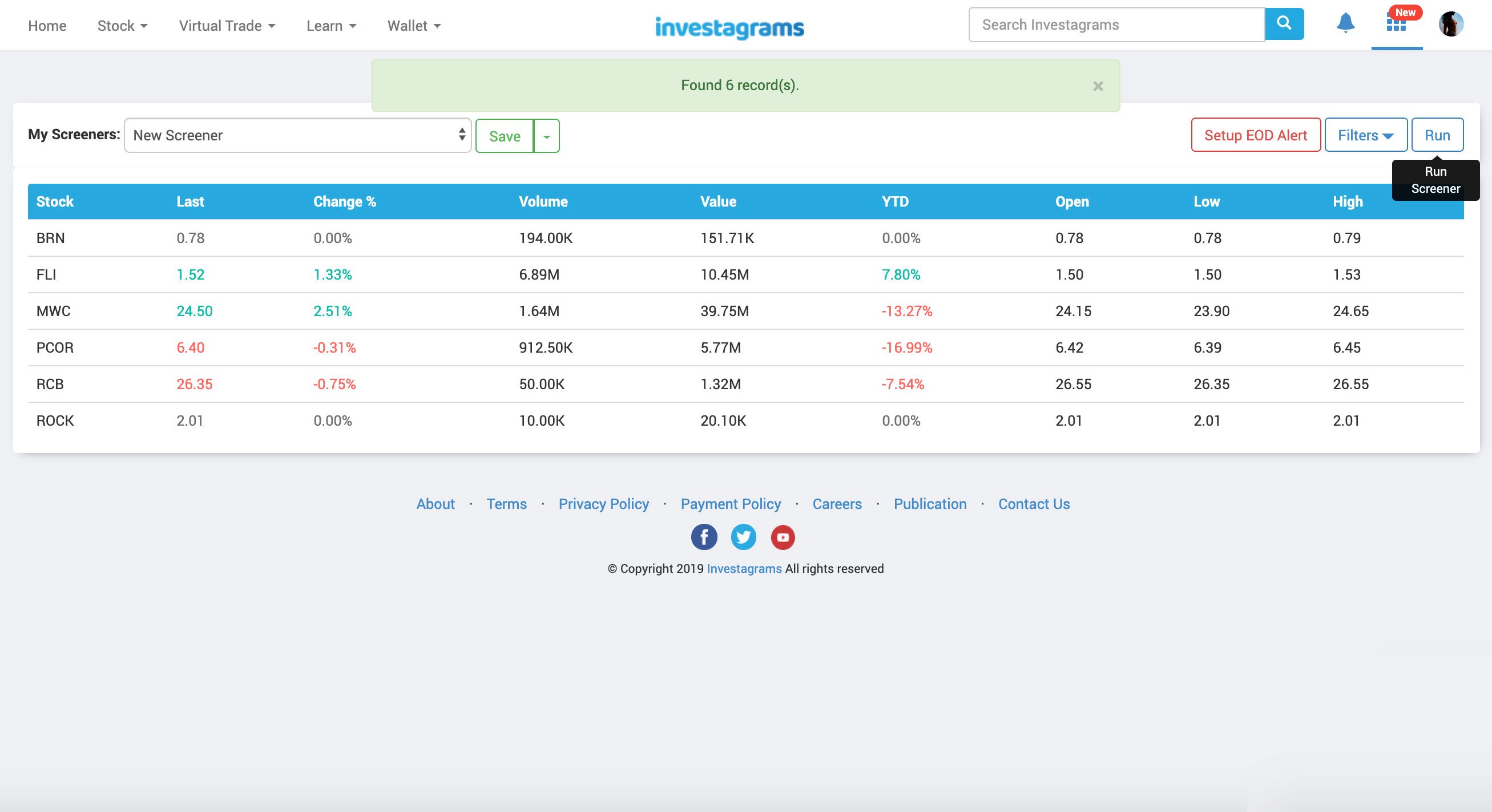 They could also filter the screener to only display a specific sector given other fundamental parameter they have entered. In the below example, we used P/E <10 in the financial sector.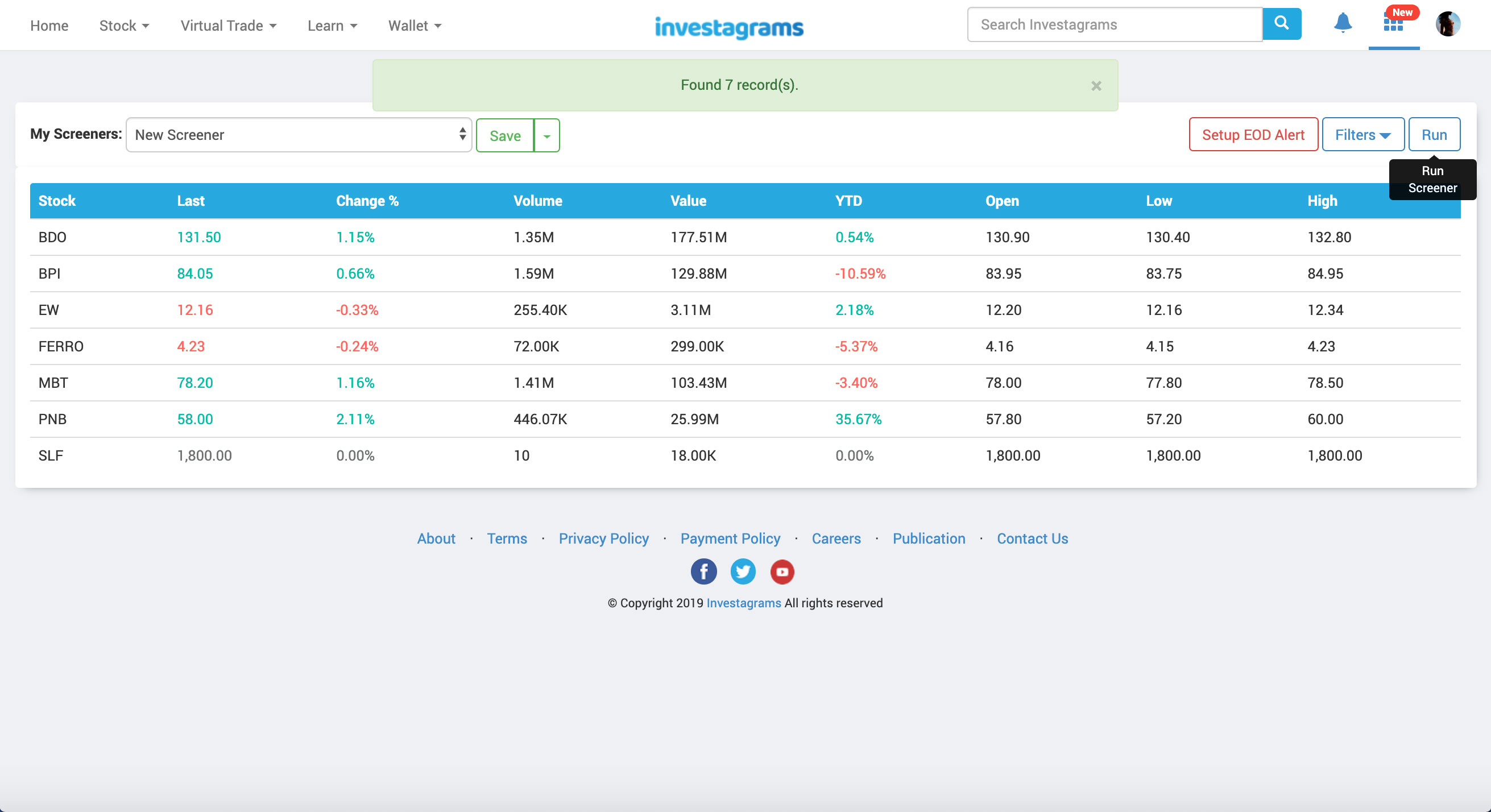 They could also filter stock picks with a technical filter. In the below example, we filtered stocks that are in their long-term uptrend while trading below 15 times their earnings.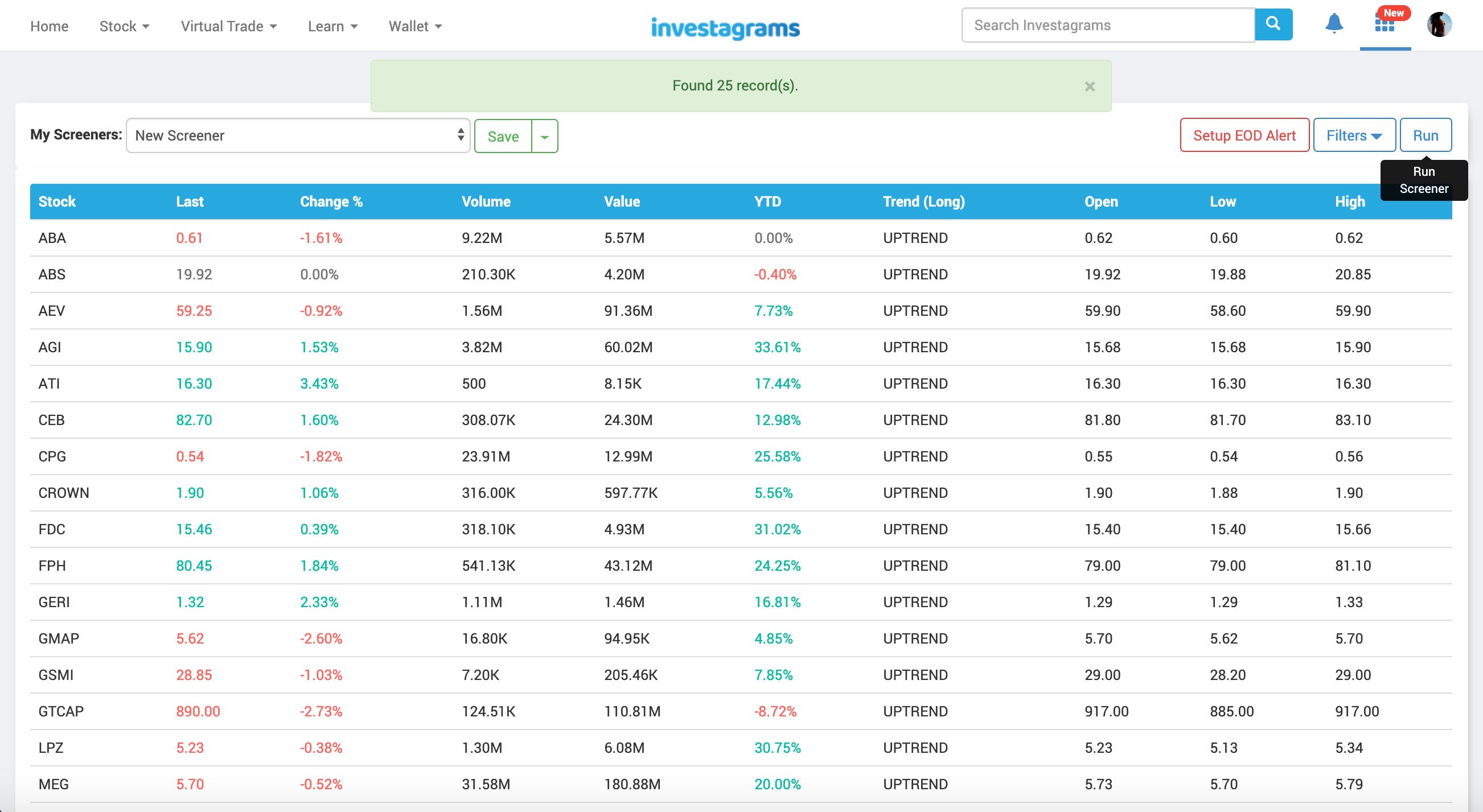 For traders, screening stocks have never been easier. Here are some filters that you'll probably need the most:
Trends – Short-term, Medium-Term, Long-term
Basic – 52 Week High (Low), Volume and Value Averages, Date % (Yearly, Monthly, Weekly)
Indicators – Moving Averages (simple and exponential), RSI, DMI, Bollinger Band, and many more
And arguably one of its coolest filters:
Candlestick Patterns – Shooting Star, Hanging Man, Inverted Hammer, etc.
Candle Types – Green, Red, or Doji closes
…and many others! (Once you are subscribed to InvestaScreener+)
Let's say that you want to trade stocks that are on a short-term, medium-term, and long-term uptrend, you could easily find them using the screener. See sample below: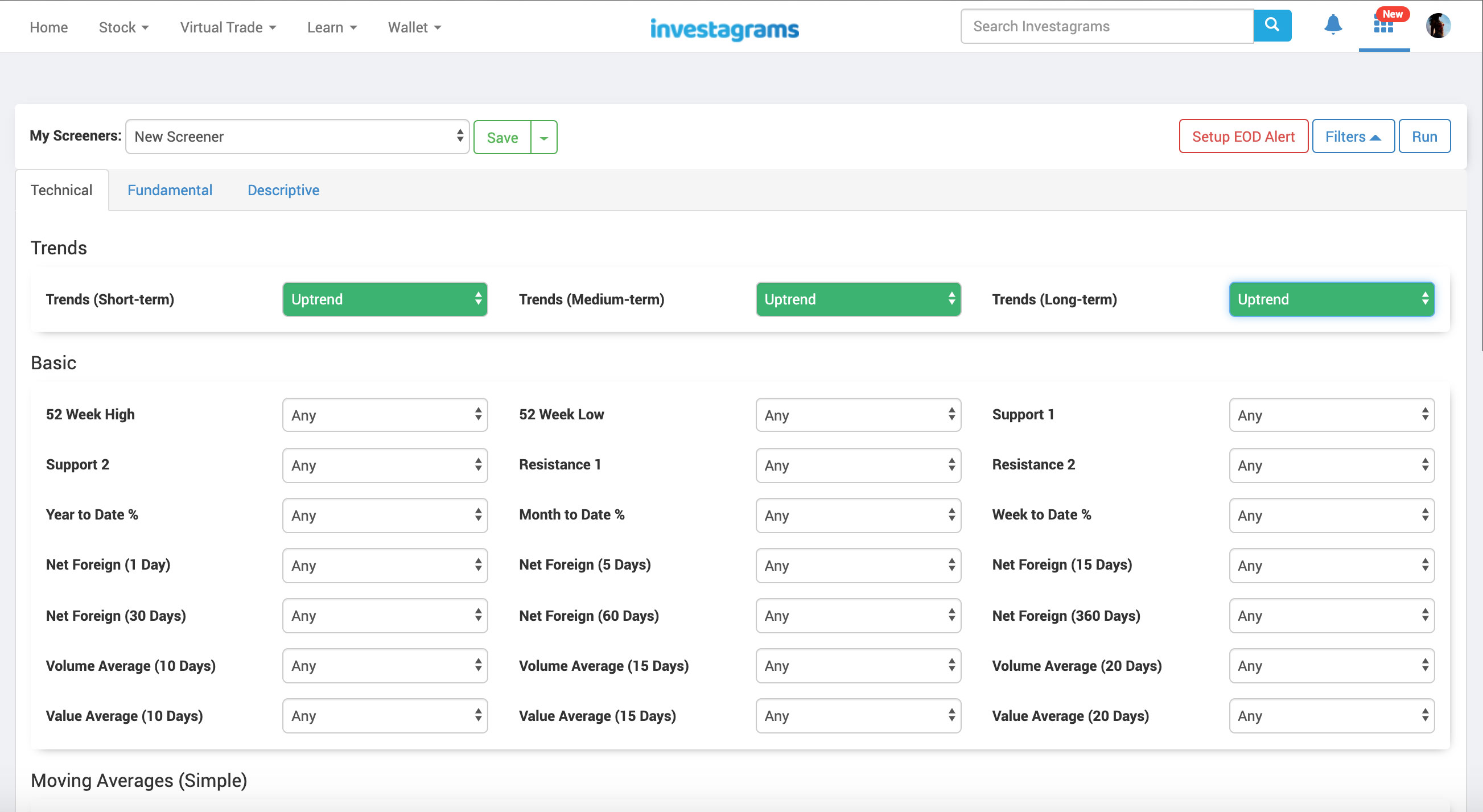 Let's try screening stocks that closed with a doji (a candlestick pattern that opened and closed at the same price in a specific timeframe) candle.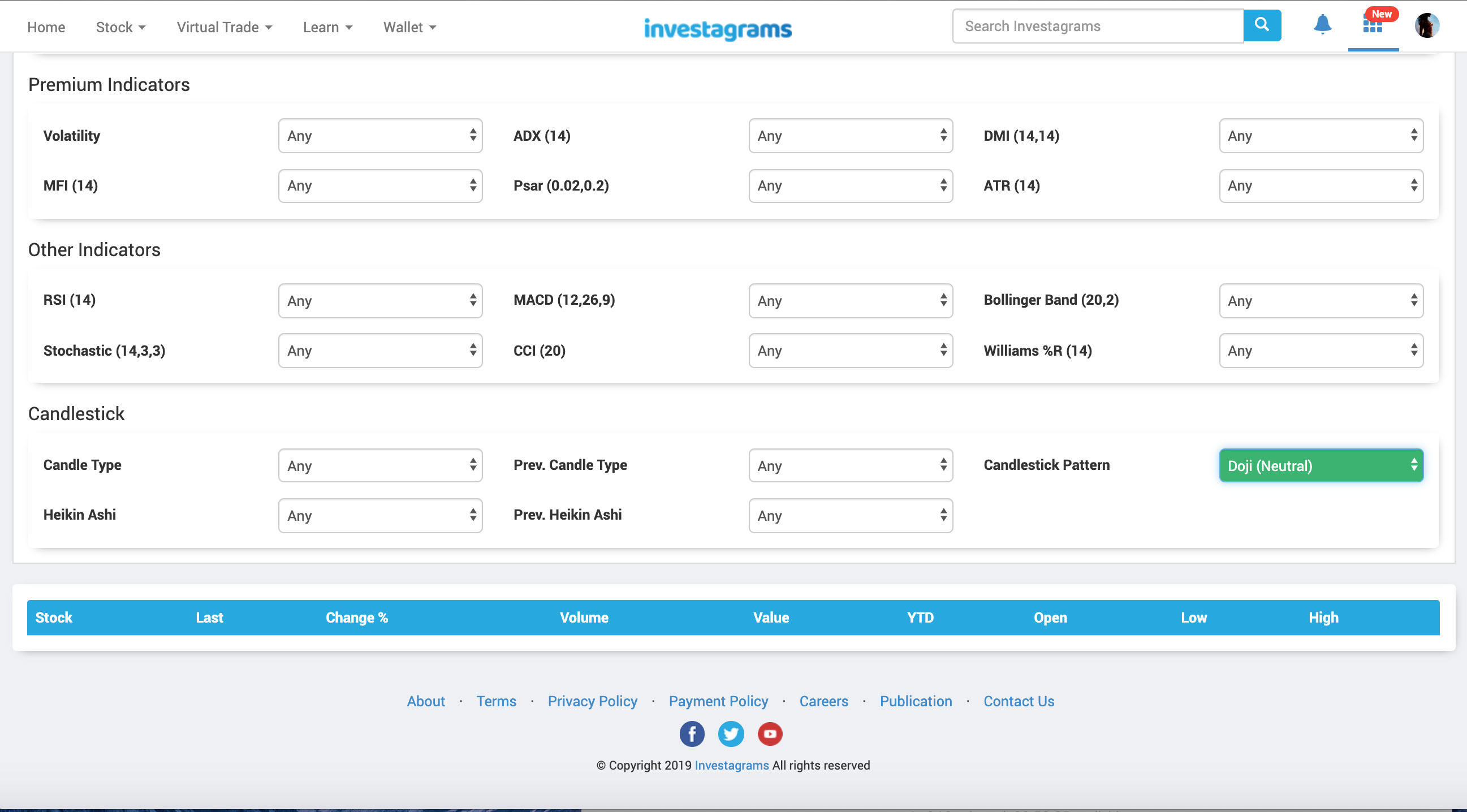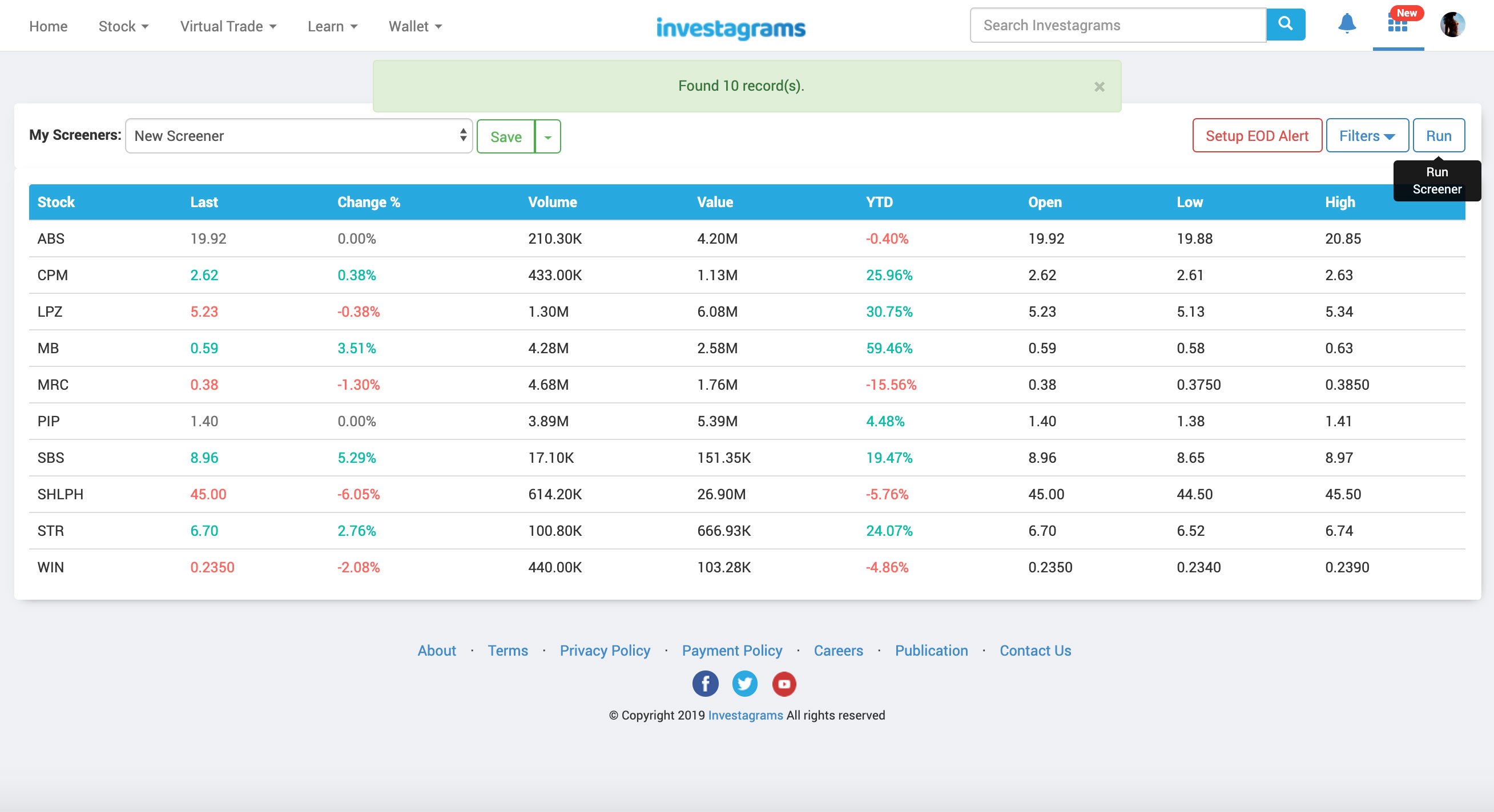 Highlighted by the eclipse in the charts below are the doji candles. Using 4 multiple charts, we displayed the first four stocks based on the above results of  InvestaScreener. We can see how accurate and easy it is to screen through all stocks in the PSE with just a few clicks of a button.
Other things you could do with the InvestaScreener:
Setup EOD Alerts – A text message or an email will be automatically sent to you
Save your own filter setting – No need to enter your filters one by one. You could also set multiple screener settings if you trade multiple setups
If you find a hard time balancing your personal life with trading, then it's highly suggested that you use a screener as it will save you a tremendous amount of time. Screening precedes buying and selling and all the other parts of a trader/investor's system. With the usage of a screener, you're more likely to ride stocks that fit your strategy.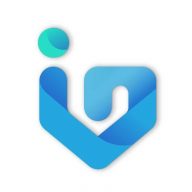 Investagrams has helped thousands of Filipinos all over the world on their stock market journey. Now, we're aiming to help thousands more! Follow us on InvestaDaily for investing tips and stock market advice to help you reach your first million.