Many people think that the stock market is complex and that trading is hard. Maybe that was true before, but nowadays there are many ways to make stock trading easy and hassle-free. One way is to use the tools, services, and information here on Investagrams!
Here's how we can help you on your stock market journey:
Learn using our free videos and articles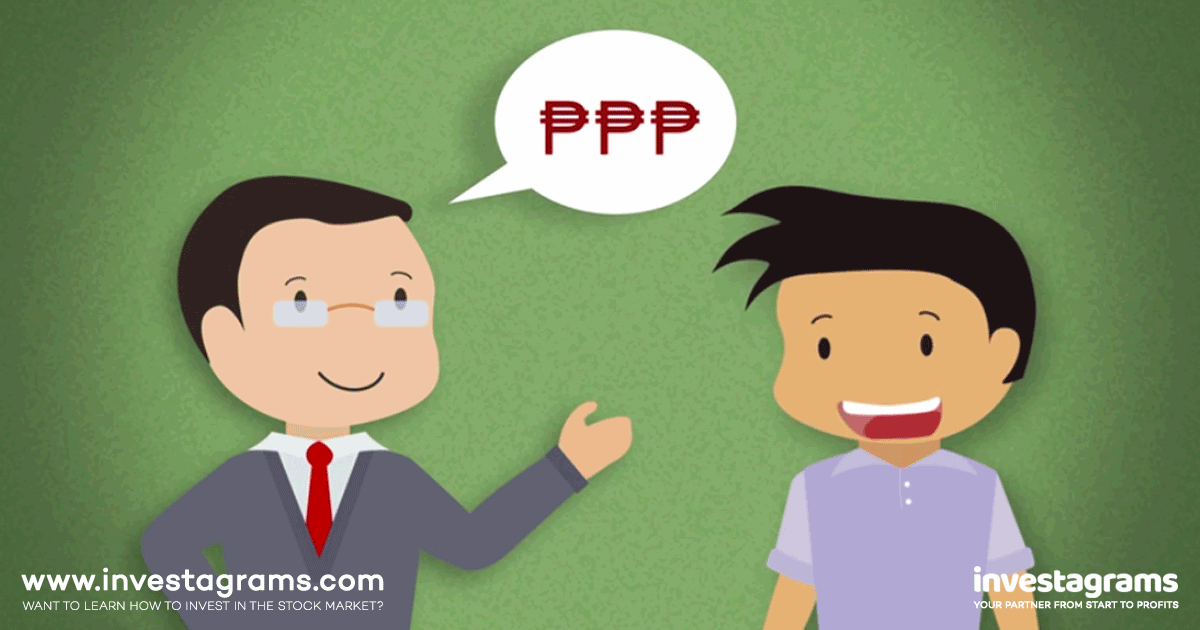 If you're a beginner in the stock market, or even if you have no idea about how stocks work, we have learning modules that can help you.
If you're starting from nothing, you can read the Investagrams guide on How to Start Investing in the Stock Market first. For concepts that are more advanced, like how to read charts and understanding moving averages, you can follow Investa Daily—your trusted source for investing tips and stock market advice.
Find your ideal stocks using our automated stock screener
Once you've learned the basics of stock analysis, you can start to develop your own strategies and trading system. Use InvestaScreener to quickly and easily find stocks that match your criteria. Filter stocks based on the 52 week high, support, resistance, and much more.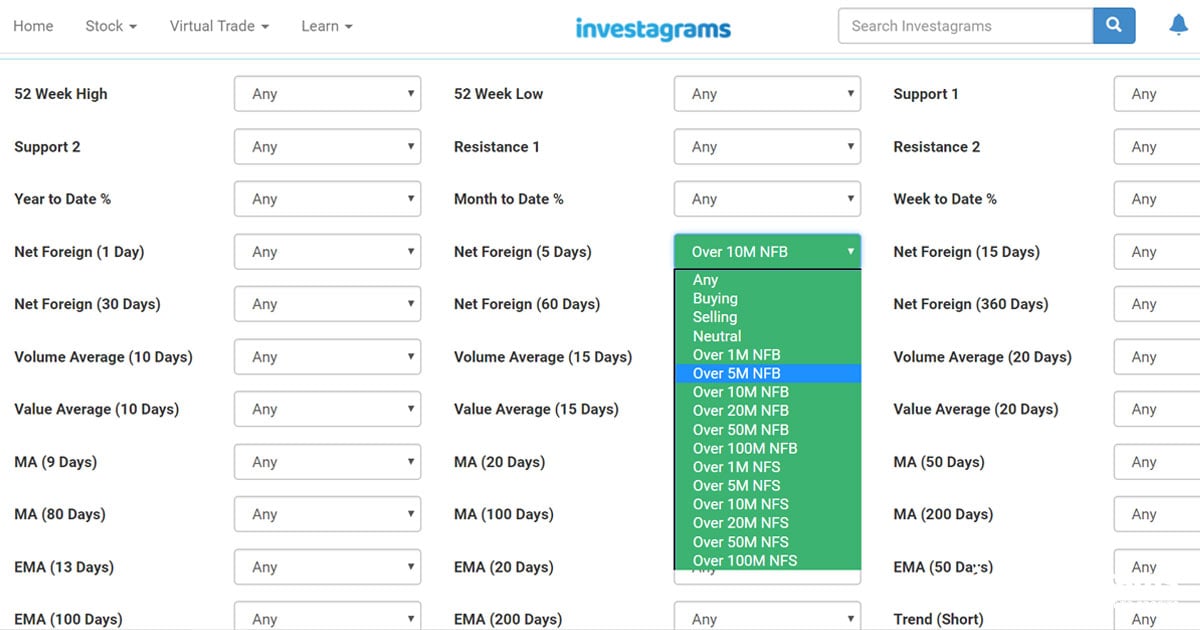 InvestaScreener is a powerful and flexible tool that will help you save tons of time and effort when analyzing stocks. With this powerful stock screener, you can do what would normally take hours in just a few clicks.
Practice using our virtual trading platform
If you're excited to trade but afraid to risk money, don't worry! You can practice with the Investagrams virtual trading platform. It shows real companies and actual price movements in the Philippine stock market. Why is that important? Because you get to practice under real market conditions, and you're prepared to jump straight into trading with real money any time!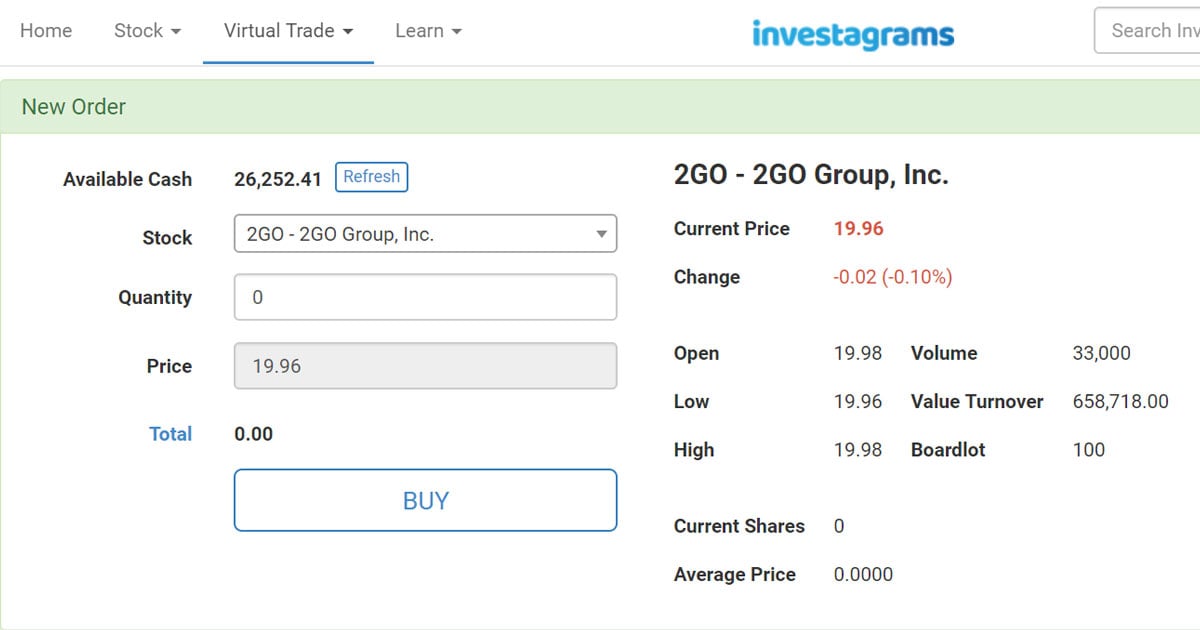 Buy, sell, and manage your portfolio just like the real thing to test your strategies before putting real money on the line.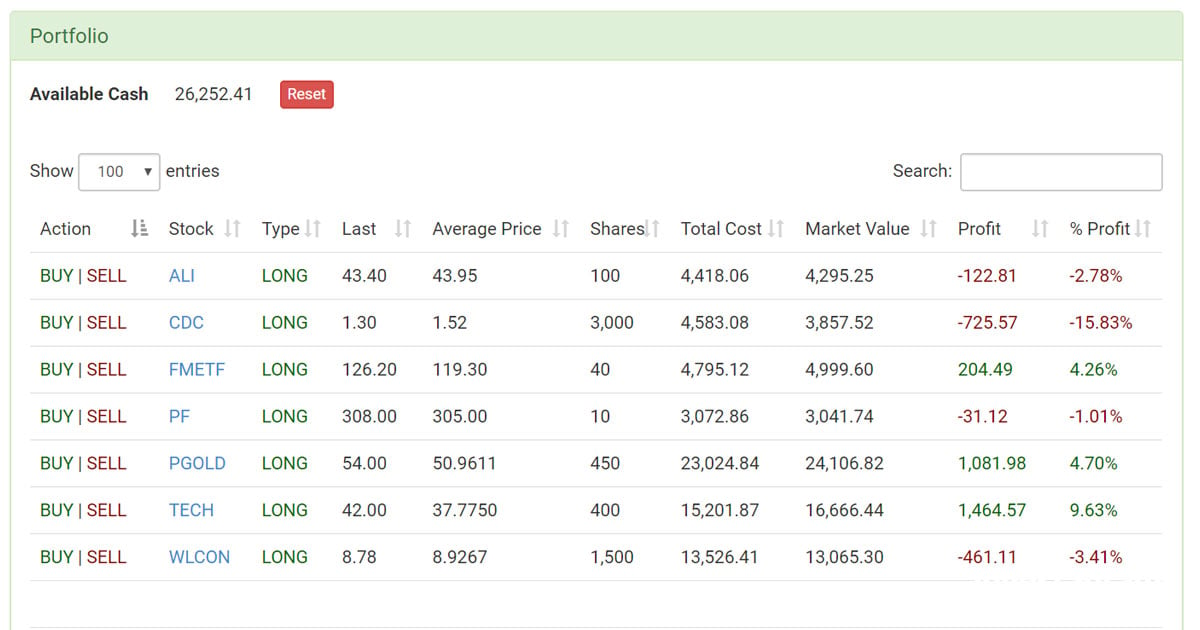 Monitor stocks and charts in real-time
Use Investagrams to get complete and up-to-date information on any stock listed in the Philippine Stock Exchange. Easily access all the numbers you need to make smarter decisions and better trades.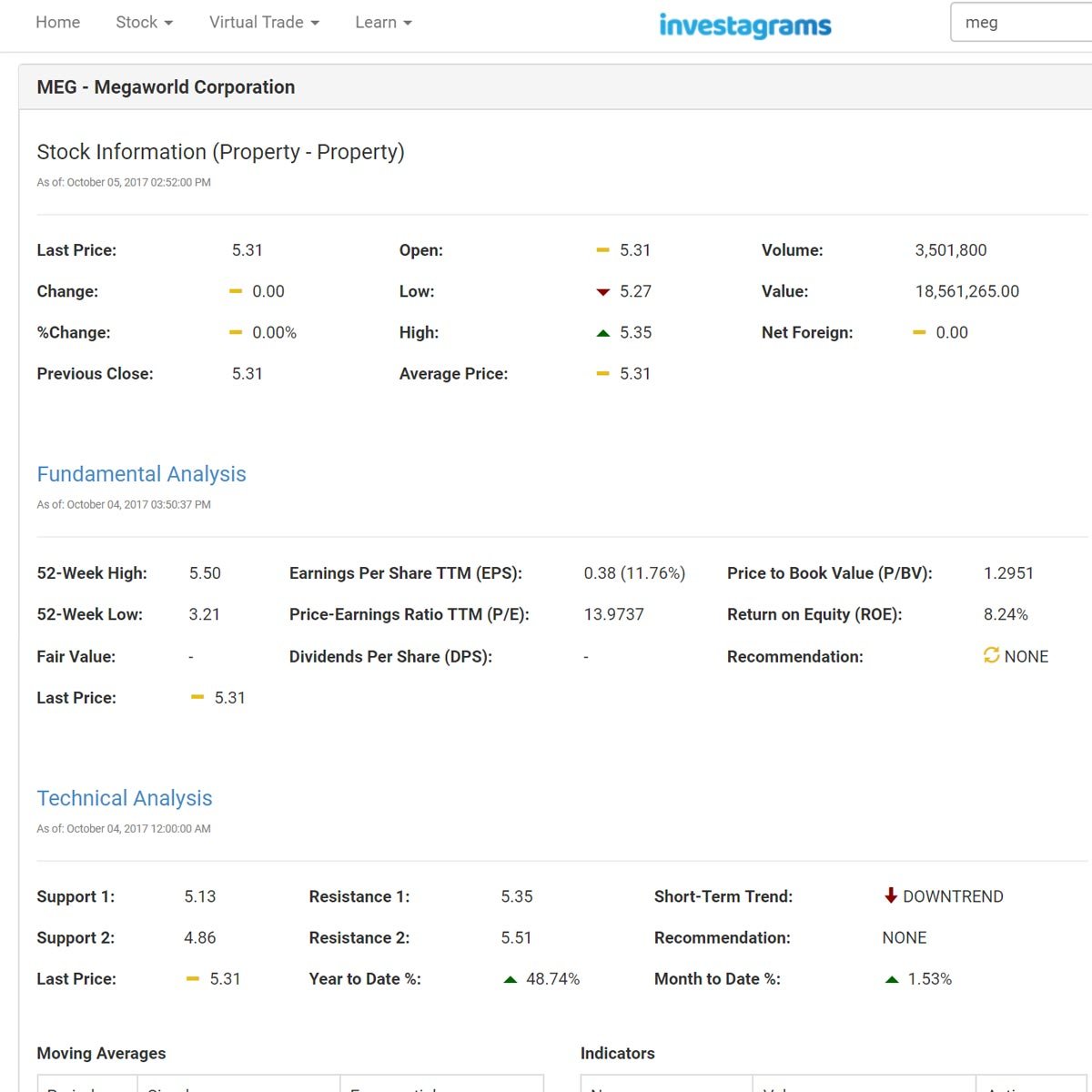 You can also study the price movements of your stocks using our real-time charting tool. Here you will easily be able to monitor the historical movement of price and volume, understand the context of supply and demand, and identify patterns that are forming in the market.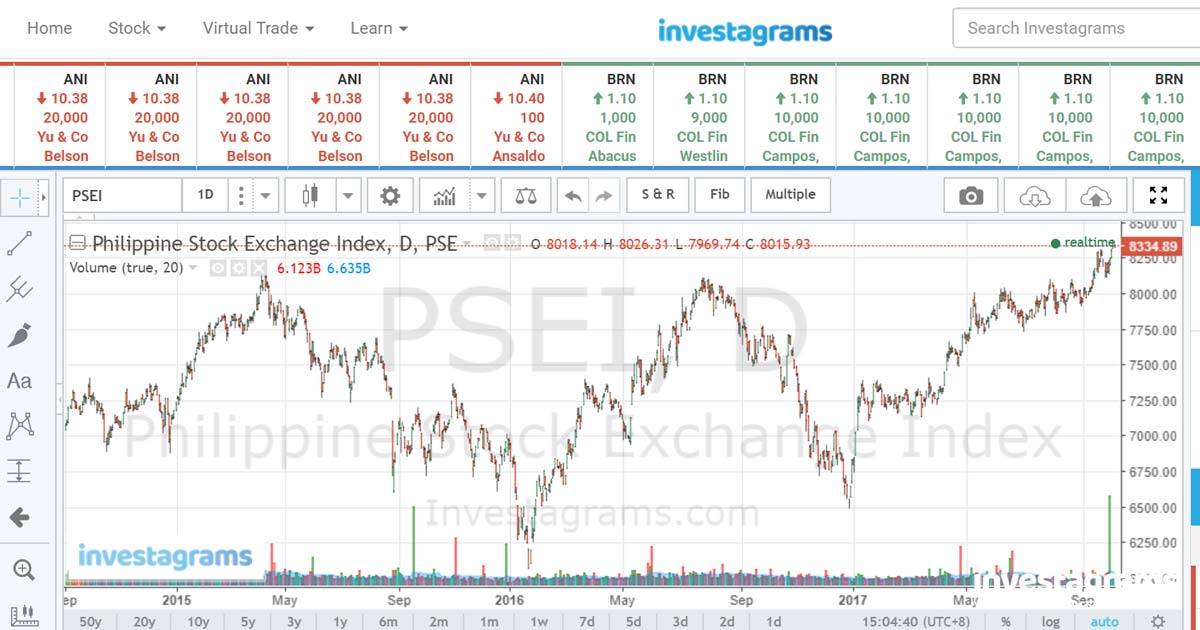 Stay up-to-date on the latest stock-specific news
Instead of spending hours gathering information from tons of different sources, now you can just look at the Investagrams News Feed. See all the business, economic, and stock-specific news organized in just one page. Not only will you save time, but you'll also find it easier to monitor important news that could affect your stock picks.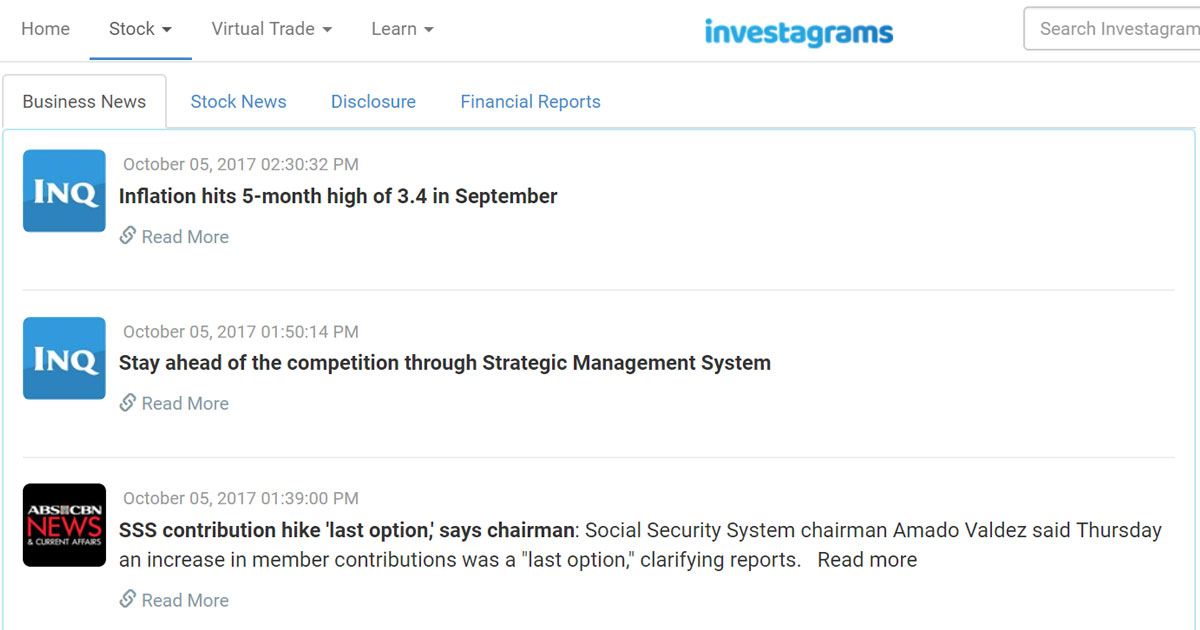 You can even follow and interact with other traders on Investagrams' social platform to see what people think and how the news may affect the stock market.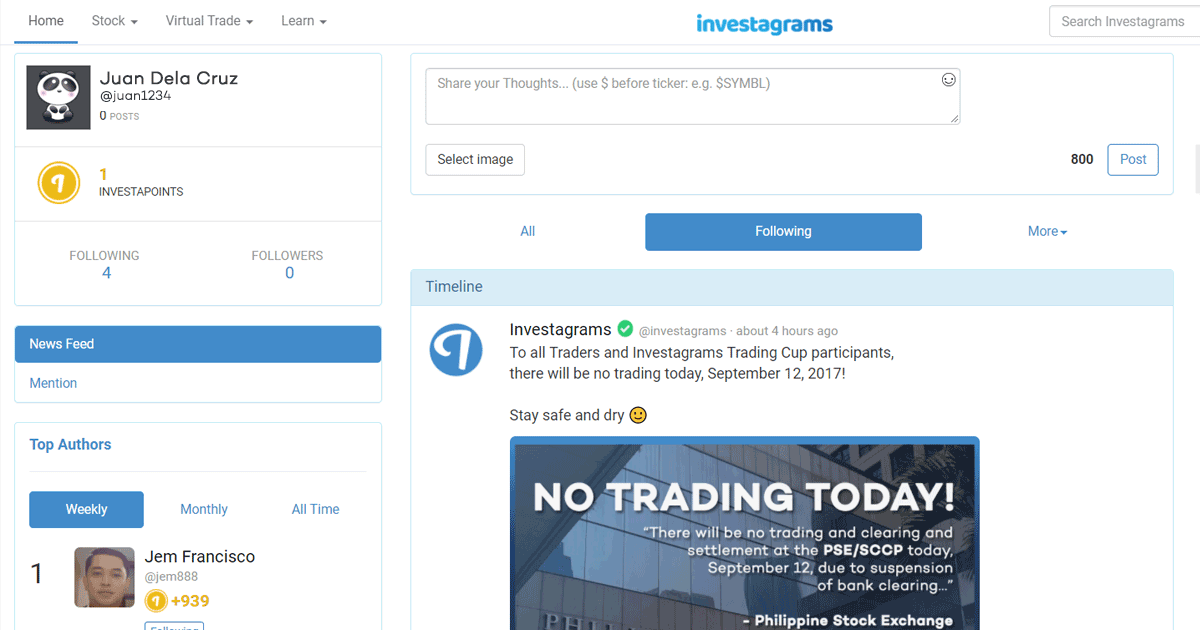 Save time with our price and disclosure alerts
We're all busy with our lives, whether it's because of work, school, or our families — we all know how important our time is. But becoming financially free is important too, right?
With InvestaWatcher, you can receive instant alerts whenever your stocks hit your buy point, target price, and cut loss level. You will instantly get notified when your stocks have disclosures such as the earnings report, company buy backs, acquisitions, and other important announcements.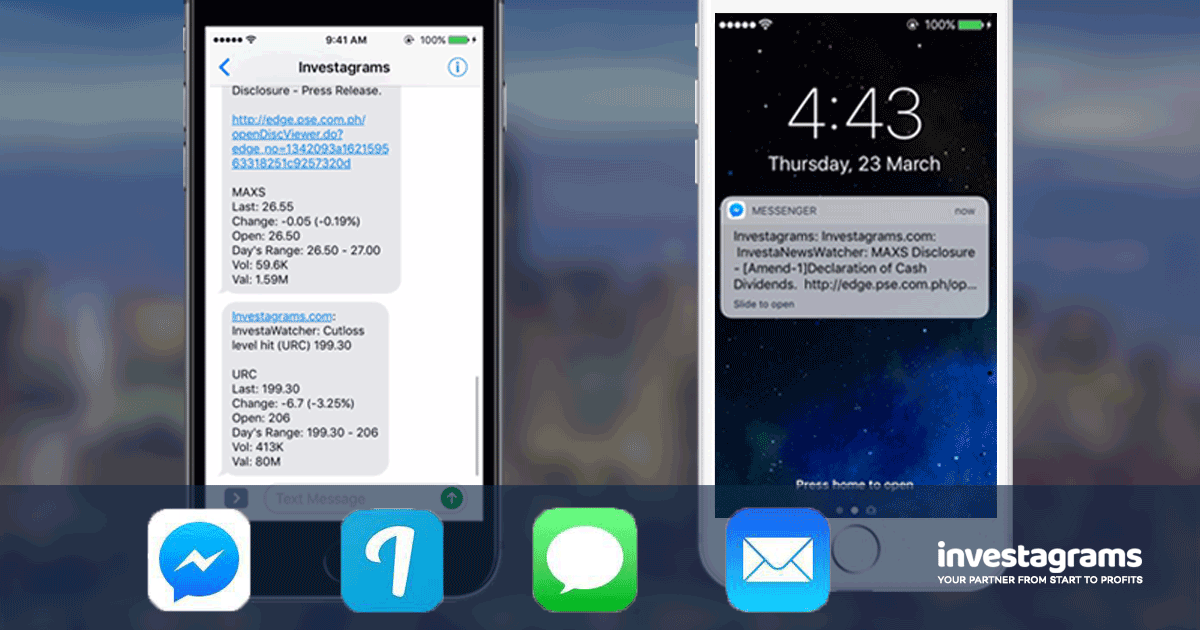 The best part? You can receive the alerts everywhere — SMS, e-mail, in-app notifications, and even Facebook Messenger! Forget about spending hours monitoring the stock market and let us do the work for you.
Get help on-the-go with the Investagrams Facebook chatbot
Investagrams is fully integrated with the Facebook Messenger through the InvestaChatbot.
Just chat the Investagrams FB page to get instant information on the current stock price, news, financial reports, and more!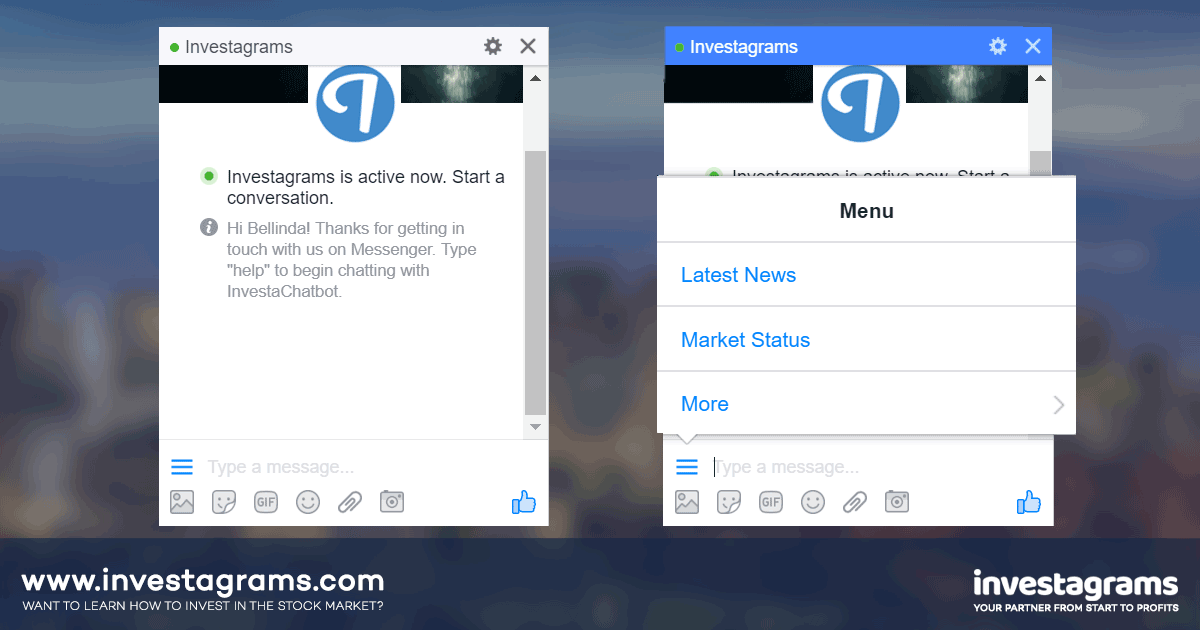 Improve your skills by joining events and competitions
Investagrams holds many competitions and on-ground stock trading seminars throughout the year. Follow our Facebook page for announcements, and join us to take your trading to the next level. Plus, we'd love to meet you!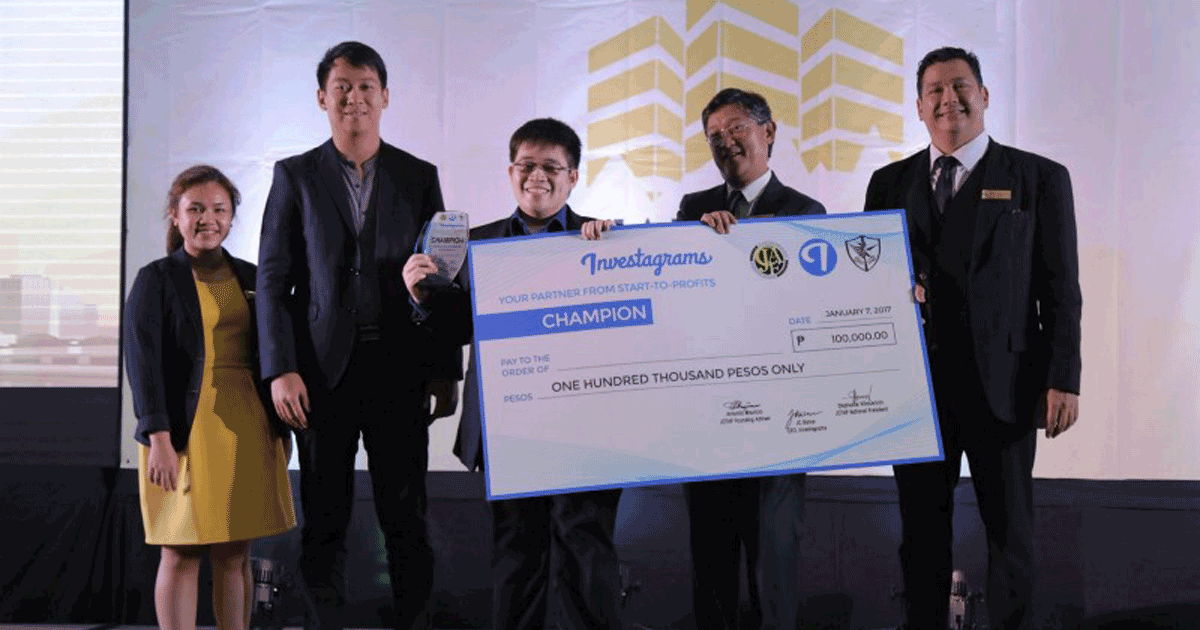 Our mission is to make your stock market journey easier and, of course, more profitable. We're always developing new features and services to serve you better, so keep checking back to see if we've added anything new! If you have a question or a request, just let us know in the comments below!