The InvestaPRO is our latest feature that does the screening and thinking for you! Using Investa's Proprietary Ranking System, the InvestaPro makes your life easier by simplifying the stock screening process by ranking stocks based on Investa's proprietary formulas which will allow to zero-in on stocks of your choosing. Through our algo-generated watchlists, you can now objectively create a trading plan for the top stocks that are part of the list.
In this article, we'll be going through a quick overview of the InvestaPRO to show you guys how to maximize our new prominent feature!
Let's start!
To access the InvestaPRO, you will first need an Investagrams account. As of today, the InvestaPRO is only accessible on mobile devices so you will need to download the Investagrams app on your phone if you haven't downloaded it yet. If you have Investagrams app on your phone, simply update the app to access the InvestaPRO.
You may visit these links to get the latest version:
Android ➡ http://invs.st/AndroidInvestagrams
iOS ➡ http://invs.st/AppleInvestagrams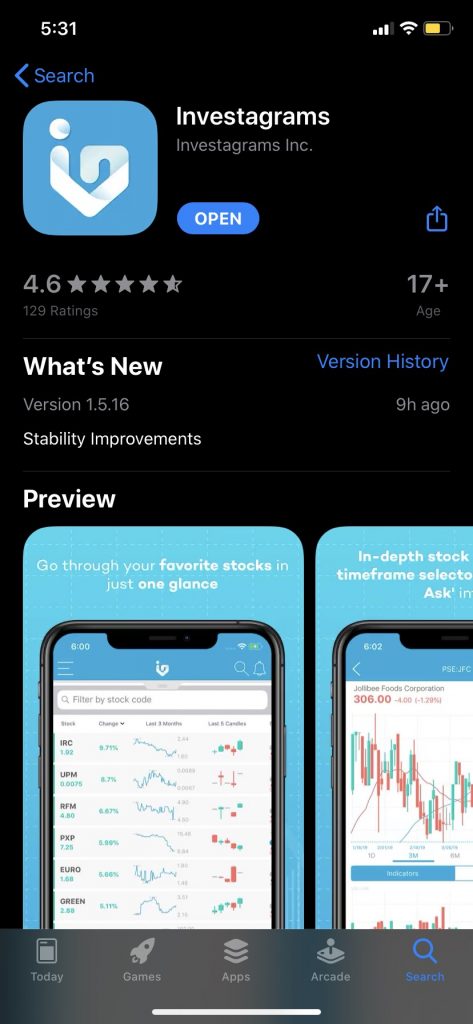 Once you open your Investagrams app on your mobile device, simply click the "APPS" tab on the lower right side of your screen then click INVESTAPRO.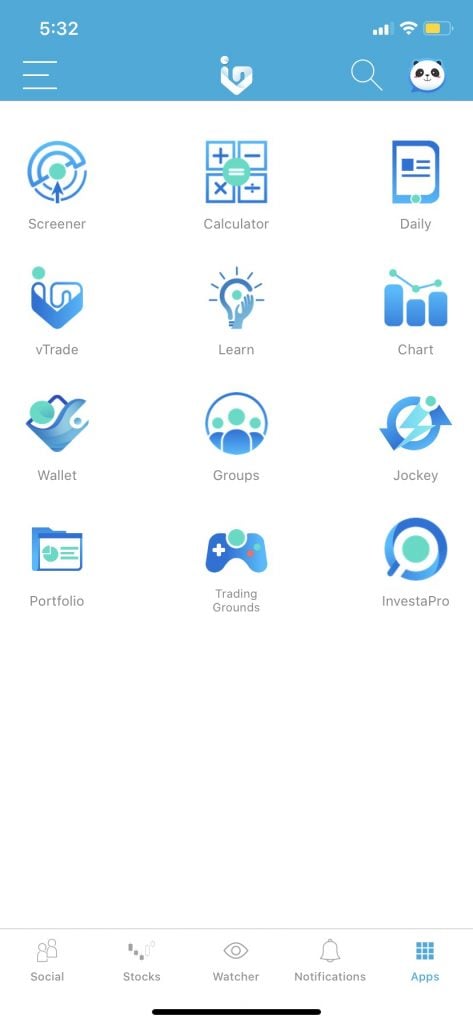 On the home tab of the InvestaPRO you'll see all the popular watchlists you can follow. We've made five algo-generated watchlists absolutely FREE for all users! The other premium watchlists are available for a small fee.
The "Tags" you see at the bottom of the watchlists are simply so you can choose which parameter matters most in your trading, so you can click that parameter then you will be redirected to specific watchlists that use the tag.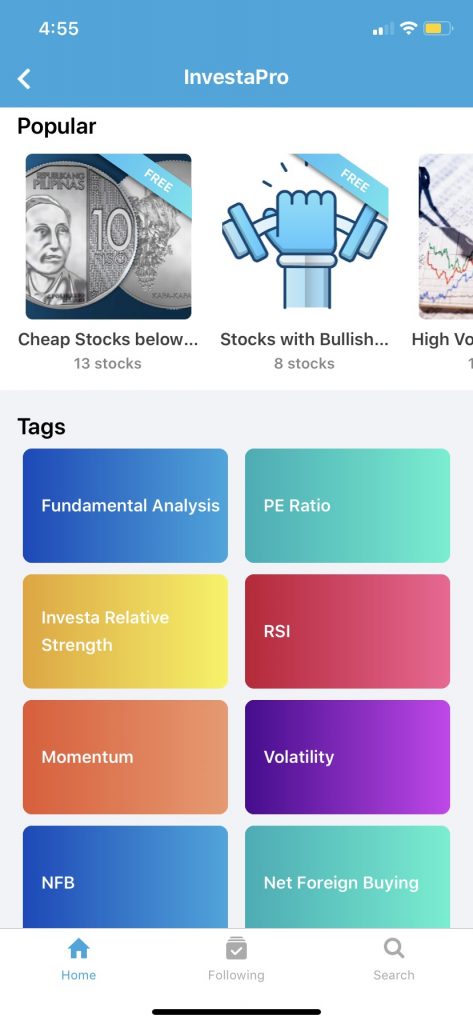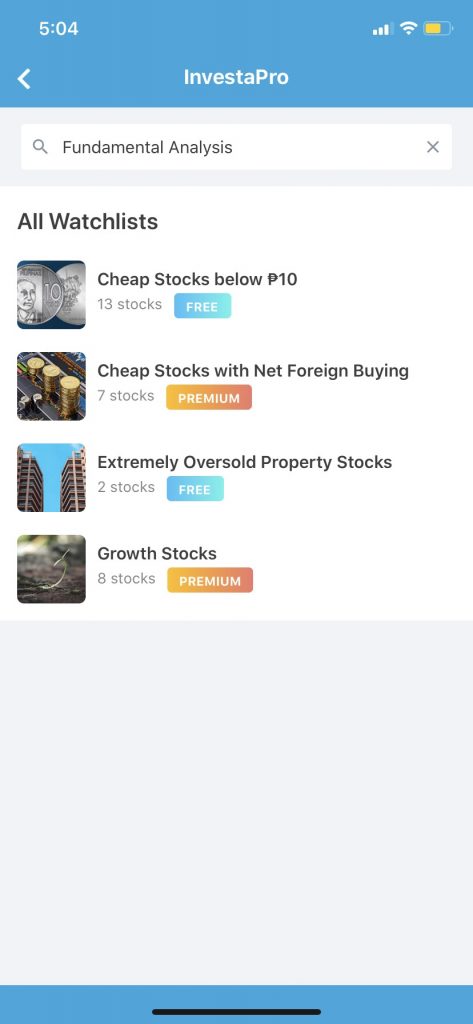 Once you click on a watchlist, you will see the stocks in order of importance based on Investa's Proprietary Ranking System. Now you can easily see which names to highly prioritize based on the rankings. Simply click the name of the stock you would like to focus on then you can automatically check out its details, chart, or add it to your watchlist.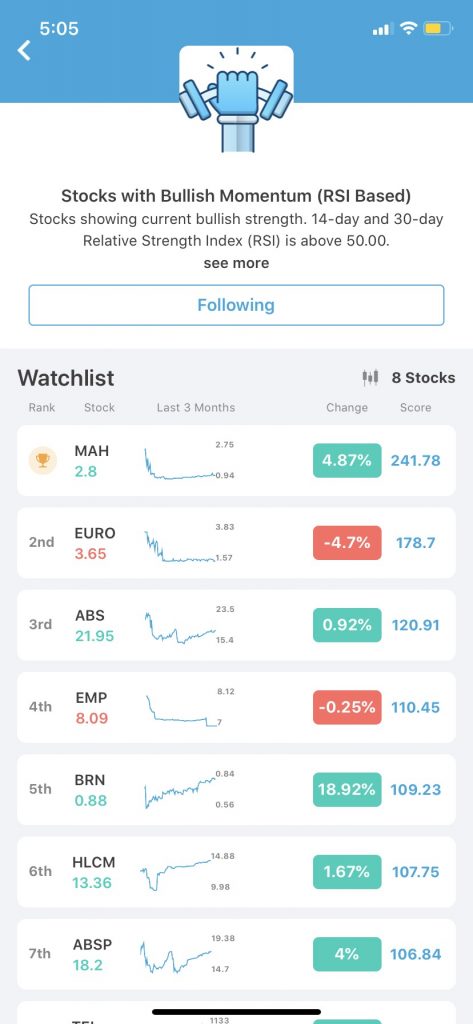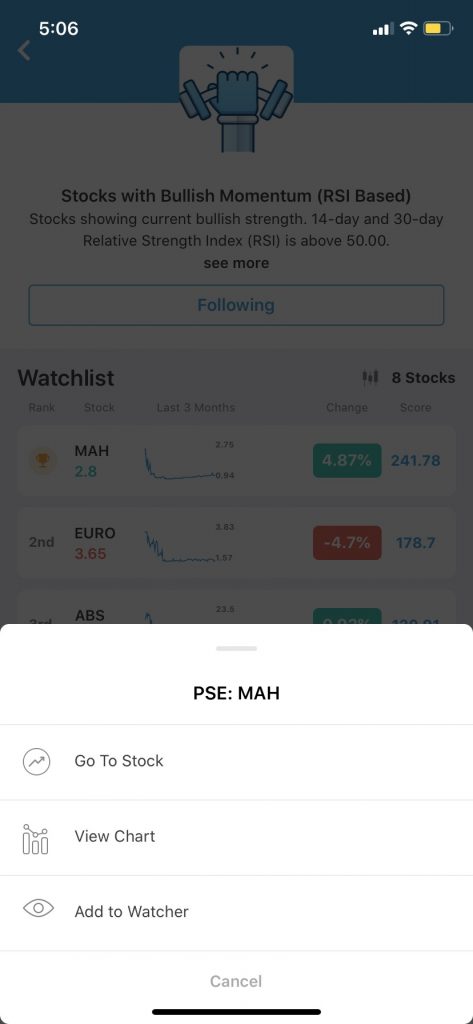 The following tab focuses all the watchlists you've chosen to follow. The top three stocks per watchlist are also highlighted for quick and easy viewing.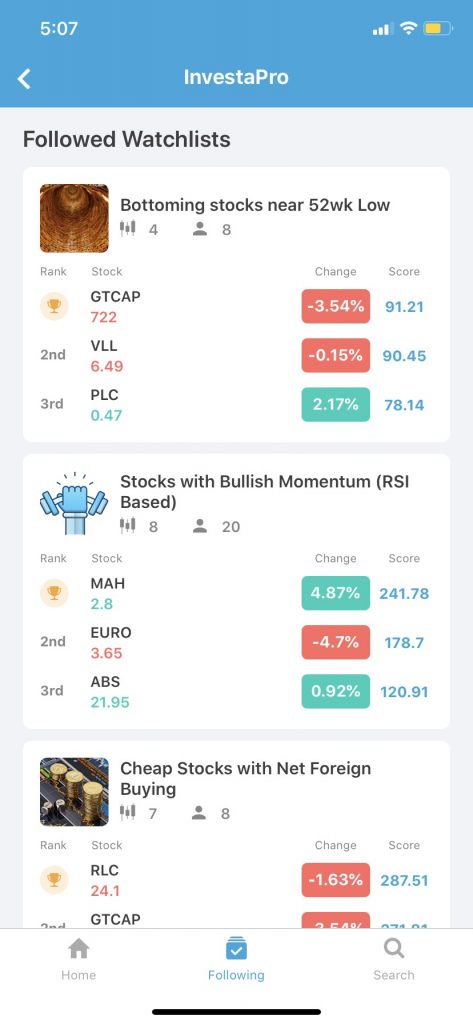 The search tabs show all the available watchlists on the InvestaPRO, you can easily find any watchlist you would like to follow here.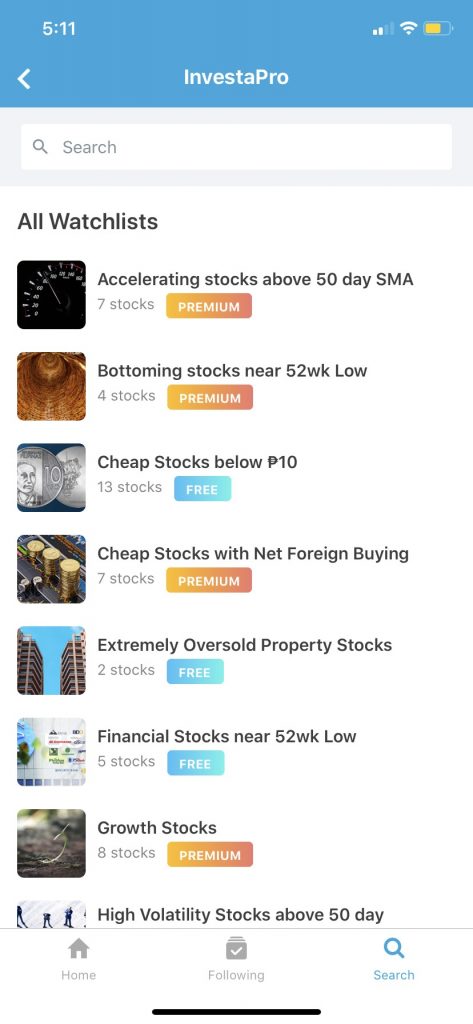 So what's the difference between the free and premium watchlists? To keep it simple, the premium watchlists use much more ADVANCED parameters that filter out the best stocks to keep an eye on objectively. However, whether free or premium, all of these watchlists are ALGO GENERATED. This helps avoids any personal and subjective biases when screening for stocks.
Just like we mentioned in our previous article release, our team created the InvestaPRO to make your trading much more easier and to add convenience to your trading. We understand that not everyone has the time screen for stocks in the evening or has the knowledge on how to use different screeners. Hopefully the InvestaPRO will not only create an impact on your trading, but also on the time you spend in front of a monitor.
Visit this page to find out more about InvestaPRO: www.investagrams.com/pro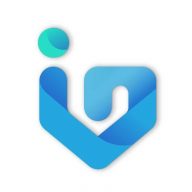 Investagrams has helped thousands of Filipinos all over the world on their stock market journey. Now, we're aiming to help thousands more! Follow us on InvestaDaily for investing tips and stock market advice to help you reach your first million.