You probably already know that the stock market is a great source of wealth. After all, it has created millionaires out of ordinary individuals, and it's also where your banks, fund managers, insurance companies and even pension providers grow your money. However, you probably (or should) also know that it comes with risks, but is that alone a good reason to not invest? Are you actually safer financially if you didn't invest your hard-earned money in places like the stock market?
"In a world that's changing really quickly, the only strategy that is guaranteed to fail is not taking risks." –  Mark Zuckerberg, Founder & CEO of Facebook
Here's the reality – kahit wala kang ginagawa, nababawasan yung totoong purchasing power ng pera mo kasi tumataas ang presyo ng lahat ng bilihin. With inflation spiking to as high as 6.4% and the interest we get for our savings at 0.25% – 0.50%, the glaring reality is that we are losing money just by leaving ALL of it in our savings.
Here are some of the simple yet powerful ways the stock market can generate wealth for you, and what you're probably missing out on if you haven't started investing!
CO-OWN AND GROW UP WITH THE COMPANIES
Companies don't grow overnight. The Pinoy-favorite Jollibee ($JFC) started as an ice cream parlor in Quezon City in 1975, listed its shares for the first time at P9/share, and is now a global fastfood chain with stocks worth P270/share. Kung ginamit mo yung P10,000 mo to buy 1,000 shares at P10 each, that investment could have grown to ~P257,000 if you held onto the stock for over 2 decades. Imagine the huge potential if you set aside P10,000 every month to buy even more shares of the company!
But this story is old news. The truth is, none of us are time travelers; there's no guarantee in knowing who will be the winners in 3, 5 or even 10 years from now. Otherwise, we'd all be rich! So it's important to know the growth plans of the company. At present, we have the likes of Wilcon Depot ($WLCON) who is planning 24 new stores by 2020, from its 41 home depots in 2017. DoubleDragon Properties ($DD) plans to grow its leasable space by 3.7x to 1,200sq.m. in 2020. Ayala Land ($ALI) plans P40bn net earnings from real estate sales & rentals by 2020, from P25bn in 2017. These are only some among hundreds of listed companies with a vision to grow their business, so DON'T MISS OUT on the chance to ride alongside their growth!
COMPOUNDING DIVIDENDS
Another perk of growing up with companies is you get dividends, or a portion of their earnings. Re-invest the dividends you earn to buy more shares of the company (a.k.a Compounding), your P100k investment could grow to P320,714 in 20 years, assuming the company gives an annual dividend yield of 6%. That's already worth a decent school tuition, if you plan to have kids!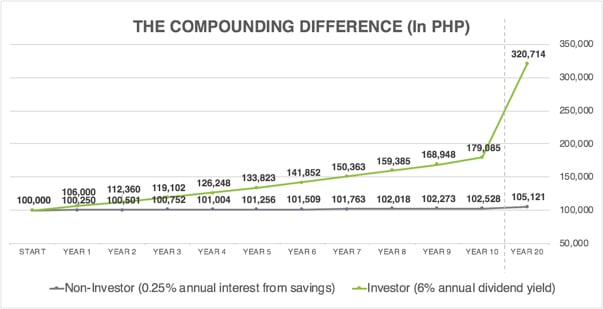 Just this 2018, Globe ($GLO) has declared P91 in dividends per share, to be given in tranches. Semirara Mining Company ($SCC)'s dividend policy is 20% of prior year's net income (attributable to common shareholders), while Pilipinas Shell ($SHLPH) intends to give out 70%. While dividend policies can still change depending on the company's needs for expansion, growing up with companies that consistently declare dividends means that while you wait, you're slowly getting returns for your investment.
BARGAIN-HUNTING
Bilhin mo nang mura, benta mo nang mahal. It's what dealers and vendors do when they buy from cheap suppliers like Quiapo or Divisoria, and that's essentially what Bargain-Hunting or Value Investing is about. Pero sa stock market, hindi mo kailangan umalis ng bahay para maghanap ng deals. You just need your laptop/smartphone, steady internet, and the willingness to learn the process.
An example of a cheap stock right now is First Gen ($FGEN), a provider of renewable energy and clean fuel. Its stock was beaten down heavily from its peak of P30/share back in 2015 to around P16/share as of writing. PLDT Inc. ($TEL) might also be a good example of a heavily beaten stock ever since news of a 3rd telco player threatened its market leadership, bringing its share price down from ~P3,100 in 2015 to < P1,500. While there's no absolute guarantee that they will be able to recover, we do think renewable energy is an inevitable trend and despite our complaints with internet speed, you can't get rid of PLDT so easily, so watch out for these and other bargains out there!
THE GAP
At this point you might wonder, 'If the stock market presents a lot of profitable opportunities, why aren't many Filipinos richer?'
Financial literacy still has a lot of catching up to do, given that there's still a prevailing misconception that you are financially safe by avoiding any form of risk. Less than 1% of Filipinos are invested in the stock market, and we need your help in spreading its importance in empowering more Filipinos to take charge of their own finances. That is the mission of 2TradeAsia, who strives to make the investing experience easier and more digestible for everyone. Aside from a fast, seamless and reliable investing platform, they also offer actionable walkthroughs and step-by-step tutorials for those who are willing to learn the ropes on being their own fund manager.
With 2TradeAsia, you get all the tools you need to make informed decisions, and they even make themselves available on social media. If you haven't started your stocks investing journey yet, chat them up on Facebook!
Share this article to your friends, and who knows – they might thank you in the future!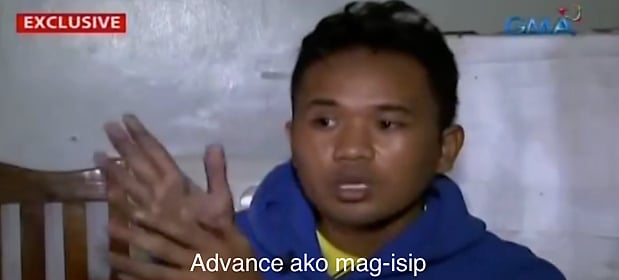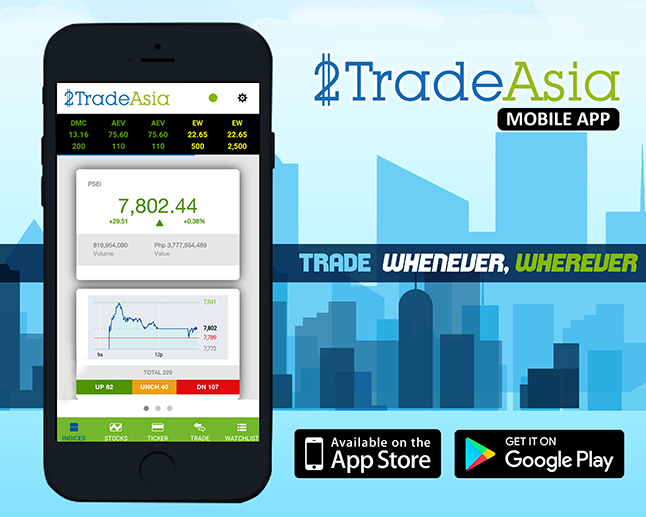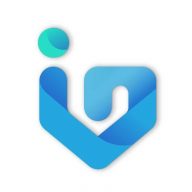 Investagrams has helped thousands of Filipinos all over the world on their stock market journey. Now, we're aiming to help thousands more! Follow us on InvestaDaily for investing tips and stock market advice to help you reach your first million.